The AMD Radeon RX 5600 XT Graphics card is the most heated release yet by AMD, and I don't mean temperature-wise. Announced last CES 2020, the Radeon RX 5600 XT 6GB is set to compete with Nvidia's GTX 1660 Super and GTX 1660 Ti graphics card. The RX 5600 XT is a 1080p contender and aims to take a big chunk of Nvidia's market share in the 1080p mid-range segment. Days before the release of AMD's 1080p champ, Nvidia dropped the price of the RTX 2060 Founder's Edition to $299. AMD then retaliates by injecting the RX 5600 XT a massive speed boost in clock speed and memory bandwidth. Let's see if the AMD's RX 5600 XT, represented by the ROG Strix RX 5600 XT TOP, can avenge the RX 5500 XT and take the 1080p crown from Nvidia.
SPECIFICATIONS
| | | | | | | |
| --- | --- | --- | --- | --- | --- | --- |
| Specs | RX 5500 XT | GTX 1660 Ti | RX 5600 XT (Announcement) | RX 5600 XT (Release Specs) | RX 5700 | RX 5700 XT |
| CUDA Cores / Stream Processors | 1408 | 1536 | 2304 | 2304 | 2304 | 2560 |
| SMs / Compute Units | 22 | 24 | 36 | 36 | 36 | 40 |
| Base Clock | 1717 Mhz | 1500 | 1375 Mhz | 1560 Mhz | 1465 Mhz | 1680 Mhz |
| Boost Clock | 1845 Mhz | 1770 | 1560 Mhz | 1750 Mhz | 1725 Mhz | 1930 Mhz |
| Texture Units | 88 | 96 | 144 | 144 | 144 | 160 |
| Memory Clock | 14, 000 Mhz | 12 Gbps | 12 Gbps | 14 Gbps | 14Gbps | 14 Gbps |
| Memory Bandwidth | 244GB/sec | 288 GB/sec | 288 GB/sec | 336 GB/sec | 448GB/sec | 448GB/sec |
| Memory Size | 4GB / 8GB GDDR6 | 6GB GDDR6 | 6GB GDDR6 | 6GB GDDR6 | 8GB GDDR6 | 8GB GDDR6 |
| TDP | 130w | 120w | 150w | 160w | 185w | 225w |
| MSRP | $169 / $199 | $280 | $279 | $279 | $349 | $399 |
AMD Radeon Adrenalin 2020 Software
AMD also the Radeon Adrenalin 2020 Edition Software alongside the RX 5500 XT 4GB and 8GB variants. We'll be using the new drivers for this review. Listed below are the new features of the software. Refer to this article for an in-depth look at AMD's new software.
Radeon Integer Display Scaling
Radeon Integer Display Scaling upscales your olds games to render a better quality image. It takes one single pixel and scales it to four-blocks or more depending on the image for a crisp image display. Radeon Integer Display Scaling is very beneficial in olds games to breathe some life into it, especially if these games are your timeless classic. Gamers with high-resolution displays will also benefit from Integer Display Scaling.
DirectML Media Filters
DirectML is Microsft's machine learning API, which enhances videos and photos by reducing noise and upscaling filters. Think of it as a gamer's simplified photoshop.
Radeon Boost
Radeon boost increases your system's performance during fast-motion scenes. The software automatically adjusts your game's resolution when every time it detects enough movements / in-game motion. This smoothens the animation as it lowers resolution during these motions such as running, camera rotation. And since the feature takes place during motion, the perceived image quality won't degrade since its a fast-motion scene.
ROG Strix RX 5600XT Overview
The ROG Strix RX 5600 XT 6G TOP is packaged in typical ROG fashion. Honestly, you can only differentiate them by the name or by the memory configurations listed, that's if you are keen enough. Packaging shows
Like any other ROG Strix powered graphics card, the RX 5600 XT is cooled by a 3-axial fan design in an extended shroud.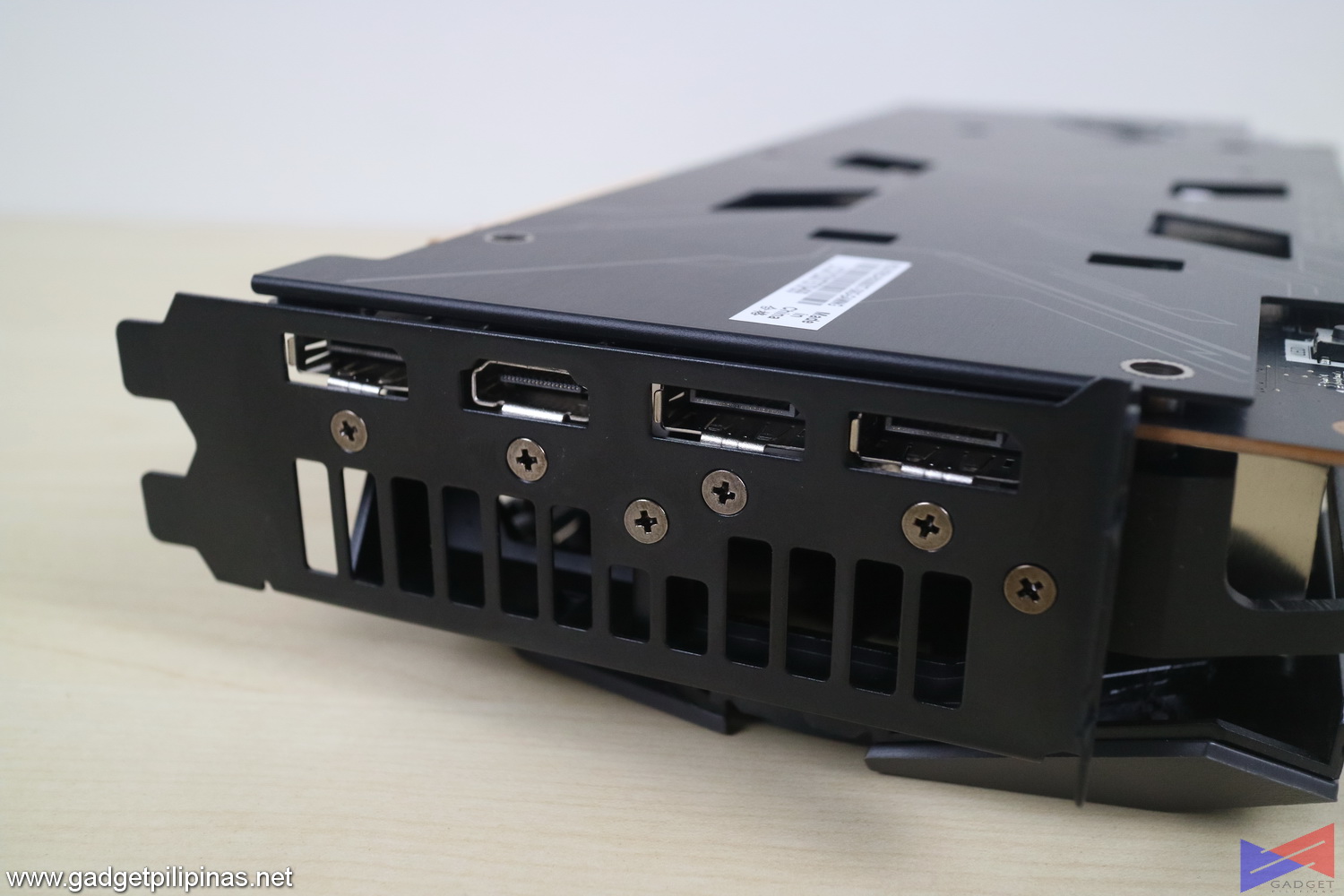 The ROG Strix RX 5500 XT TOP features the standard port selection on a card: three(3) DisplayPorts and one(1) HDMI port.
A mid-range GPU isn't stopping ASUS ROG from slapping in their 2.7-slot thick cooler. It almost has the same thickness as the ROG Strix RTX 2080.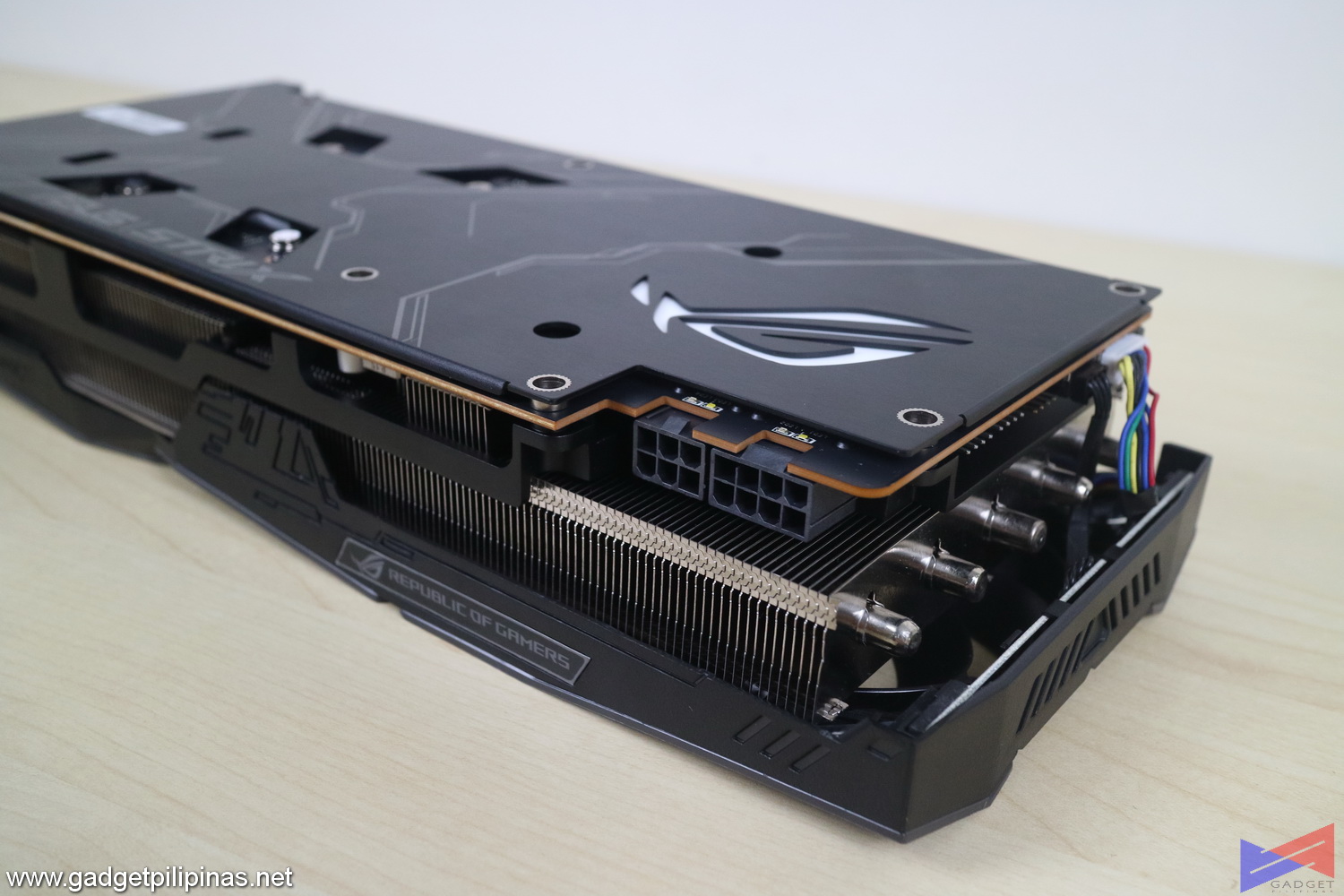 AMD's RX 5600 XT only requires 150 watts of board power, but the ROG Strix model needs to feed off a 6-pin and 8-pin PCIe power. Probably by now, you should think that the thermal and power design is overkill for a 1080p video card.
Two(2) 4-pin PWM headers allow the GPU to control the RPM of the ROG Strix RX 5600 XT TOP. There's also an RGB fan header that controls the lighting of any Aura-Sync supported device. Note that LED strips must be 5050, not 3258.
BENCHMARKS
The performance of the ROG Strix RX 5600 XT 6GB TOP shall be evaluated using a mixture of synthetic and gaming benchmarks. Windows is updated to the latest stable build as well as drivers. BIOS settings are set to UEFI default as well as each individual GPUs' clock and fan speeds. Tests are performed at 1920 x 1080p resolution ina 30°c ambient room. Frame times of each benchmark run per game are recorded and then translated to average, 1%, and .1% FPS.
| | | |
| --- | --- | --- |
| AMD Radeon RX 5600 XT 6GB | CES Announcement Specs | Launch Day Specs |
| Base Clock | 1375 Mhz | 1560 Mhz |
| Boost Clock | 1560 Mhz | 1750 Mhz |
| Memory Clock | 12 Gbps | 14 Gbps |
| Memory Bandwidth | 288 GB/sec | 336 GB/sec |
| TDP | 150w | 160w |
AMD upgraded the Radeon RX 5600 XT 6GB right before its launch. This is in response to Nvidia's RTX 2060 price-cut to block AMD's launch. Specs before the release date point the RX 5600 XT to be a small upgrade over the 5500 XT due to its lower overall clock speeds. The RX 5600 XT draws closer to the 1440p-oriented RX 5700 following final spec adjustment – leaving a wider gap between the 5500 XT and 5600 XT.
We were able to test both CES and Launch Day specs of the RX 5600 XT, so we'll be showing two results. Do note that the "BIOS FLASHED" ticker is the FINAL and RETAIL configuration of the RX 5600 XT.
TEST BENCH
Processor: Intel Core i9 9900K @ 5Ghz
Cooling: ROG Ryujin 2400mm Cooler
Motherboard: ROG Maximus 11 Formula
Memory: HyperX Predator 16GB  3200Mhz
Storage: SanDisk 512GB M.2 SSD | HyperX Fury 240GB  RGB SSD
PSU: ROG Thor 1200w Platinum
GPU:  Colorful iGame GTX 1660 Super Ultra | Galax GTX 1660 Ti 1-Click OC | Sapphire Pulse RX 5600 XT | ROG Strix RX 5600 XT 6GB TOP
OS: Windows 10 Pro Build 1903
Drivers: GeForce 441.87 | Adrenalin 2020 Editon 20.1.1
3DMARK
3DMark is the go-to benchmark for gamers because of the ability to share and compare results online. We used Time Spy DX 12 benchmark and Fire Strike DX 11 benchmark and opted out of Port Royal since all the GPUs used in this review do not support Ray Tracing.
Synthetic benchmarks show a massive boost in the performance of the RX 5600 XT thanks to the BIOS update. Both DX 11 and DX 12 based benchmarks show an average increase of 10.5%.
DOTA 2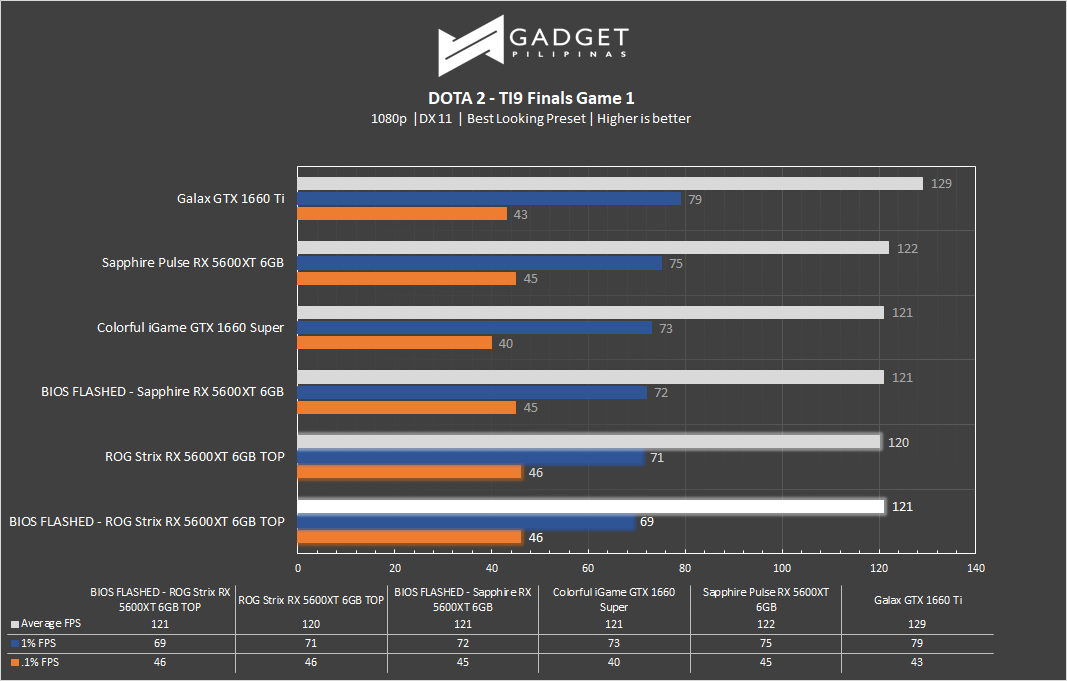 Dota 2 is one of the most popular games globally; that said, there's a big chance you're playing DOTA or other popular F2P titles. Our benchmark sequence is based on a replay of OG vs. Liquid in the TI9 grand finals from the team fight that happened on 28:30 to 29:30.
DOTA 2 is the first upset of the ROG RX 5600 XT. Announcement and Release BIOS both fail to keep with the rest of the product stack, although there's a small difference in performance.
Far Cry 5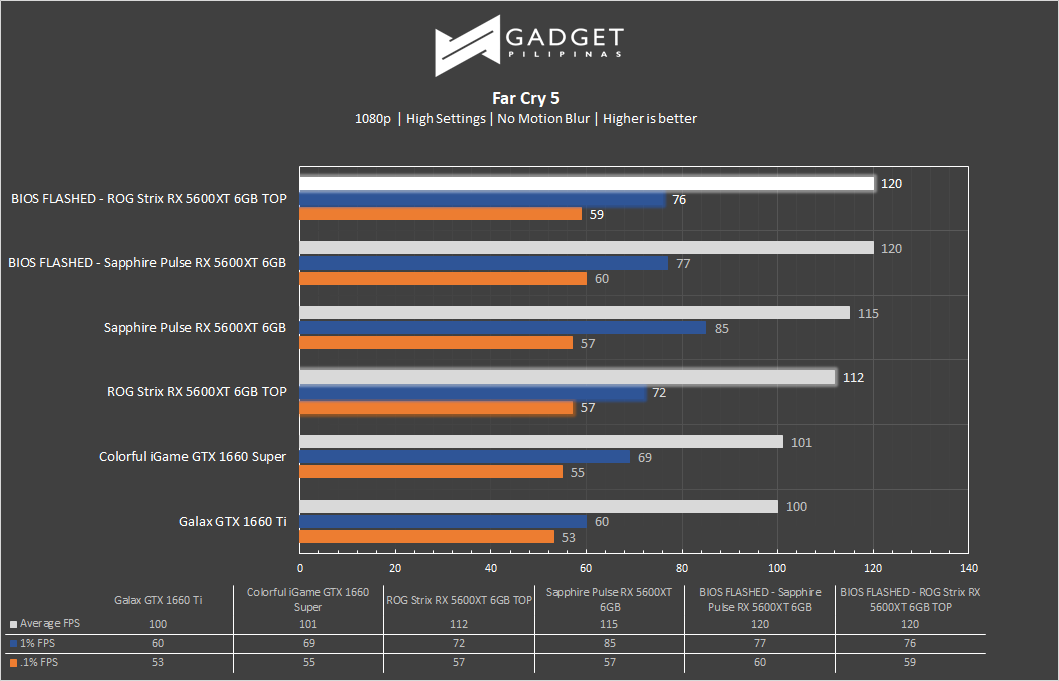 FarCry 5 is an FPS game published by Ubisoft and uses the Dunia engine. It heavily relies on and takes advantage of DirectX 11 to render a realistic environment that makes it taxing to both the CPU and GPU.
Far Cry 5 is where the ROG Strix RX 5600 XT redeems itself by topping the charts. The launch BIOS improves the graphics card's performance by 7% in Far Cry 5.
Rainbow Six Siege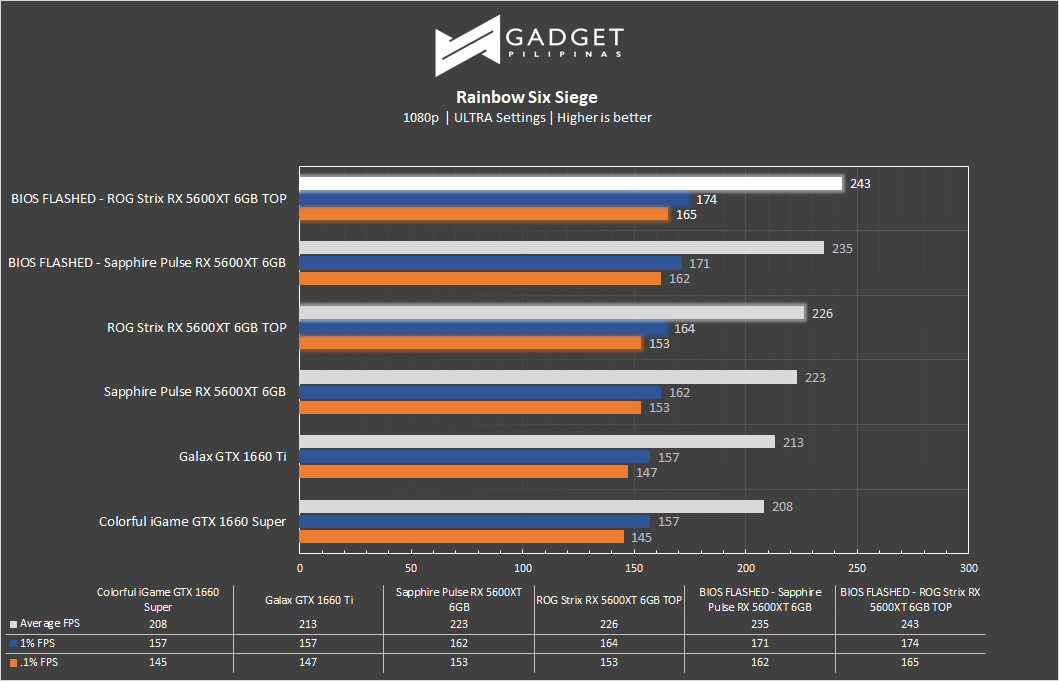 Rainbow Six Seige is one of the few popular AAA games that's still popular in 2019 due to its competitive gameplay mechanics. R6S uses the AnvilNext game engine, which is developed by the game's publisher, Ubisoft. As of writing, Rainbow Six Siege is currently the most popular Tom Clancy title beating out Wildlands, Breakpoint and even, Division 2.
The ROG Strix RX 5600 XT TOP dominates the rest of the cards in the Rainbow Six Siege Bencharmks. It outperformed the Sapphire Pulse RX 5600 XT by a mere 3.4% while maintaining higher frame rate stability. Let alone the fact that it managed to output 30 more FPS than the GTX 1660 Ti.
Call of Duty: Modern Warfare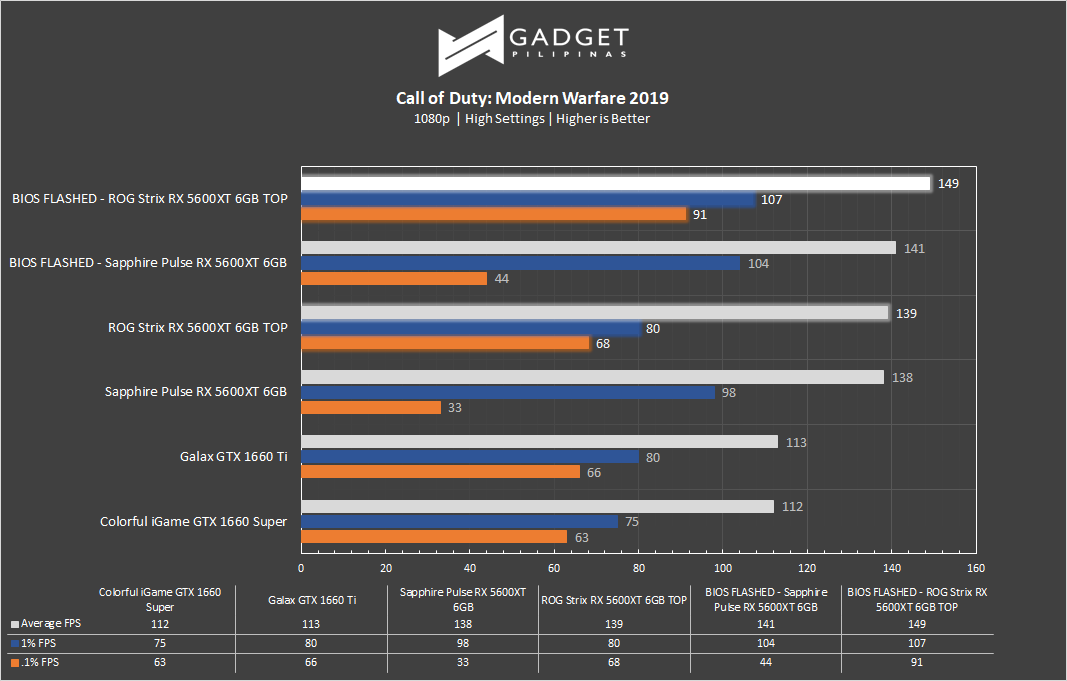 Call of Duty: Modern Warfare is arguably the most anticipated game of the year. It's the first cross-play compatible game title of the franchise. COD: MW is developed by Infinity ward using a new IW engine and published by Activision. The game uses DX 12 by default, which makes it an excellent choice to include in our benchmark suite.
The ROG Strix RX 5600 XT TOP once again "topped" the charts with a massive lead over the Sapphire Pulse variant. Though both cards are overclocked custom-PCB versions, the ROG Strix RX 5600 XT takes the crown in smoothness and stability represented by tighter 1% and .1% FPS.
Apex Legends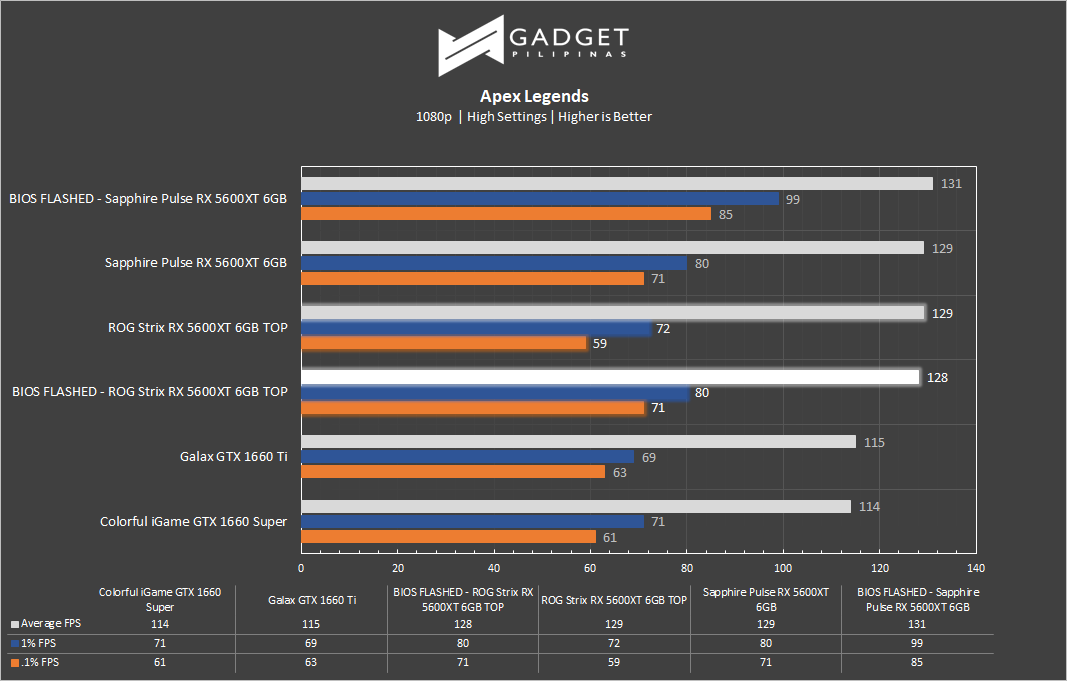 Apex Legends is a character-based Free-to-play battle royale game developed by Respawn Entertainment, the makers of Titanfall and Titanfall 2. It utilizes a modified version of Valve's Source Engine.
Apex Legends show the ROG Strix RX 5600 XT 6GB TOP falling behind the Sapphire variant but still manages to outperform the GTX 1660 Ti and GTX 1660 Super by an average of 11%.
Battlefield V
The Battlefield series is an iconic FPS title in our generation matching Halo and Call of Duty. Battlefield V, set in WW1, is the latest installment in the franchise developed by DICE using the popular Frostbite engine. It's also the first game to incorporate DX 12, Ray Tracing, and DLSS making it a great choice in our game bench library.
Battlefield V takes the gap between the Sapphire and ROG Strix 5600 XT TOP bigger, with the latter lagging behind in average frame rates but manages to keep up terms of stability. Both APIs show a substantial increase in gaming performance thanks to the BIOS update's higher clock speed and memory bandwidth.
TEMPERATURES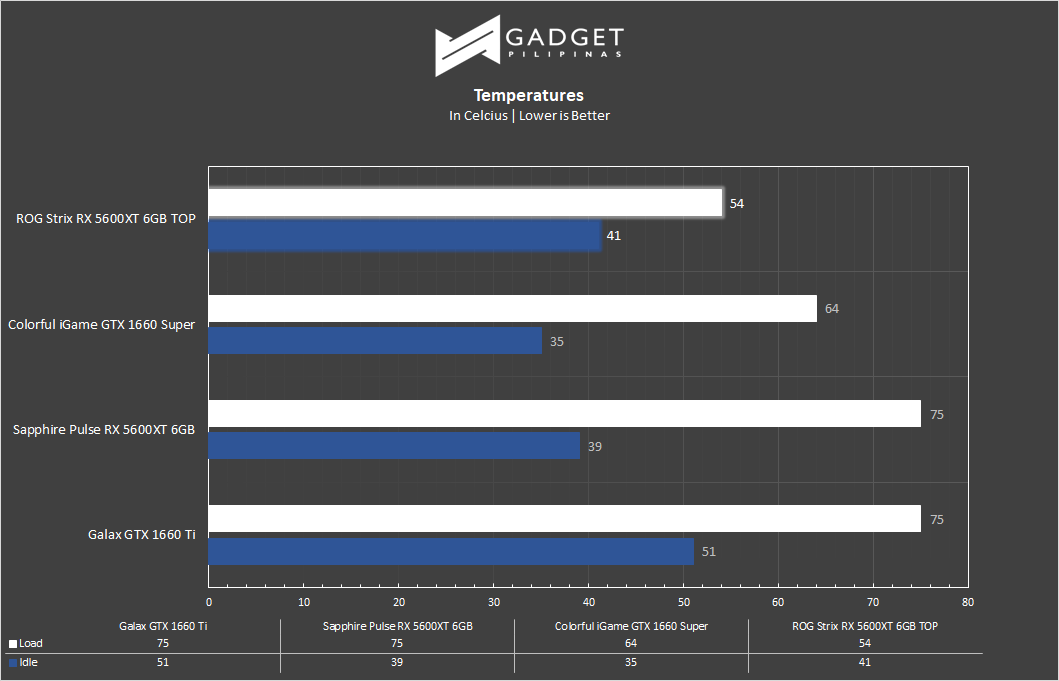 Looking at the benchmarks graph alone won't justify the ROG Strix RX 5600 XT's value. But when we look at the GPU temps, things start to make sense with the ROG Strix GPU. The 54°c max load translates to more room for overclocking. The ROG Strix 5600 XT TOP can also achieve a much more silent fan profile without sacrificing performance.
POWER CONSUMPTION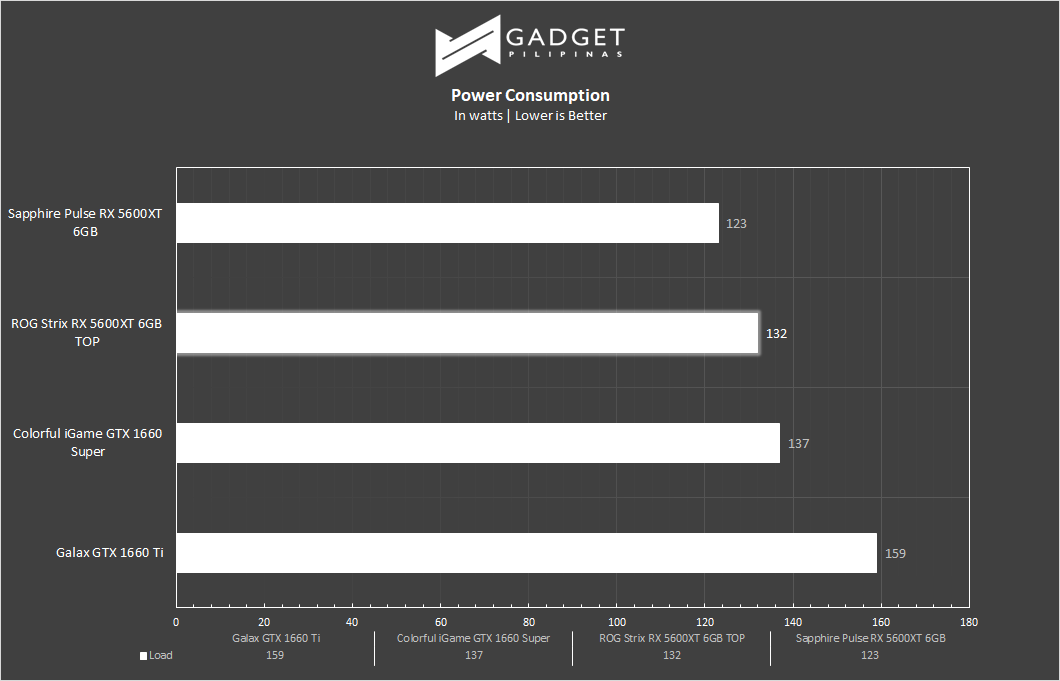 Despite the beastly 6-pin + 8-pin PCIe power requirements, the ROG Strix RX 5600 XT TOP consumes a shy load of 132-watts during our benchmark run. The extra PCIe power connector allows the graphics card to take in more power for overclocking, which has a lot of room for as seen with the previous graph.
CONCLUSION
ASUS ROG is known for its over-the-top approach, and that's what we've seen with the ROG Strix RX 5600 XT TOP. That is until we've seen the results of the benchmarks, which justifies the graphics card outrageous cooling solution as it can cool the card with ease. The build quality of the ROG Strix RX 5600 XT is spectacular and can be even called overkill considering we're dealing with a mid-range graphics card. It packs all of the extra features found on higher-end GPU models, which are not typically present in sub-Php 20k video cards.
ASUS treats the RX 5600 XT as if it belongs in the more premium RX 5700 series or higher, to which is a good thing. Overclocking is undoubtedly a must when it comes to the ROG RX 5600 XT TOP. The ROG Strix RX 5600 XT can maximize the performance of 7-nanometer Navi 10 GPU without the trade-off in thermals and acoustics thanks to its no-compromise approach. That is if you can afford the hefty SRP at Php 21,560.
Considering AMD's proven track record, I wouldn't be surprised if we start seeing the RX 5600 XT cards being flashed to an RX 5700. In the event that it becomes possible, the ROG Strix cooler should be more than enough to handle an unlocked 7nm Navi GPU.