11/11 is just around the corner, and while most of us are bombarded with ads by lots of online and brick & mortar shops with their sales, you will agree with me when I say that you can sometimes double your savings when you do cashless transactions.
For our wise-spending tip this 11/11, you might want to try paying your transactions with PayMaya. Whether you're going to buy something from your favorite participating store or online, you're rewarded with cashback, which essentially gives you instant savings. Be sure to check out this link for more information.
Get 1%, 10%, 100% cashback (max of P500) when you use your PayMaya card to shop online or PayMaya QR to shop in-stores this 11/11. Minimum purchase required is P100.
When you spend an accumulated total of P5,000 with your PayMaya card, you earn an additional P250 cashback. You will also earn an additional P250 when you spend an accumulated total of P5,000 with PayMaya QR.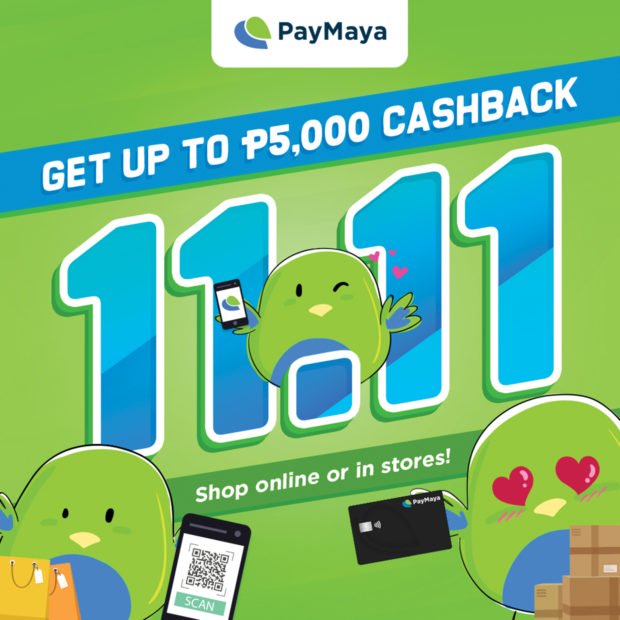 Now, I understand that you're eyeing to buy some amazing stuff at some merchants like Lazada, Zalora and Rustans.com. I've got good news for you. With a minimum purchase of PhP1,000 at Lazada, you can enjoy a 25% discount maximum of P300 when you redeem a PayMaya voucher. Also, for a minimum purchase of PhP1,000 at Rustans.com, you can get a 10% discount of up to P2,000 when you use the promo code PAYMAYAMONDAY10 and shop all Mondays of November and December. And, for a minimum purchase of PHP1,500 at Zalora, you can take advantage of a 25% discount of up to P2,000 when you use the promo code PYMYONLINEFEVER upon checkout.
Just like some of you, I've got some stuff on my wishlist that I'm going to buy at Lazada this 11/11. Let me share them with you:
Now, what do you guys think? If you are just as excited as we are to buy during 11/11, we suggest that you try paying with PayMaya. If you still don't have PayMaya yet, be sure to register, use my code GIANPAYMAYA, and upgrade your account to receive PhP100!
Giancarlo Viterbo is a Filipino Technology Journalist, blogger and Editor of GadgetPilipinas.net, He is also a Geek, Dad and a Husband. He knows a lot about washing the dishes, doing some errands and following instructions from his boss on his day job. Follow him on twitter: @gianviterbo and @gadgetpilipinas.