We just installed two (2) Seagate Ironwolf Pro 14TB on our Synology DS718+! These storage devices are just everything we need to keep our files safe and secure!
We are definitely due for an upgrade. It wasn't too long ago when we got our NAS from Synology, and the 500GB hard drive that came along with it was small enough to house all our backup files.
When we were contacted by Seagate to review the latest 14TB Ironwolf hard drive that is optimized for NAS, we didn't have second thoughts of accepting it. We have 2 reasons: (1) Seagate's dedication to producing quality hard drives may be traced back in 1979, and; (2) they are regarded as one of the best companies that put a high importance in providing excellent after-sales service. To accept such an offer is an opportunity we didn't want to miss.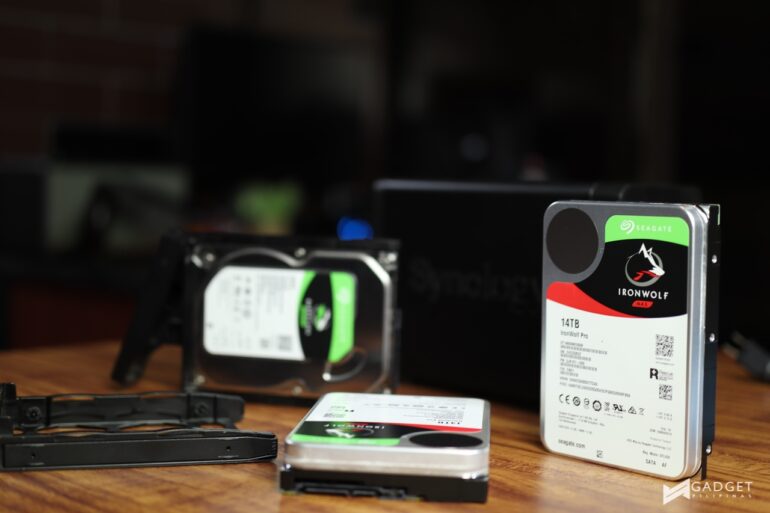 NASwares are smaller computers that prioritize the storage and access of important data. Whether you're using it to backup up your precious files or for streaming local media content, having NASware at home or at the office is proven to be highly beneficial.
When you have a NASware like the Synology DS718+, it is always best to pair it with a hard drive that is designed for always-on and no lag time high performance. This is a big deal for us, as content creators, as we need to always to keep all the videos we produced for archiving and reference purposes.
[su_spoiler title="14TB Seagate Ironwolf Pro Hard Drive Specs Sheet" style="simple" icon="arrow"]
Capacity
14TB
Standard Model Number
ST14000VN0008
Interface
SATA 6Gb/s
Features and Performance
Drive Bays Supported
1 – 8 Bays
Multi-User Technology
180 TB/year
Rotational Vibration (RV) Sensor
Yes
Dual-Plane Balance
Yes
Error Recovery Control
Yes
Max. Sustained Transfer Rate OD (MB/s)
210MB/s
Spindle Speed (RPM)
7,200
Cache (MB)
256
Reliability
Load/Unload Cycles
600,000
Non-recoverable Read Errors Rate, Max
1 per 10E15
Power-on Hours
8,760
Workload Rate Limit (WRL)
180
Mean Time Between Failures (MTBF, hours)
1,000,000
Limited Warranty (years)
3
Power Management
Startup Current, Typical (12V, A)
1.8
Average Operating Power (W)
7.3 W
Idling Average (W)
5.3 W
Standby Mode/Sleep Mode, Typical (W)
0.8/0.8
Voltage Tolerance, Inc. Noise (5 V)
±5%
Voltage Tolerance, Inc. Noise (12 V)
±10%
Environmental/Temperature
Operating (ambient, min °C)
5
Operating (drive case, max °C)
70
Non-operating (ambient, min °C)
-40
Non-operating (ambient max °C)
70
Halogen-free
Yes
Environmental/Shock
Shock, Operating/Non-operating: 2 ms (max)
50Gs/200Gs
Environmental/Acoustics
Idle (typical)
2.8 bels
Seek (typical)
3.0bels
Physical
Height (mm/in)
26.11 mm/1.028 in
Width (mm/in, max)
101.85 mm/4.01 in
Depth (mm/in, max)
146.99 mm/5.787 in
Weight (g/lb, typical)
670 g/1.477 lb
Carton Unit Quantity
20
Cartons per Pallet / Cartons per Layer
40/8
[/su_spoiler]
Installing the IronWolf Pro on our DS718+ was easy and pretty straightforward.
We put the 2 14TB drives we received into the 2 bays of the NASware. We installed Synology Assistant for Windows. The program automatically found the server where the 2 drives are installed. When doing this, be sure that your server and the PC you're using are both connected in the same network.
We connected to the drive via the browser. At this point, we continued by installing the most updated DSM (Diskstation Manager) to the drive. The installation took about 10 minutes. Once DSM is installed, we set up QuickConnect, which allows us to access the server anywhere we want without port forwarding. The process was very simple.
After this, our 2 14TB Ironwolf Pro were later installed with Btrfs file system. This is the most modern way of file system, especially for NASwares. Unlike ext4, Btrfs has disk and volume management built-in. It supports full system snapshots and rollback, which the Seagate Ironwolf Pro can handle pretty nicely.  It also supports shared folder snapshots and replication, shared folder quota, advanced data integrity protection and DDSM.
Our 2 IronWolf Pro hard drives are installed using SHR or Synology Hybrid Raid. This is an automated RAID management system from Synology, which is designed to make storage volume deployment quick and easy. This is the most recommended setup and unlike Raid 0 that basically combines the capacity of the 2 drives, SHR makes 14TB available space for your files while the other 14TB is used for protection. While this may seem similar to Raid 1, it is entirely different. SHR allows you to just add another disk and expand the volume.
Based on our setup, the final available total capacity was 12.22TB, while the other Ironwolf Pro was reserved for fileprotection purposes.
During idle times, our resource monitor shows that our setup was only eating about 17% CPU and 15% CPU. We also tried transferring a total of 45GB of file from our PC hard drive to our server and finished within 1 hour and 30 minutes. When transferring directly from USB hub of Synology DS718+ to the server, the transfer rate was around 108MB/s.
To better appreciate how this is beneficial for us, here's a rundown of how we produce our content for YouTube and Facebook: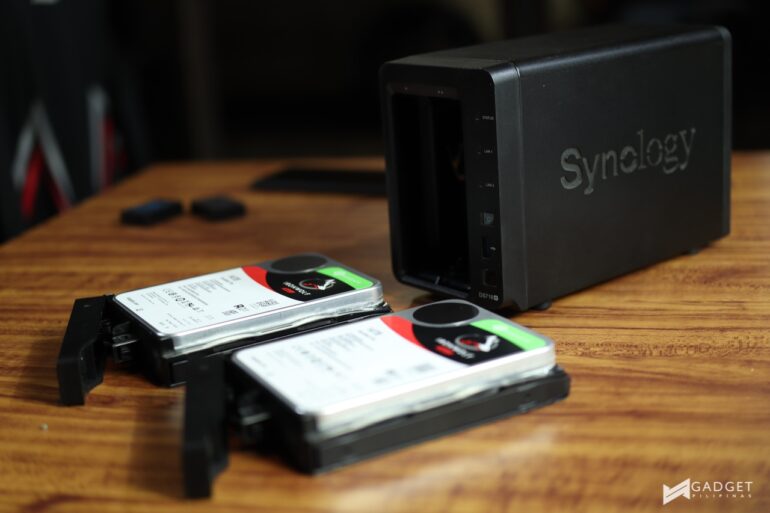 We shoot using 2 cameras and 1 audio source. Video is MP4 at 1080p, while audio is MP3 at 48Khz. The combined size of all videos and audio for unboxing is around 35GB. This includes talking heads and brolls. We save everything on our Seagate Backup Plus Hub Desktop 4TB (that we will review soon), and use our Macbook Pro to edit everything with Final Cut Pro. Once rendered and approved by the client, we transfer all work files from our Macbook to our Backup Plus for safekeeping.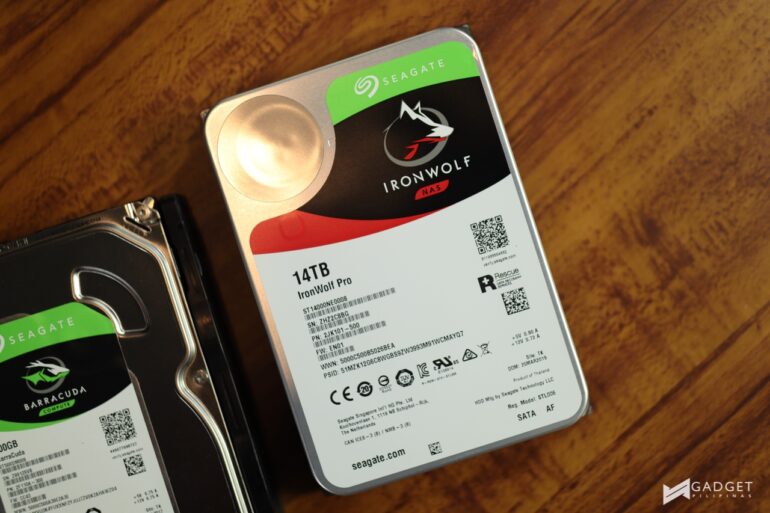 Our Seagate Backup Plus Hub Desktop 4TB isn't the final resting place of the files we already rendered and posted on our channels. We can then transfer everything from the Hub to our NAS server where our 2 14TB Ironwolf Pro hard drives are installed. This combination of file management simply makes our lives easier at work, and security of our things we worked hard for.
Giancarlo Viterbo is a Filipino Technology Journalist, blogger and Editor of gadgetpilipinas.net, He is also a Geek, Dad and a Husband. He knows a lot about washing the dishes, doing some errands and following instructions from his boss on his day job. Follow him on twitter: @gianviterbo and @gadgetpilipinas.