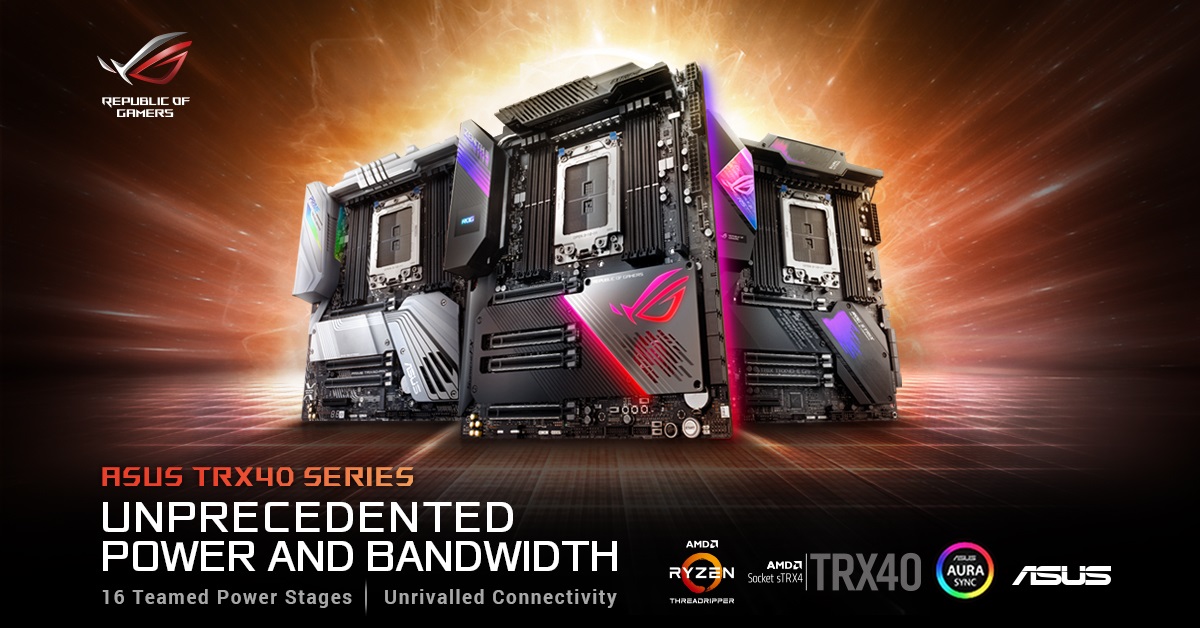 ASUS has announced its new lineup of motherboards for 3rd Generation AMD Ryzen Threadripper processors – ROG Zenith II Extreme, ROG Strix TRX40-E Gaming, and ASUS Prime TRX40-Pro, all loaded with numerous improvements and new features to help professionals, enthusiasts, and gamers make the most out of these powerhouse CPUs.
ROG Zenith II Extreme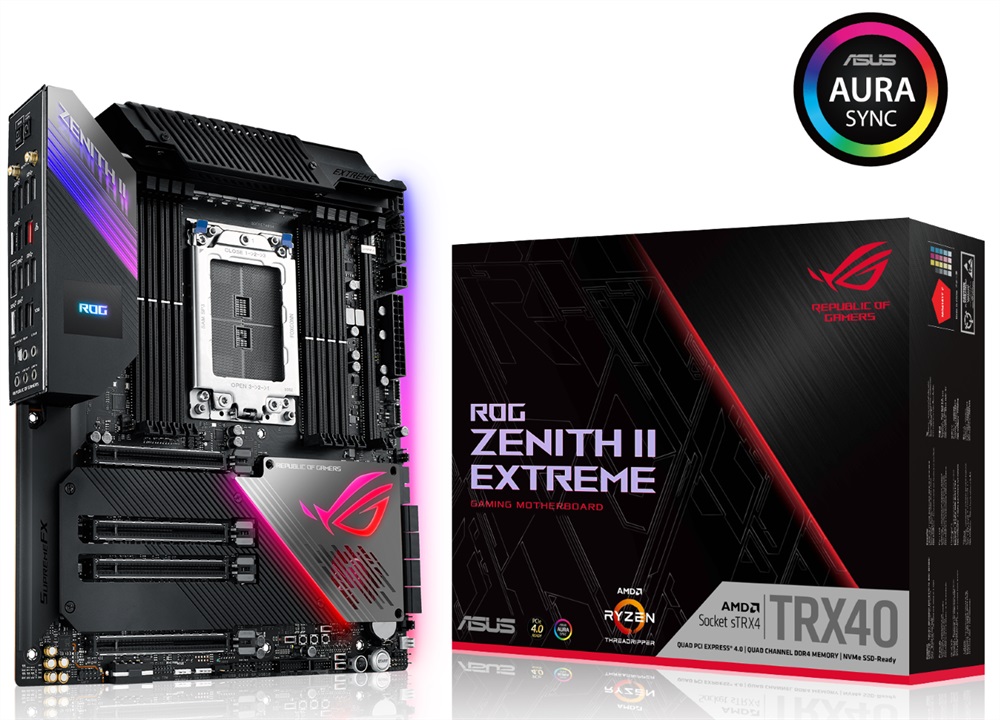 Perfect for professionals and gaming enthusiasts, the ROG Zenith II Extreme allows them to explore the limits of 3rd Gen Threadripper CPU's core and memory clock speeds, and is filled to the brim with nothing but top-notch hardware.
Lights off, and the Zenith II Extreme becomes stealthy and subtle. Once the multi-zone Aura RGB LED effect is fired up, the board becomes a high-end showpiece. The LiveDash OLED display can show POST codes, critical system information, or custom graphics.
The board employs an advanced 16-power-stage VRM design, suitable for extreme overclocking. It packs five M.2 slots, each using up to four lanes of PCIe 4.0, and eight SATA ports for serious mass-storage needs.
Zenith II Extreme features a trio of network interfaces – an Intel I211-AT Gigabit Ethernet controller, the Aquantia, AQC-107 1GbE controller, and Intel's AX200 Wi-Fi 6 and Bluetooth 5 support.
Its back panel has seven USB 3.2 Gen2 ports with 10Gbps of throughput, along with a super-fast USB 3.2 Gen 2×2 Type-C connector with 20Gbps of banwidth. It also includes a pair of front panel USB 3.2 Gen 2 connectores, four USB 3.1 Gen 1 ports, and three USB 2.0 headers.
Zenith II Extreme uses SupremeFX S1220 codec paired with a high-end ESS Sabre 32-bit DAC for a real life audio experience.
ROG Strix TRX40-E Gaming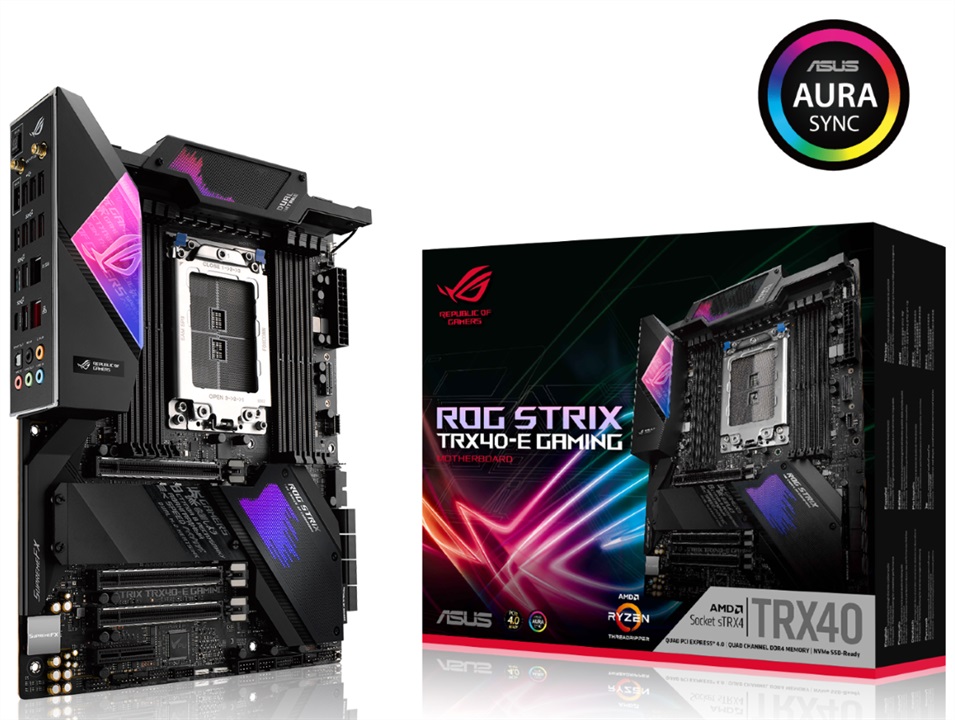 Filled with all the high-end desktop credentials expected from such a standout component, the ROG Strix TRX40-E Gaming offers great customization options, sleek cybertext aesthetics and a 1.3-inch LiveDash OLED display.
It's equipped with a 16-stage VRM with two semi-passive fans above the heatsink to keep things cool, even with overclocking. ProCool II power plugs and their solid pins help ensure stable power delivery to the CPU's numerous cores and keep the connectors themselves cool under load.
It boasts three M.2 sockets, each linked to four lanes of PCIe 4.0, as well as eight SATA ports that adorn the edge of the board. At the back are eight USB 3.2 Gen 2 ports with 10 Gbps of bandwidth, including one Type-C, alongside another four USB 2.0 Type-A connectors. Strix TRX40-E Gaming also offers dedicated headers for both AIO and custom-loop pumps in addition to standard fan headers.
The new board also comes with a trio of network controllers. The Intel AX200 Wi-Fi 6 adapter with Bluetooth 5, alongside a 2.5Gbps Realtek Ethernet Controller paired with the Intel I211-AT Gigabit Ethernet Controller. For audio, the Strix TRX40-E Gaming uses a SupremeFX S1220 audio codec alongside DTS Sound Unbound support.
ASUS Prime TRX40-Pro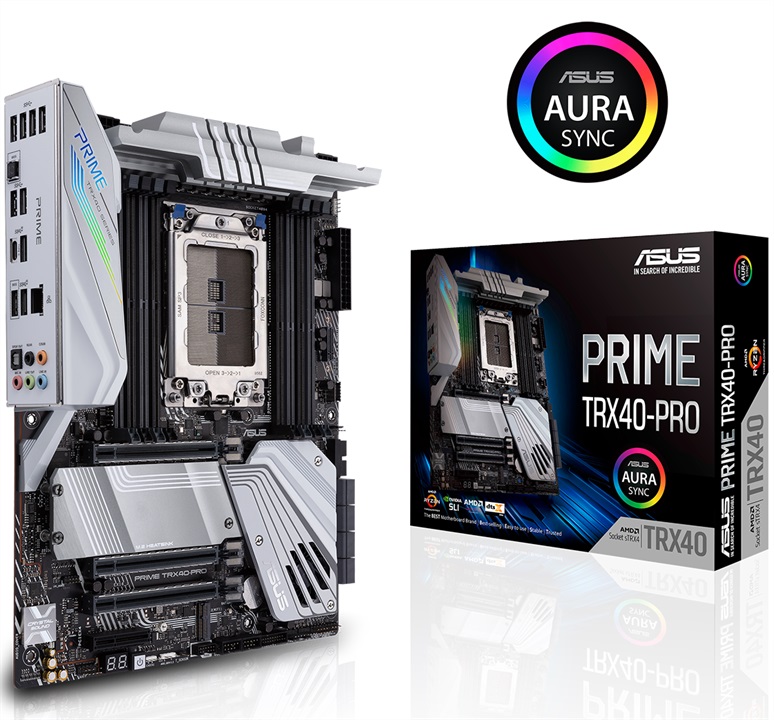 Prime TRX40-Pro is built for creative workloads such as video editing and 3D rendering that benefit from the power of multi-core CPUs.
Its brushed-aluminium VRM heatsink draws heat away from a 16-stage power delivery subsystem comprising Infineon TDA21462 integrated power stages paired with premium chokes and components. It has three PCIe x16 ASUS SafeSlots that are poised to run all-out in a x16/x16/x16 configuration.
The board has three M.2 slots, wired up to PCIe 4.0 x4 bandwidth. Those working with massive video files can RAID together multiple NVMe devices for massive I/O bandwidth and seamless playback. Two of these slots rest under a dedicated heatsink for preventing SSD throttling under heavy loads. The third M.2 slot positions SSDs vertically to take advantage of ambient airflow around the CPU socket.
It has three USB 3.2 Gen 2 Type-A connectors and a reversible USB 3.2 Gen 2 Type-C port to provide up to 10 Gbps for connecting fast external storage, audio interfaces, dedicated video editing controllers and more. The board also boasts a full suite of fan and liquid-cooling headers controllable using the Fan Xpert 4 utility. For those who want to add a Wi-Fi module, it also includes an E-key M.2 2230 socket. Wired connectivity comes from a Gigabit Ethernet port backed by an Intel I211-AT chip.
Pristine audio quality is achieved thanks to the Realtek S1220 audio codec, along with EMI shielding and separate PCB layers for the left and right channels to maintain signal integrity. DTS:X Ultra support also brings immersive 3D spatial audio for headphones and speakers.
Pricing and Availability
ASUS and ASUS ROG TRX40 motherboards will be available in stores starting December 2019.
ROG STRIX TRX40-E Gaming (PhP29,590)
ROG ZENITH II Extreme (PhP43,520)
PRIME TRX40-PRO (PhP26,720)