Xiaomi Mi 9T Pro has been finally announced in the Philippines, and it will soon arrive to those who will pre-order it by September 14. The announcement of Huawei's much-awaited smartphone was shortly made a week after Huawei launched Huawei Nova 5T in the Philippines.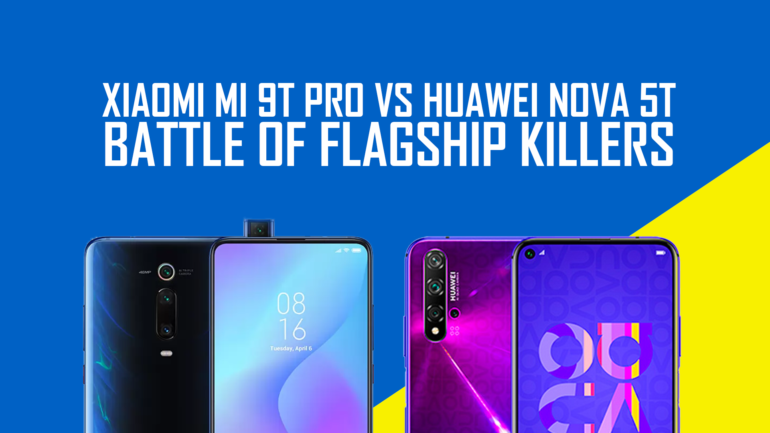 Today, we're finally pitting these 2 products and see – at least on paper – which one has the upper hand. Of course, I encourage everything to get into a healthy discussion to help consumers determine which is better in specific hardware and software departments.
Huawei nova 5T
Xiaomi Mi 9T Pro
Official SRP
18,990PHP
18,990PHP
Material
Glass
Glass
Display
6.26" LCD 2340 x 1080
6.39" LCD 2340 x 1080 180Hz Response Rate
Punch Hole Camera
Motorized Front Pop-up Camera
Chipset
Kirin 980, 7nm, 2x NPU
Qualcomm SDM855
RAM
8GB
6GB
ROM
128GB
64GB
Front camera
32M f/2.0 Punch
20MP f/2.2
Rear camera
48MP + 16MP(wide)
48MP + 8MP+ 13MP
+2MP + 2MP
f/1.8 + f/2.4 + f/2.4
f/1.8+f2.2+f/2.4 + f/2.4
Fingerprint
Side
Under Display
Battery
3750mAh
4000mAh
Charge
22.5W Type C
27W Type C
OS
Android 9 + EMUI 9.1
Android 9.0 (Pie); MIUI 10
Here are a few points that I'd like to raise:
One of the major advantages of the new Xiaomi Mi 9T Pro is its AMOLED display. This is one of the features where Mi 9T Pro shines in the competition. From playing mobile games to watching videos, having a smartphone with an AMOLED display is a gold standard for flagship units. Here's the kicker: Mi 9T Pro isn't even at the category of flagship priced smartphones, yet it cross over that category by having an AMOLED display at sub-PhP20,000 pricepoint. I haven't even delved deeper about its 60hz panel with 180hz response time. If you're a gamer, this is Wild! We're giving this round to Xiaomi. How about you, guys?
If memory serves me right. Mi 9T pro is the 1st smartphone to rock a Qualcomm Snapdragon 855 at a sub PhP20,000 level. This brings me back to Xiaomi Pocophone 1 days, which I think really changed the game. Kirin 980 on nova 5T isn't bad actually. It's a beast in its own right, and it's the most gaming capable chipset by Huawei I've experienced. However, holding all things constant, Snapdragon 855 remains to be the king in chipset-wars. "Holding all things constant" is my major qualifier here though. Yes, SD855 is better, but you have to consider the other components that work hand in hand with its CPU. On paper, Mi 9T Pro wins in the CPU department, but overall, its performance will be more or less similar with Huawei nova 5T with Kirin 980 with 8GB RAM. Note that Mi 9T Pro that costs PhP18,990 may have SD855, but it only has 6GB RAM. Take this with the grain of salt though. We hope to receive our Mi 9T review unit so we can compare it with nova 5T accordingly. Verdict, at least on paper, is a tie.
In the camera department, it is too early to tell which one is better. On paper, I'd like to say that nova 5T's front camera is better solely in terms of megapixel count. Selfie portrait shots look good albeit a little too washout but that's probably because of the default software settings. Note that nova 5T's front camera is brighter in terms of aperture, which is probably the main culprit to the brighter or more washout color. Its flagship-level rear cameras though make it a worthy adversary to more expensive cameras. Despite not being Leica-branded, its cameras manage to have features that mimic the ones on Huawei P30 and P30 Pro.I don't have a Mi 9T Pro yet, but it shows a lot of promise in both front and rear camera capabilities. I wouldn't be giving any points on this aspect, at least for now.
One of the technologies that Mi 9T Pro has that nova 5T lacks is its under-display fingerprint sensor. Huawei opted to have a side-mounted fingerprint sensor, which isn't exactly a bad thing but somehow sends an impression that they adapted a less high-tech technology. Plus points for Mi 9T Pro here.
I've got lots of things to say, but I believe it's best to reserve everything until I receive our review unit. One thing is for sure – these 2 devices are the best-priced flagship-killers in the market. Whether you're fan of Huawei or Xiaomi, you probably would agree with me that these devices are taking over the industry. I, for one, am looking forward to seeing more something like this in the future.
Let me know your thoughts about this. Drop your comments in the comments section. Let's discuss.
Giancarlo Viterbo is a Filipino Technology Journalist, blogger and Editor of GadgetPilipinas.net, He is also a Geek, Dad and a Husband. He knows a lot about washing the dishes, doing some errands and following instructions from his boss on his day job. Follow him on twitter: @gianviterbo and @gadgetpilipinas.