Huawei Mate 30 series is now official and was unveiled at Messe, Munich. The series was announced and introduced by Richard Yu, CEO of Huawei Technologies Consumer Business Group.
The new series embodies a more minimalist yet iconic design, with aesthetic cues emanating from a Leica camera; and features a brand new OLED display which extends up to almost 90-degrees on the side of the device. These, however, are just some of the new features that Yu announced on stage. Huawei Mate 30 series has, based on specifications, the best camera set in the industry that will delight both photography and videography enthusiasts and professionals.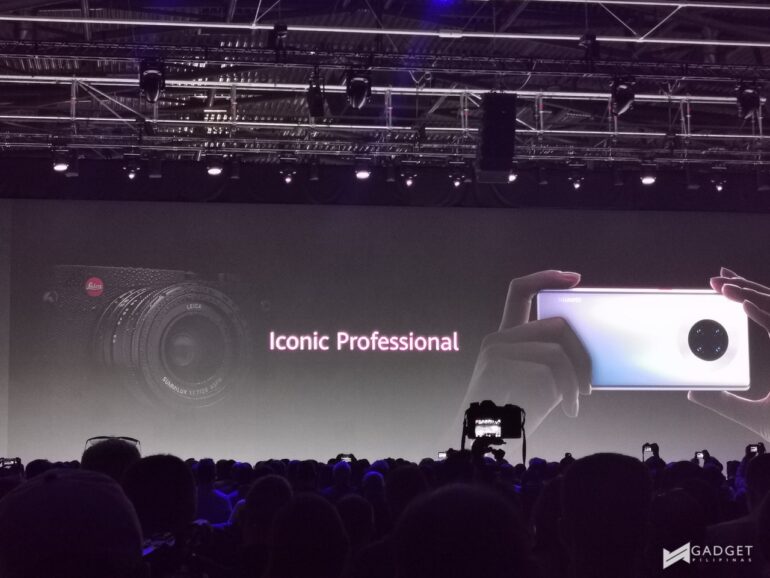 On stage, Richard Yu said, "The HUAWEI Mate 30 Series unleashes the full potential of the smartphone. Designed to stand out, it challenges convention while delivering an unrivalled user experience. The era of 5G is an opportunity to rethink smartphone technology and the HUAWEI Mate 30 series is the ultimate expression of what's possible."
Huawei Mate 30 Series is completely new in many aspects. The new smartphones that Huawei announced have features that are ultimate considered as huge step up from its previous generations. It is the first smartphone to sport a Kirin 990 SoC. According to Huawei, its performance is better by 23% for CPU, 39% for GPU and 460% for NPU. Power efficiency was further improved too by 23% for CPU, 32% for GPU and 290% for NPU.
Also, from being able to shoot 7680 fps slow motion to capturing photos with an impressive light sensitivutiy of ISO 408600, the series isn't simply an upgrade of the previous generation but a compete rethinking of the new possibilities that can be put on a smartphone.
Here's a quick rundown of the specifications of the new smartphones:
Huawei Mate 30
Huawei Mate 30 Pro
SRP (Euro)
799 Euro
1099 Euro
Material
Glass
Glass
Display
6.62 in. Rigid OLED Horizon Display 2340 x 1080
6.53 in. FLEX Horizon Display 2400 x 1176
32.8mm Notch
26.6 Notch
Chipset
HiSilicon Kirin 990 (7 nm+)
HiSilicon Kirin 990 (7 nm+)
GPU
Mali-G76 MP16
Mali-G76 MP16
RAM
6GB
8GB
ROM
128GB
256GB
Front camera
24M f/2.0
32MP, 2x Depth Sensor
Rear camera
40MP, f/1.8
40MP, f/1.6
8MP, f/2.4
8MP, f/2.4
16MP, f/2.2
40MP, f/1.8
3D TOF Camera
Fingerprint
Under Display
Under Display
Battery
4200mAh
4500mAh
Charge
Fast battery charging 40W
Fast battery charging 40W
Fast wireless charging 27W
Fast wireless charging 27W
OS
Android 10; EMUI 10
Android 10; EMUI 10
The new series also has respective 5G versions and limited edition Porsche Design variants.
One of the new and best features of the phones that we wish to fully discuss is its impressive set of camera set. Huawei didn't just add new cameras or redesigned it without any reason. Each step they have gone through shows how they rethought mobile photography and videography. The all new SuperSensing Cine Camera was born out of the necessity to revolutionize imaging.
Camera
Huawei Mate 30
Huawei Mate 30 Pro
Front camera
24M f/2.0
32MP, 2x Depth Sensor
Rear camera
40MP, f/1.8
40MP, f/1.6
8MP, f/2.4
8MP, f/2.4
16MP, f/2.2
40MP, f/1.8
3D TOF Camera
The new quad camera system of the Mate 30 Pro (see above) allow consumers to take stunning cameras that rival high-end ones.
Note that Mate 30 Pro, for instance, packs 4 SuperSensing 40MP cameras – with one having a 1/1.54-inch sensor, and these help users take videos of with 51200 video ISO. It's wild! You can also take videos up to 4k 60fps as well as ultra slow-motion at highest 7680 FPS.
What even caught my attention is that Huawei Mate 30 Pro supports shooting 4K Low-light Ultra-wide time-lapse video. My Canon M50 cannot even do this, and even my Osmo Pocket.
The Huawei SuperSensing Camera is now even better in taking photos in low-light situations as it attracts 40% more light. This enabled Huawei to push camera to the limit and shoot at ISO409600. No other smartphone can do this in the market right now.
The Software that matters
Apart from the the specs and camera system, the new series also offers faster, safer and more engaging experience. It is running on EMUI 10 based on Android 10. Here are some of features that are worth noting.
EMUI10 operating system featuring a contemporary magazine inspired layout, Always-On-Display (AOD) where the colour of the lock screen changes throughout the day;
Dark Mode brings enhanced legibility making the screen look gentler and more comfortable when night falls;
Intuitive Side-touch Interaction to customise invisible virtual keys for volume adjustment, gaming and camera set-up as well as being ideal for both right and left-handed users;
AI gesture control for contactless screen interaction, whereas AI Auto-Rotate and AI Private View are all designed to improve users experience;
HiCar smart travel for advanced, seamless connectivity between device and a car's communication and entertainment system;
Multi-screen Collaboration allows users to transfer data and control multiple screens between Huawei devices.
HUAWEI 3D Face Unlock and In-screen Fingerprint to provide advanced data security and privacy protection with (HUAWEI Mate 30 Pro only)
Huawei Mate 30 series is shaping up to be a crowd favorite. Its killer specs and unquestionable camera prowess are enough reasons to consider it as alternatives to the Galaxy Note 10+ and Apple iPhone 11 Pro Max.
At the time of this writing, we still haven't received a unit, so we are still unable to share our full experience with it. Expect more and upcoming posts within the day.
Giancarlo Viterbo is a Filipino Technology Journalist, blogger and Editor of gadgetpilipinas.net, He is also a Geek, Dad and a Husband. He knows a lot about washing the dishes, doing some errands and following instructions from his boss on his day job. Follow him on twitter: @gianviterbo and @gadgetpilipinas.