For Embedded systems, top-notch reliability and being able to withstand harsh conditions are two key conditions that must be met. As such, Transcend offers corner bond and underfill customization options for its lineup of embedded products to improve reliability under high thermal or vibratory stress, high gravitational acceleration, and high fatigue cycle applications.
The company continuously invests in cutting-edge technologies and in expanding its embedded-use flash and DRAM products, offering an excellent track record for the demanding market.
What exactly is corner bond or underfill?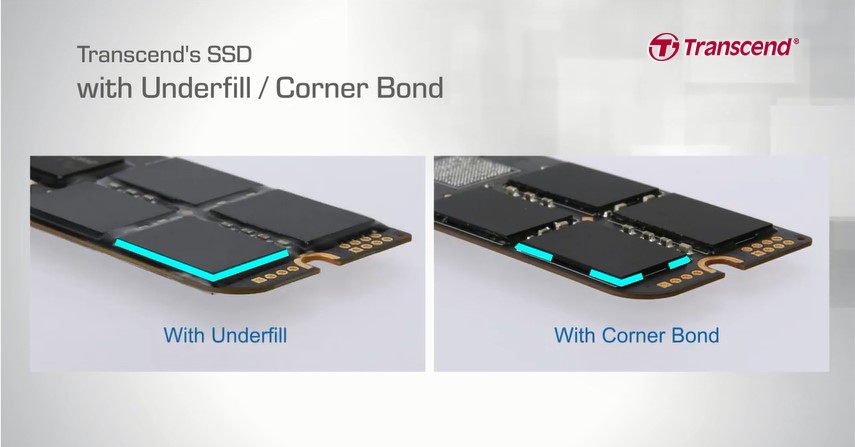 With industrial systems often exposed to severe environment conditions, corner bond or underfill is a fluid encapsulant which fills the gap between the component and the PCB. This provides a strong mechanical bond and at the same time relieves stress between fragile interconnections.
Main functions
Corner bond and underfill are commonly used for ball grid array (BGA) based storage for applications such as handheld devices, which should pass drop or tumble tests.
When these devices are exposed to repeated heating and cooling cycles, a BGA chip will contract and expand at a different rate than that of the underlying substrate due to a difference in the coefficient of thermal expansion for each material. This in turn, creates mechanical stress on the device's solder joints.
Corner bond or underfill is used as an agent to relieve that stress by evenly distributing the expansion and contraction effects. By spreading stresses throughout the chip and PCB interface with a mechanical bond, the stress on the solder joints will now be less concentrated, increasing the device's reliability.
How corner bond works 

Transcend's corner bond is an economic bonding solution which involves applying a fluid encapsulant around the perimeter of a component, leaving just one gap unapplied. This is to allow space for future thermal expansion.  The adhesive is then cured with UV light to form a structural bond between the component and the PCB.
How underfill works
Underfill is typically a polymer or liquid epoxy that's applied just underneath the perimeter of key components on a PCB after passing through a reflow oven. The PCB is then heated, allowing the underfill to be absorbed the underneath key components through capillary action.
Both these methods deliver enhanced reliability for the device, mainly by relieving the stress on the components and the PCB. Transcend recommends corner bond and underfill for its embedded flash and DRAM products used in various industries such as Handhelds, Automotive, and even in the Military.
For more information, click here.
Emman has been writing technical and feature articles since 2010. Prior to this, he became one of the instructors at Asia Pacific College in 2008, and eventually landed a job as Business Analyst and Technical Writer at Integrated Open Source Solutions for almost 3 years.