Transcend unveiled a new lineup of solid-state drives (SSDs) made for the high-end embedded market. These are made of 3D NAND flash and features enhanced endurance as well as thermal tolerance. This latest line-up comprises SSDs in the 2.5-inch, SATA III, PCIe M.2, and SATA III M.2 form factors.
These are rated to endure 3K Program/Erase (P/E) cycles and engineered to withstand extreme operating temperatures from -40°C to 85°C. The latest SSDs are made to reliably operate with embedded applications including AIoT (Artificial Intelligence of Things), ITS (Intelligent Transportation Systems, IoV (Internet of Vehicles), and surveillance systems.
Featured in this release are V-series SSDs with enhanced endurance and I-series drives that also offer a wide operating temperate range. Being built of 3D NAND flash, memory cells are stacked vertically in multiple layers to overcome the density limitations of planar NAND.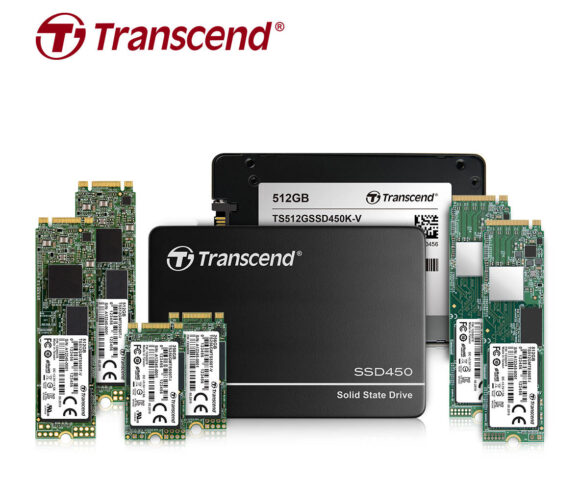 The new line-up utilizes the PCIe Gen3 x4 interface, which means four lanes are used for transmitting and receiving data simultaneously. The result is the performance of up to 1,800 MB/s read and 800 MB/s write.
The new line of SSDs come with many of Transcend's advanced in-house technologies. SLC caching and a RAID engine power up read and speeds and extend product life; a RAID engine protects data and enhances drive stability; and LDPC (Low-Density Parity Check) Error Correction Code detects and corrects bit errors for reliability.
The company's proprietary SSD Scope Pro Software is a kit that also measures SSD's health. Some of the tools include View Drive Information, View S.M.A.R.T. Status, Diagnostic Scan, Secure Erase, Firmware Update, TRIM Enable, Health Indicator, and System Clone.
All of Transcend's embedded 3D NAND SSDs are covered by a three-year limited warranty.
Interface
V-series: Enhanced reliability
I-series: Enhanced reliability and
a wide operating temperature range
SATA III 2.5"
SSD450K-V
128GB, 256GB,
512GB
SSD450K-I
128GB, 256GB,
512GB
PCIe M.2 2280
MTE550T-V
128GB, 256GB,
512GB
MTE550T-I
128GB, 256GB,
512GB
SATA III M.2 2280
MTS950T-V
128GB, 256 GB,
512GB
MTS950T-I
128GB, 256GB,
512GB
SATA III M.2 2242
MTS550T-V
64GB, 128GB,
256GB
MTS550T-I
64GB, 128GB,
256GB