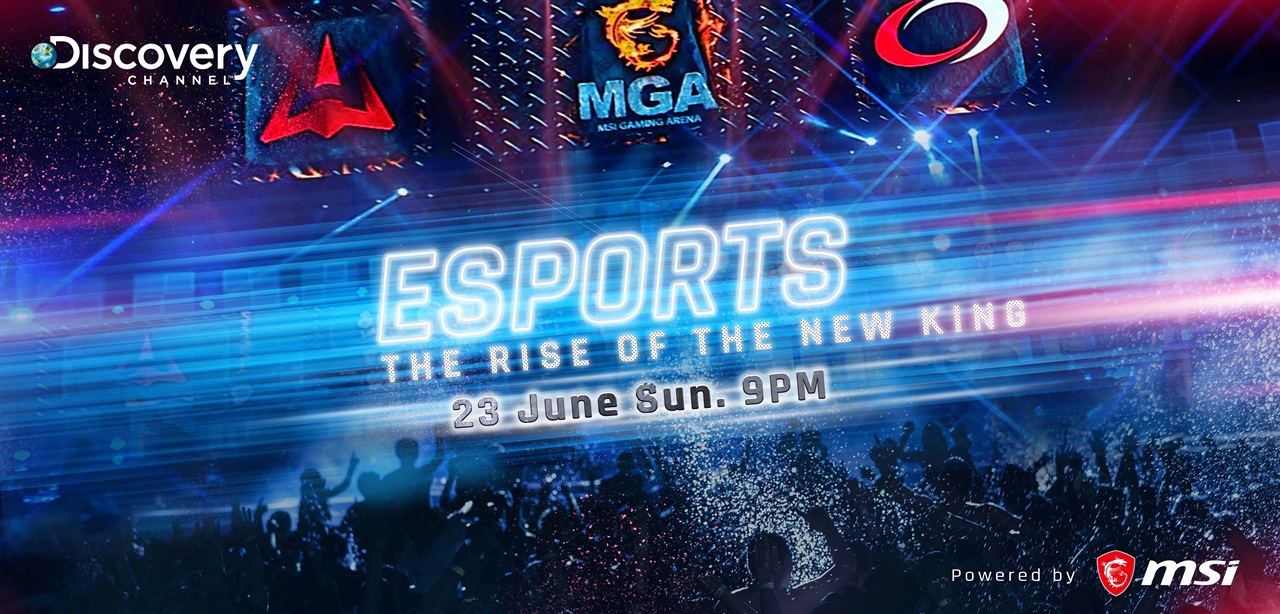 Discovery Channel has recently launched ESPORTS: THE RISE OF THE NEW KING – a program which pins focus on eSports, how it has thrived as an ecosystem, and how gaming has rapidly evolved from being just a pastime into top-tier sports.
It also emphasizes the major roles that Global eSports organizations and tournaments, game publishers, eSport teams and fans worldwide, as well as the design and manufacture of top gaming gear, play in propelling this industry forward.
"Discovery is more than a channel. We are the world's #1 IP content provider who has delved deep into vertical content in hopes of engaging the audience and powering their passions. With eSports surging in popularity, we have seen its potential and launched Discovery Games Studios to create games inspired by various TV shows from Discovery's properties. We also recognized MSI's vast potential in the meanwhile. With MSI gaming laptops' high prevalence worldwide, there is no doubt MSI is one of the major forces behind the success of eSports."
– Tony Qiu, Discovery's VP and GM for Greater China and Korea
"MSI's unsparing devotion to eSports not merely captures worldwide attention, but also attracts world-renowned media Discovery to run this program. Through this detailed video, all audience will get in-depth understanding of the eSports ecosystem while realize MSI's role as a mover and shaker who spares no effort to promote eSports through MSI's highly acclaimed gaming hardware and software, stunning game immersion jointly designed by game developers, and global eSports sponsorships of teams and tournaments."
– Charles Chiang, MSI CEO
In 2007, MSI launched GX700, the first gaming laptop and went on to focus on high-end PC design and development. The brand has always kept strong ties with global eSports gaming communities, and has already participated in over 130 eSports events in over 50 countries.
With a strong base of 7 million fans worldwide, MSI has always been keen on listening to feedback from its customers, as well as incorporating these opinions in future product design, so gamers can enjoy optimized product performance.
MSI has also ranked first in terms of market share for its gaming laptops for four consecutive years since 2014, and has won the best PC Games Hardware Award of Germany for two consecutive years, as well as the Best Windows Laptop in the renowned PC Magazine Readers' Choice Award for two years in a row. In 2018, the company even surpassed Apple in the Gamer's Choice category as the most recommended laptop brand.
Today, MSI has established its foothold in the eSports scene, and has already sponsored over 20 renowned pro-gaming teams -Fnatic, FlashWolves, Cloud9, etc, along with over 500 amateur gaming teams across the globe. The brand also hosts the MGA (MSI Gaming Arena) tournament where talented pro-gaming teams from all over the world battle it out against one another for the title of champion.
In the Philippines, ESPORTS: THE RISE OF THE NEW KING is scheduled for a re-run on August 3, 2019 at 9:50 PM.
Emman has been writing technical and feature articles since 2010. Prior to this, he became one of the instructors at Asia Pacific College in 2008, and eventually landed a job as Business Analyst and Technical Writer at Integrated Open Source Solutions for almost 3 years.