The last time we saw a proper Android device that was heavily positioned for gaming was NVIDIA Shield. NVIDIA was somehow successful in presenting it to their audience distinctly for gaming, but was marred with hardware issues at post launch. It was, however, revolutionary at that time as NVIDIA set it up as something that you can connect to your PC and play your PC games with it, along with device-exclusive Android games on the side.
Fast-forward to 2018, ASUS introduced the ASUS ROG Phone – a gaming smartphone with near-PC or console specifications, but was positioned for hardcore mobile gamers. ASUS was aware that they directly compete with console-giants like Nintendo and Sony, so they took it differently by introducing the ROG Phone as the "best" smartphone that users can use to play their favorite games. ASUS also introduced several accessories that enhance the gaming experience of users: Aero Active Cooler, Twinview Dock, Gamevice Joystick, ROG Desktop Dock, ROG Professional Dock and WiGig.
Almost a year from the introduction of ROG Phone, ASUS just announced the ROG Phone 2. Powered by the latest Qualcomm Snapdragon 855+, gaming on a smartphone has never been this really good and fast. You can check out our separate article about its new features. This time, along with the new features, ASUS also announced improved accessories for it.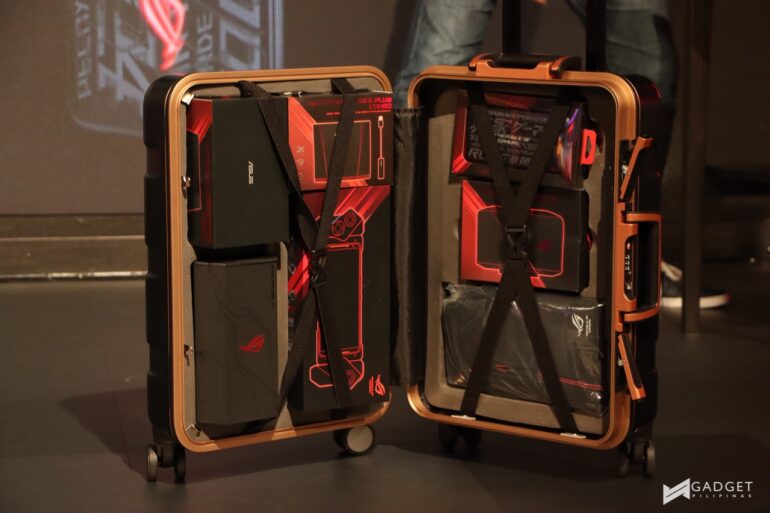 ASUS ROG Phone 2 Cases: Yes, they announced more than 1 case for ROG Phone 2. This time, ASUS made sure that its other accessories may still be used on the ROG Phone 2 with the case attached to it.
ASUS ROG Kunai Gamepad: Are you familiar with Nintendo Switch Joycons? This is exactly what ASUS ROG Kunai Gamepad can do. This allows users to use the smartphone however they can: Gamepad Mode (when attached to ROG Kunai Holder) and Handheld Mode (when it is attached to ROG Kunai Bumper).
ASUS ROG Twinview Dock 2: Yes, last year's Twinview Dock gets a new version with the Twinview Dock 2. It is lighter and more responsive than last year's version. Extended battery has been downgraded from 6000mAh to 5000mAh though, but they managed to sneak in a Turbo Fan in it.
ASUS ROG Mobile Desktop Dock: ASUS did not say much about this, but we recon that this is an improved version of it.
ASUS ROG WiGig Dock Plus: ASUS did not explain much about what this new WiGig can do, but judging from its name, it seems that this will support 4K and with improved latency.
Giancarlo Viterbo is a Filipino Technology Journalist, blogger and Editor of gadgetpilipinas.net, He is also a Geek, Dad and a Husband. He knows a lot about washing the dishes, doing some errands and following instructions from his boss on his day job. Follow him on twitter: @gianviterbo and @gadgetpilipinas.