A couple of years back, features like pop-up cameras used to be only found in concept phones or prototypes. I personally never thought they'd be in production phones anytime soon, and if they'll be, it'll probably cost you a fortune.
Fast forward to 2019, and these so-called premium features have made it to the mid-range segment, and the OPPO F11 Pro is a great example of a device in this category. Add VOOC 3.0 fast charging and dual rear cameras with a dedicated Night Mode and Dazzle Color feature to the recipe, and you get a phone that seems to be well-rounded in just about every aspect.
So, is this phone the ideal mid-range device? or is just another set of gimmicks badly put together? let's find out.
Design and Build Quality
For the F11 Pro, it seems that the company really went back to the drawing board, as this phone barely has anything similar to its predecessor, the F9 in terms of design.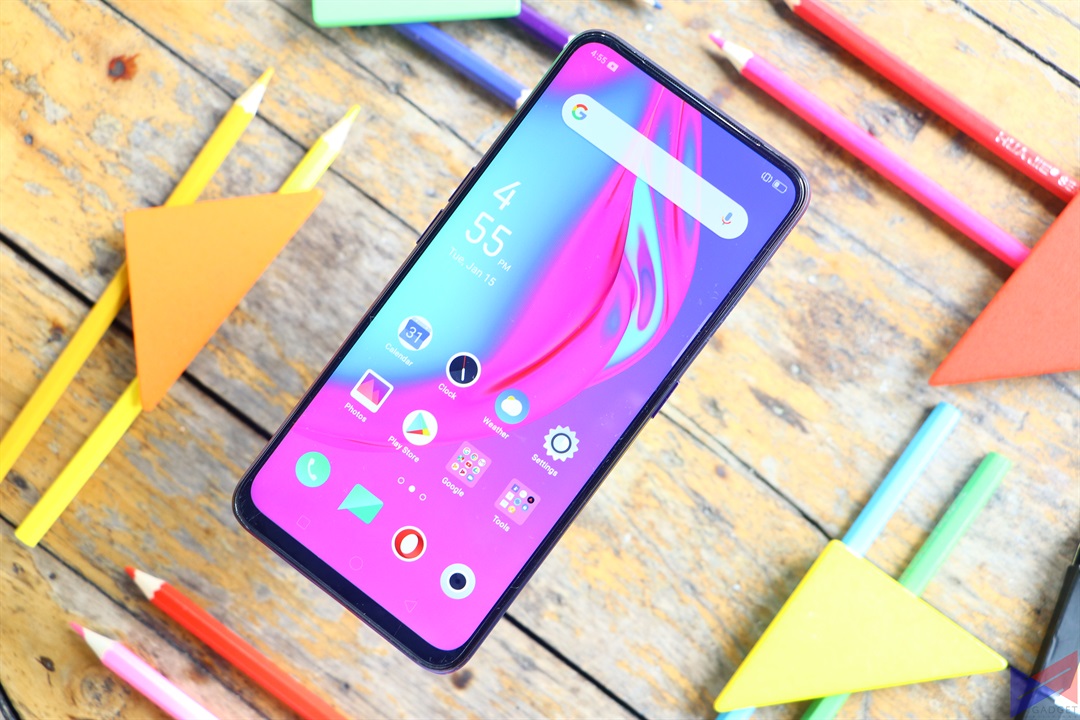 You get a true-full screen display without the notch, albeit slightly thicker bezels than I personally want. Power button and SIM slot on the right, and volume rocker on the left. Here's a catch, the phone uses a Hybrid SIM Tray.
OPPO still isn't done with using a standard microUSB port on their phones, as is the case here. I would've loved a Type-C port, but hey, there's still VOOC 3.0 fast charging, so It's fine.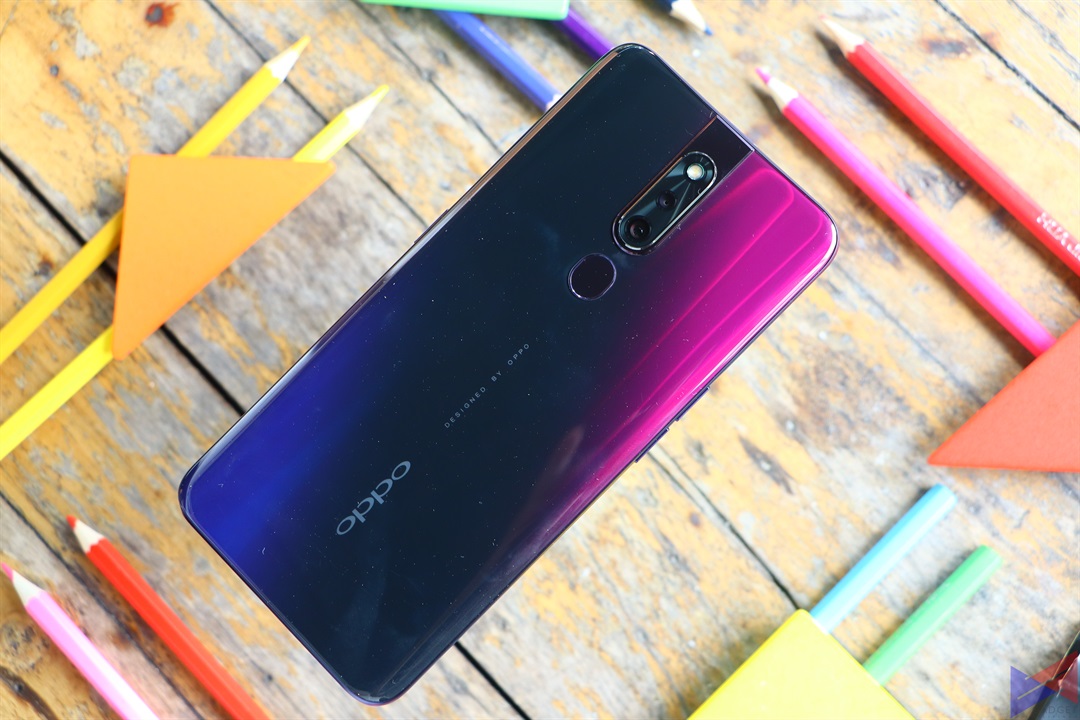 The back is fairly flat, thanks to a less protruding camera module. The layout of the branding has also been changed into a more subtle one, and nicely compliments the gradient finish of the panel.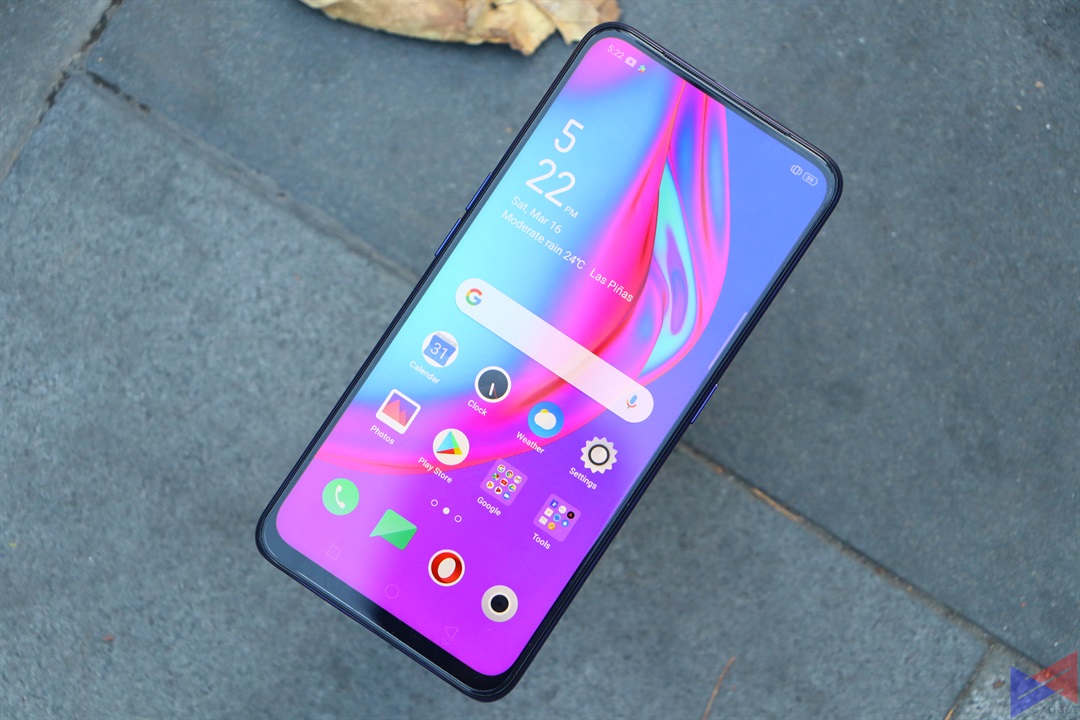 The 6.5-inch FHD+ display looks stunning, with good level of brightness and very punchy colors, which completely jive with the design of ColorOS. Visibility in direct sunlight is also decent.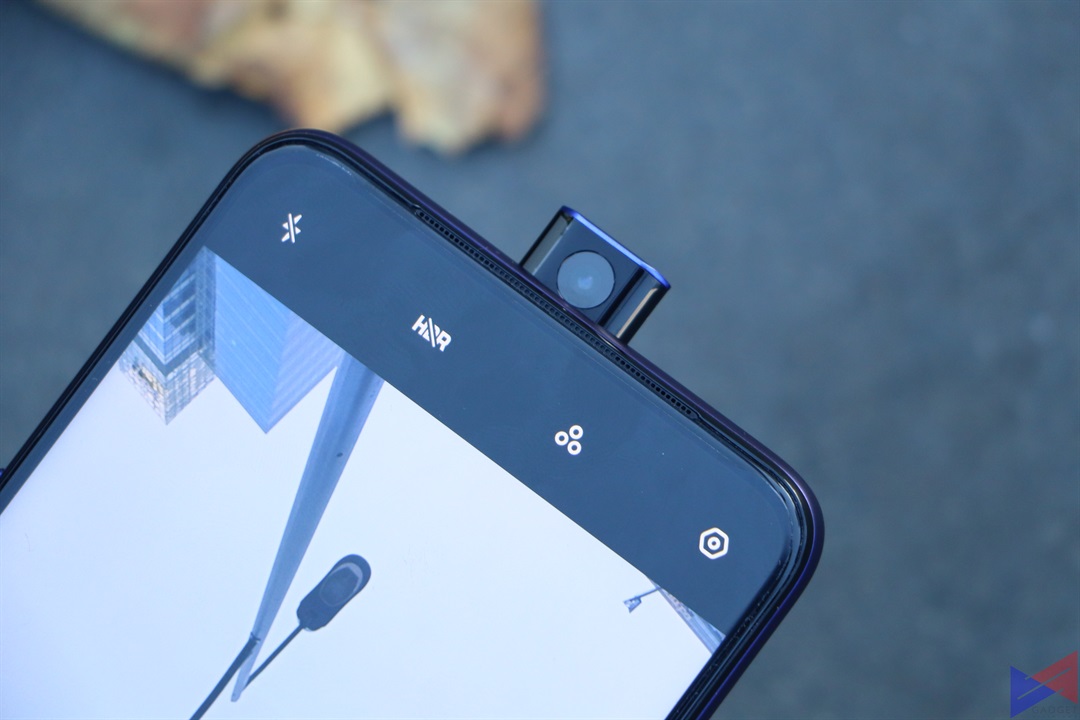 Perhaps the most iconic feature of this phone, is its front camera, which is controlled by a motor, and rises whenever you unlock the phone, or when you switch to the front camera via the Camera app. While the mechanism isn't as quick as the phone's rear fingerprint sensor, It's still quick enough that it doesn't frustrate you, and I did find myself using it more often. It's also accurate in detecting your face, even in low-light.
Now of course, there's a looming concern that motorized parts may be prone to failure, and that's valid. And while OPPO didn't mention how many times it has been tested, we could tell that it's sturdy enough to last for a while.
Performance
The F11 Pro is equipped with the new Helio P70 octa-core processor, which is built on the same 12nm process, but with higher clock speeds for both the CPU and the GPU. As such, It's touted to deliver up to 30% improvement in AI performance, and 13% improvement in performance for general tasks.

In AnTuTu Benchmark, the F11 Pro scores second to the Snapdragon 675-powered Vivo V15 Pro, and just slightly better than It's more affordable sibling, the F11.

The phone also flexes its muscles in Geekbench 4, trailing slightly behind the Vivo V15 Pro in both single-core and multi-core benchmarks.
Gaming Performance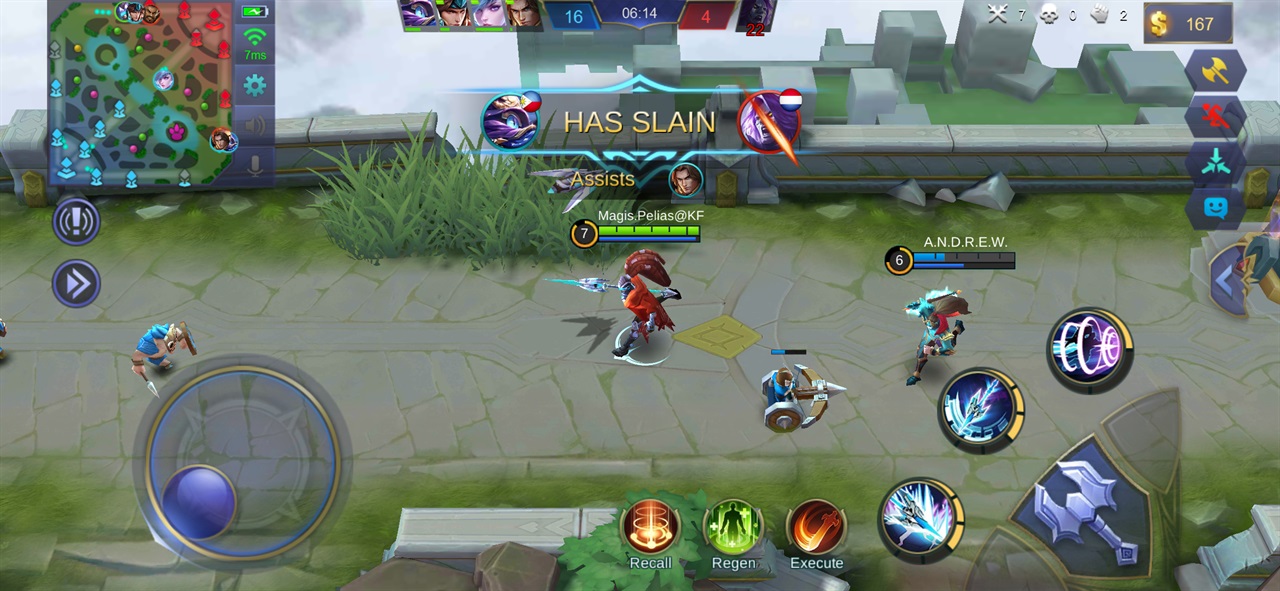 We tested the F11 Pro on three games – PUBG Mobile, Real Racing 3, and Mobile Legends. Using Gamebench, we're able to monitor actual framerates, and here are the results.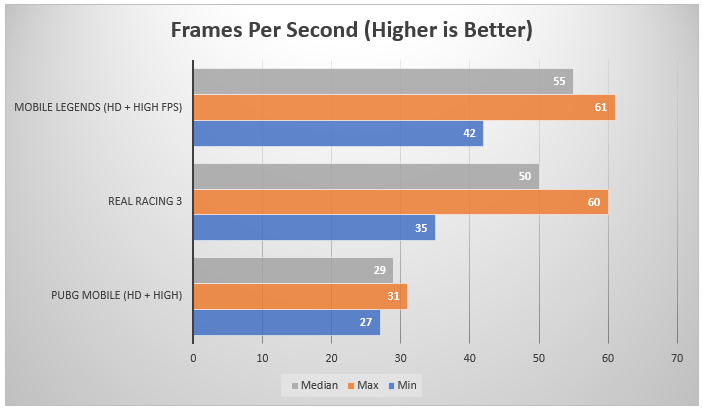 The device performed well for all three titles. There were some noticeable frame drops in PUBG Mobile and Real Racing 3, but nothing game-breaking. For Mobile Legends, gameplay was buttery smooth throughout the duration of the test.
Camera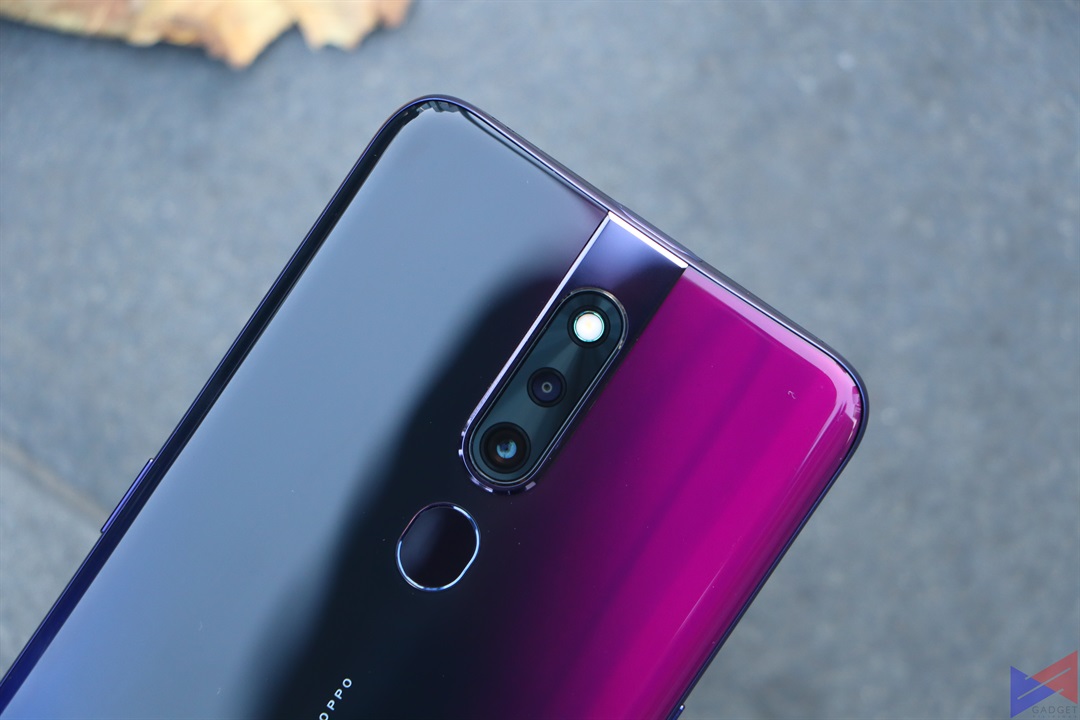 The OPPO F11 Pro is equipped with a 48MP + 5MP dual rear camera system, the main sensor has an aperture of f/1.79, which means it can take in more light – helpful for low light situations. The secondary camera on the other hand, is a dedicated depth sensor, for achieving the bokeh effect for portrait shots. For some reason, OPPO didn't include a wide-angle lens, which is now becoming a trend in the competition. The cameras are also bolstered with AI Scene Recognition, which works well, most of the time.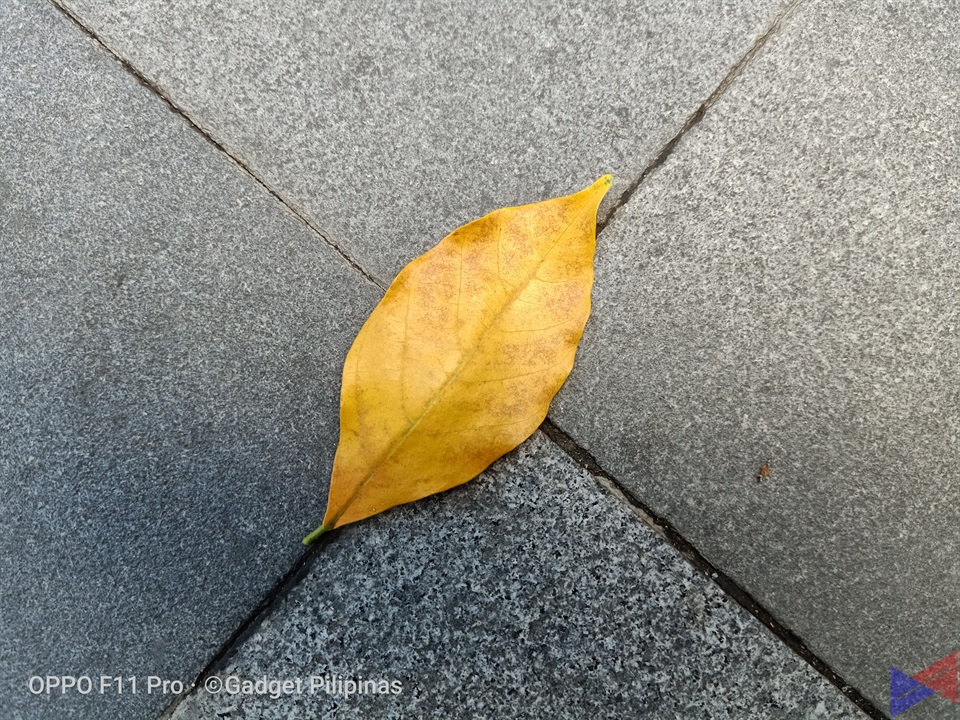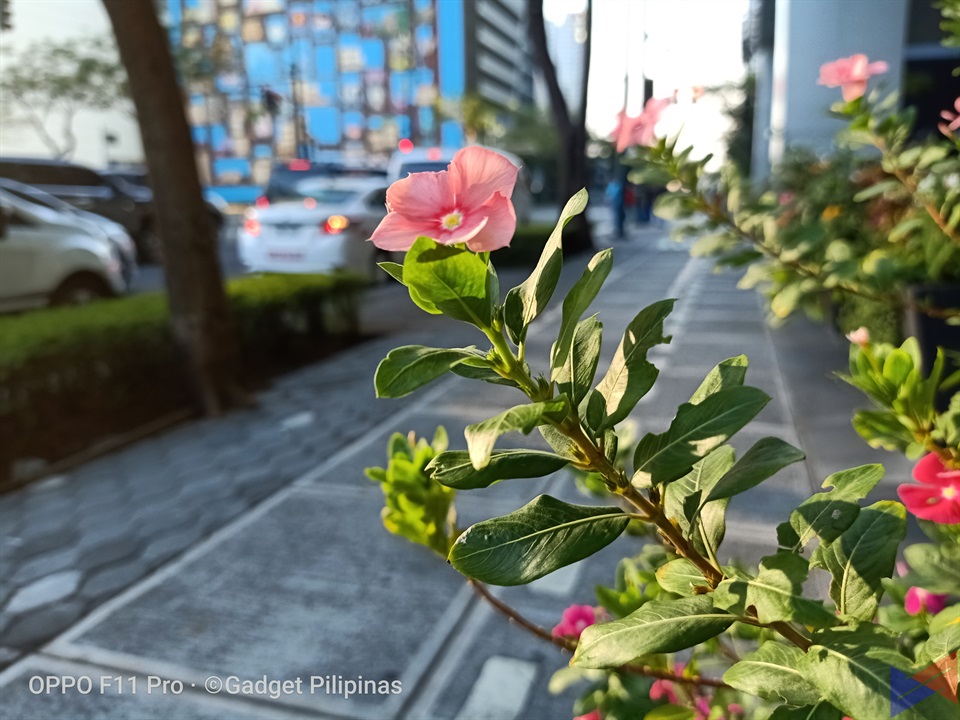 In any case, this dynamic duo shows its prowess in day shots, capturing photos with great sharpness and detail, plus lively and punchy colors. The depth of field effect is also accurate, and looks well-refined.
[vc_row][vc_column][images-comparison default_offset_pct="0.5″ el_css="" image_1="54343″ image_2="54344″ before_label="Dazzle Color OFF" after_label="Dazzle Color ON"][/vc_column][/vc_row]
They've also added Dazzle Color mode, which they say reconstructs colors depending on the scene.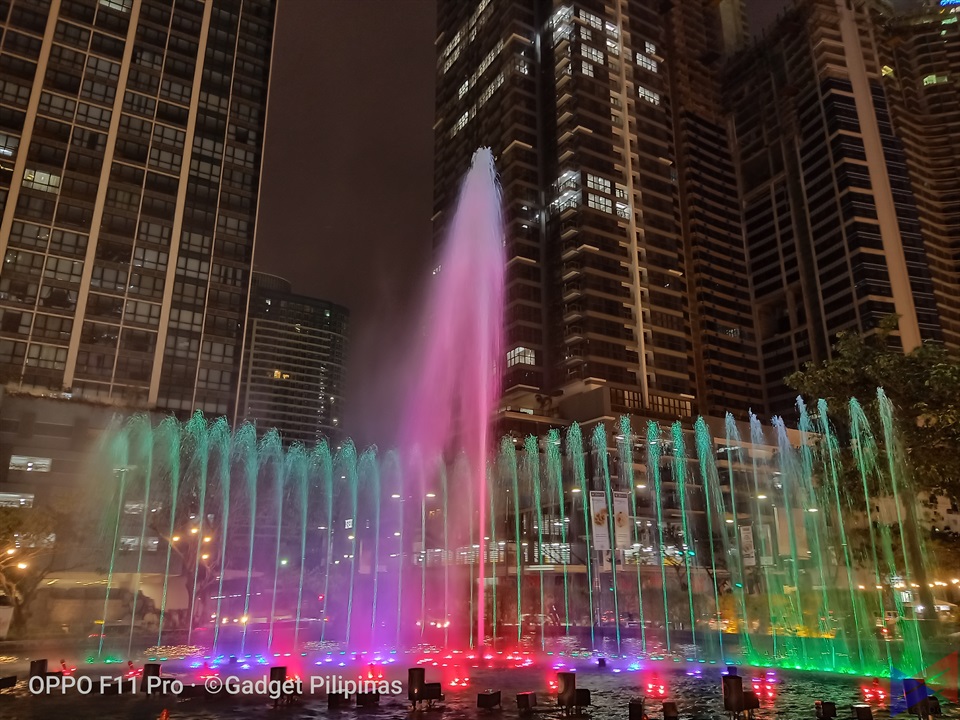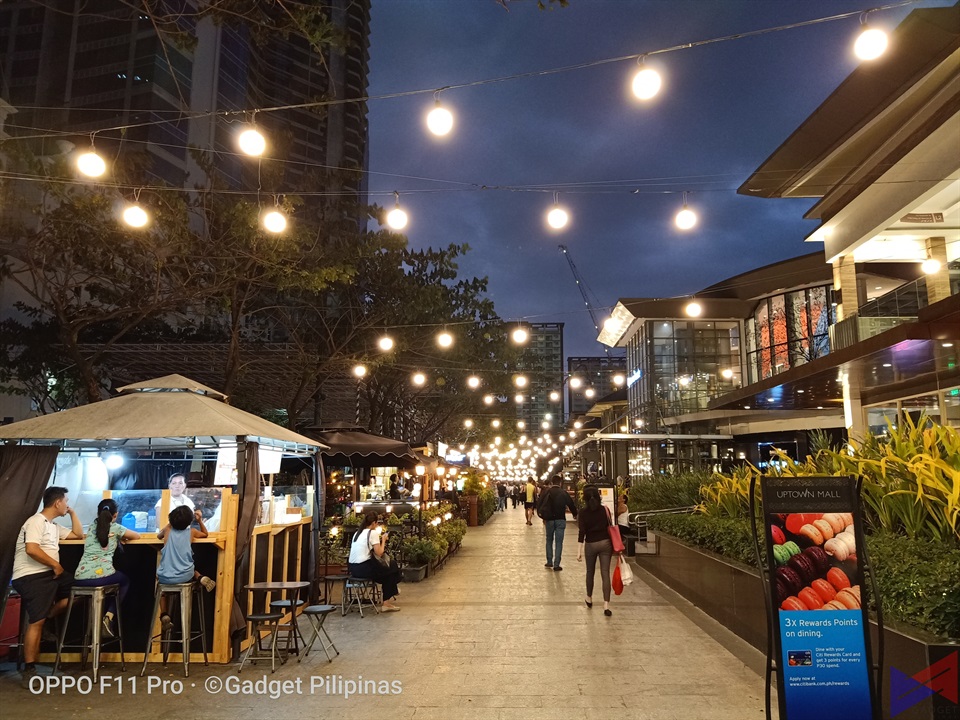 OPPO has added a dedicated Night Mode, which like in most other phones, allows you to take a long exposure shot hand-held. You do have to have steady hands to make it work, and when it does, you get beautiful results.
Daylight
[vc_row][vc_column][images-comparison default_offset_pct="0.2″ el_css="" image_1="54357″ image_2="54358″ before_label="Depth Effect OFF" after_label="Depth Effect ON"][/vc_column][/vc_row]
Low-Light
[vc_row][vc_column][images-comparison default_offset_pct="0.2″ el_css="" image_1="54350″ image_2="54351″ before_label="Depth Effect OFF" after_label="Depth Effect ON"][/vc_column][/vc_row]
The 16MP f/2.0 front camera also captures selfies, just as well as the rear cameras. I was actually impressed with how detailed my face looked, even in less than ideal lighting. The depth of field effect is also just as accurate and refined.
Software
As usual, you do get the well-loved goodies from ColorOS 6, such as Game Space, which is basically a one-stop hub for all your games, with an option of setting the level of performance for each. Hyper Boost, which basically improves performance when needed, and Game Assistant, which lets you do a number of things while in-game, such as take a screenshot, open select apps, and even record your gameplay.
If I had to nitpick, I'll say the Camera app can be improved, as it lacks a certain level of control, especially in video. For example, you can set the quality to 720p or 1080p, but you can't set the framerate to say 30/60 and you're stuck with what that option gives you. An always-on display option would also be helpful, as the phone doesn't have an LED light to let you know whether you've missed a call or message.
In general though, the OS runs very smooth and fluid, menus are quite straightforward, and easy to navigate.
Battery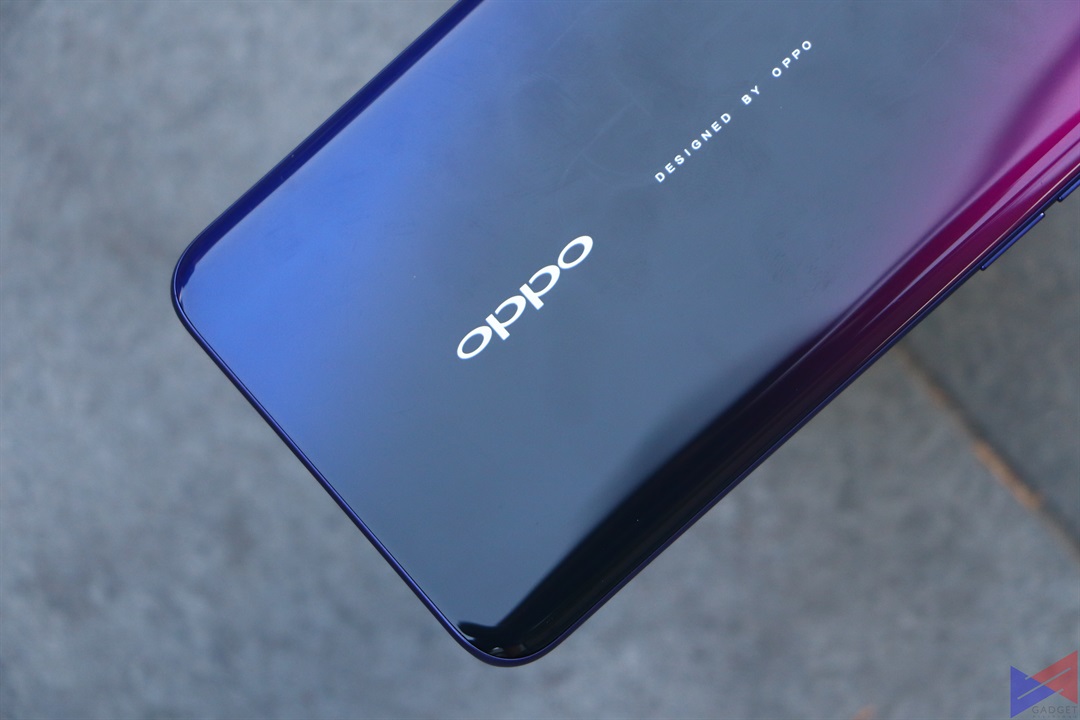 Doing our usual test of playing a video on loop at 50% brightness and 80% volume, the F11 Pro lasted for around 11 hours in a single charge, which is outstanding. Of course, that also means it may even last longer with light to moderate use. Fortunately, charging the phone won't be a hassle, as it has VOOC 3.0 Flash Charge technology. From empty, the phone was fully recharged after around 1.5 hours. Not the fastest, but still faster than usual.
Emman has been writing technical and feature articles since 2010. Prior to this, he became one of the instructors at Asia Pacific College in 2008, and eventually landed a job as Business Analyst and Technical Writer at Integrated Open Source Solutions for almost 3 years.