Huawei P30 Pro features a robust line-up of impressive features that didn't change much from P20 Pro, but also boasts a slew of new goodies that make it a strong contender to this year's phone of the year category.
Huawei made a huge buzz before and after the launch of P30 Pro this year by showing the fact that you can [literally] shoot the moon. As this year's biggest improvement, the telephoto zoom lens on the new phone has yet again highlighted an unprecedented feature in the smartphone industry. This, however, doesn't define what P30 Pro is all about; Huawei P30 Pro is all about redefining art and photography.
The Huawei P30 series promises a lot of new improvements from previous iterations, and a plethora of new innovations that will delight Filipino consumers. As the series' flagship product that's focused on mobile photography, Huawei successfully attempted to break barriers in photography and help consumers to bring out their creativity while using the new smartphones. We'll talk more about this when we delve deeper into the photography capabilities of this smartphone.
Build and Design
Huawei borrowed a lot of the design of both Mate 20 Pro and P20 Pro on the new smartphone.  The slim and sleek design of Mate 20 Pro, with all its all-screen glory, can be found on the P30 Pro, while the back panel resembles P20 Pro. It is too tall though, which can somehow concern people with smaller hands as it's difficult for them to reach the top and bottom sections of the screen without sliding the phone. This can be conveniently addressed with screen gestures found in its settings.
With a design reminiscent of the Mate 20 Pro, locations of all the hard keys and buttons are exactly on the same spots. SIM tray is located on the left side of the USB Type C port at the bottom of the device. Speaker grill is on the right side of the USB port. Unlike the P20 Pro and Mate 20 Pro, this latest smartphone lacks stereo speakers. The former smartphones have the advantage of having an earpiece, which also doubles as another speaker. P30 Pro, on the other hand, lacks an earpiece but instead gets replaced with acoustic screen technology. The latter is located just below the dewdrop notch that houses the phone's 32mp front camera.
It is interesting to note too that the sensors are hidden underneath its screen. I find this an impressive and a true engineering feat by Huawei. This resulted in an all-screen display without small to zero hints of distraction when playing games or watching videos.
Screen
Huawei P30 Pro boasts a wider screen real estate than other smartphones we reviewed – 88.6% screen-to-body ratio. (Galaxy S10+ only has 87.5%.) With this much real estate, watching movies and playing games are somehow more immersive and better. Couple this with a color-accurate and bright OLED display, and you're left with a phone that's perfect for media consumption.
Color contrast and saturation are quite on-point, which can benefit content creators, mobile photographers, and videographers. This is where "what you see is what you get" comes in, and this can be very helpful for photographers, as the color accuracy shown on screen is relatively similar to the actual printout. However, we still encourage to use professional-grade monitors with high color gamut percentage if you wish to be more accurate with your output.  If you have no options available, and you've only got Huawei P30 Pro around after taking a photo, its screen is more than good enough for your needs.
Performance and Software
For a smartphone that rocks the same SoC of the Huawei Mate 20 Pro, P30 Pro is definitely not a slouch when it comes to performance. This is, by far, one of the powerful and fastest smartphones we have tested this year, and it's perfect for those who are looking for an all-rounder smartphone. Be it foir gaming or video editing on the go, P30 Pro is a powerhouse and it might just be the phone to beat when it comes to overall performance.
Similar to Mate 20 Pro, P30 Pro rocks a Kirin 980 SoC. Kirin 980 is the world's first mobile processor to be built on a 7nm chip; that's 6.9 billion transistors in a less than 1 square centimeter. Versus P20 Pro, it promises to improve single core performance by up to 75%;  and is the first to use the Mali-G76 GPU, which offers up to 46% improvement in graphics performance.
Based on our synthetic benchmark using Antutu Benchmark, the new smartphone bested Huawei Mate 20 Pro by 3% accordingly. We pushed its limits further by performing actual gaming benchmark using 3 of the most resource-demanding games at the time of this writing: PUBG Mobile, LifeAfter and Mobile Legends.
We used GameBench to measure specific factors during gameplay: Average FPS, FPS Stability, Milliamp Usage and Average Memory Usage. Note that we enabled Performance Mode on P30 Pro during our benchmark. This mode is disabled at default on the new smartphone, similar to Mate 20 and Mate 20 Pro.
If you want to see one of the games in action, here's a clip of our gameplay of LifeAfter with all settings maxed out, including high frame rate setting.
Camera
One of the staple reasons for getting a Huawei P30 Pro is its ability to let you take photos in ways that even professionals would be impressed of. The new smartphone promises a lot of new improvements from previous iterations, and a plethora of new innovations that will delight Filipino consumers. As the series' flagship product that's focused on mobile photography, Huawei successfully attempted to break barriers in photography and help consumers to bring out their creativity while using the new smartphones. This is what Huawei meant by 'redefining rules of photography'.
New photography innovations like 10x hybrid zoom, 50x digital zoom and TOF on P30 Pro put more power to consumers and users to express themselves creatively without any hesitation or discomfort. During my interview with Peter Guaden, he said, "With the P30 series, we want to rewrite the rules of photography. So, there are a number of aspects where they take a rule over, rip it up and start it again. 50x zoom gives [users] versatility in focal length. Because if you think about how you use a DSLR camera, you carry around different lenses to snap photos in different focal lengths." This, in essence, encapsulates the inspiration behind putting this kind of innovation on Huawei's latest smartphone.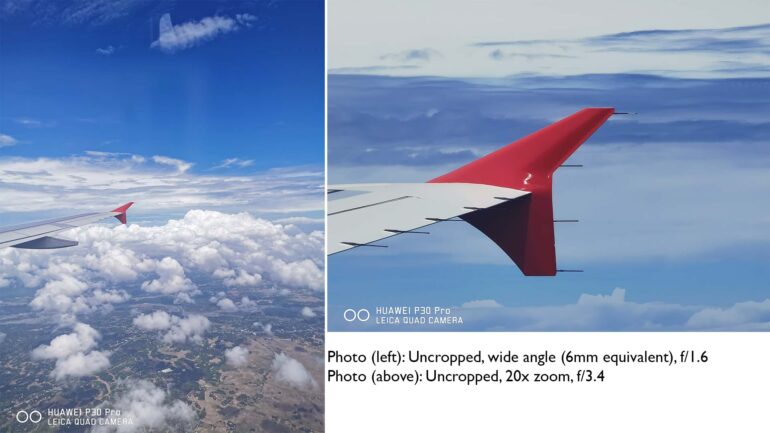 For Huawei, it's all about being able to extend your creativity regardless of environment or situation. If you want to take a photo of a person parasailing from afar, but you don't have super-zoom lens, DSLR and a tripod, you can easily do that with Huawei P30 Pro.

I have been using Huawei P30 Pro and I can attest that this phone has all the futures needed for someone who takes photography as one of his passions. When Huawei said that this phone can let you see what your naked eyes can barely see, they weren't kidding. I snapped a few photos and shared it on my social media accounts, and the reactions I received reflect the same sentiments I had during my first day with the device.
50x zoom is barely scratching the surface of what the smartphone can do, and I cannot wait to share everything with you on my full review.
Apart from its insane zooming features, one of the technologies that I like about Huawei P30 Pro is its TOF camera. TOF, or also known as "Time of Flight", is a process by which the camera – with its AI technology – measure the distance of the light from a particular background or subject to the TOF camera. The farther and defocused it is from lens, the more bokeh it will be generated on the output. It's the simplest way to describe it, but for better appreciation, here are some sample photos I took. The new Huawei P30 Pro understands how far the background and subjects are, and creates a 3D map to determine the amount of depth of field it will generate.
Here are sample photos I took using Huawei P30 Pro:
If you're looking for sample video, check it out below:
Verdict
As this year's most celebrated flagship smartphone, the value you get from Huawei P30 Pro outweighs the price you pay. Priced at PhP50,990, you're basically getting more what you pay for. While its overall performance doesn't deviate much from Huawei Mate 20 Pro, it proved itself to be an impressive purchase for the affluent, young and creative market that Huawei aspires to sell this product for.