Today, we're going to do a simple spec by spec comparison between three of the hottest smartphones in the budget segment today. The Honor 8C, the realme 3, and the Redmi Note 7. The aim isn't to put one brand up or down, but rather to help our consumers on deciding which devices to buy depending on their budget.
Honor 8C
Our first contender is the Honor 8C – a phone that offers a really good specsheet for its PhP7,999 price tag. You get an HD+ display, a capable Snapdragon 632 processor, AI-assisted dual rear cameras that can optimize its settings for whatever subject you're shooting, and a hefty 4,000mAh battery. The brand has always been known to deliver bang for the buck phones, and this one's no different.
Realme 3
Realme took the budget segment by storm with the C1, offering a sub PhP6,000 smartphone that had good performance and surprisingly capable cameras at such an affordable price point. Recently though, they've launched the realme 3, a device that impresses at just about every aspect. It's driven by a Helio P60 octa-core processor, dual rear cameras with Nightscape Mode and Chroma Boost, and a large 4,230mAh power pack.
Redmi Note 7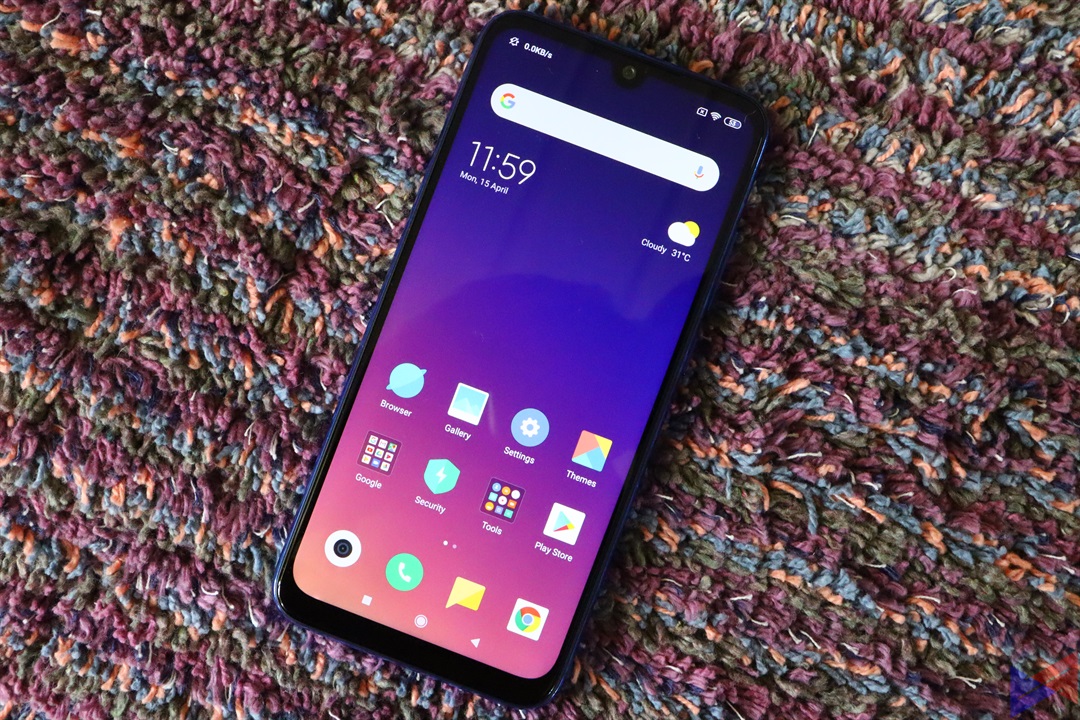 Xiaomi was able to pack so much features into this phone that it's actual value outweighs its price by a mile. You can feel that sense of quality when you're holding it too. It's got a Snapdragon 660 octa-core processor, up to 4GB of RAM and up to 64GB of storage. Its AI-assisted optics also feature Night Mode, and you refill its 4,000mAh power pack via Quick Charge 4, on its USB-C port. Need I say more?
Specifications
[table id=302 /]
Design, Display, Interface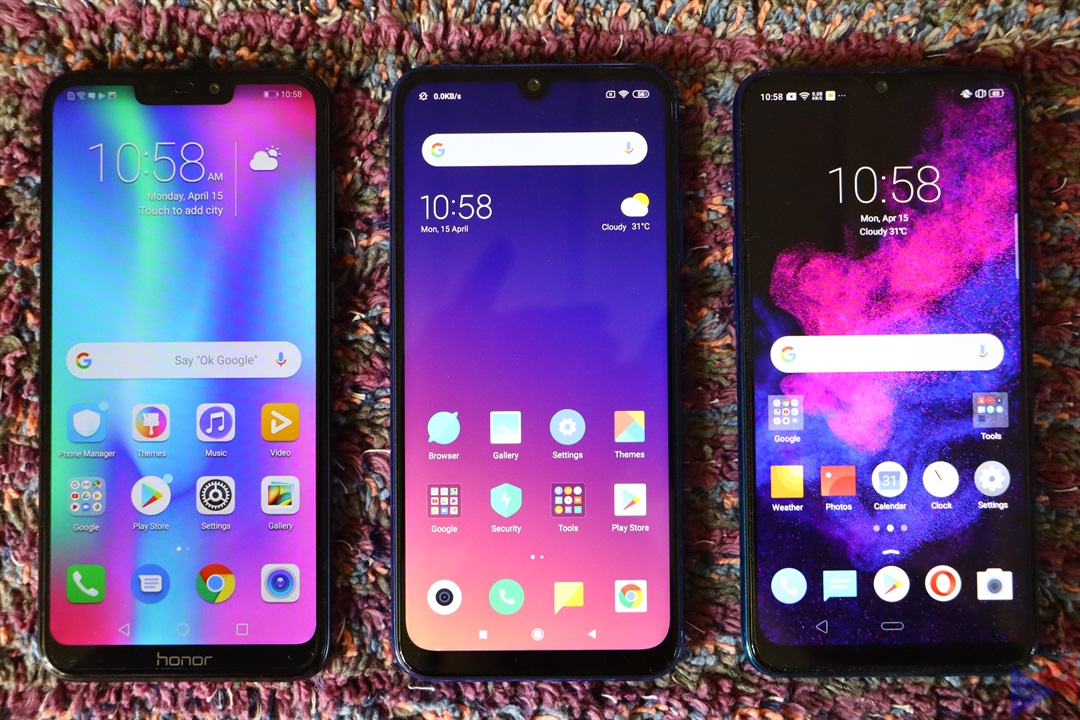 All three devices have variants with glossy metallic back panels, which make them look more premium and pricey than they actually are. The Honor 8C is the thinnest and lightest of the three, but honestly, a few grams won't mean much when you're holding these phones.
Both the realme 3 and Honor 8C are equipped with a standard microUSB port, while the Redmi Note 7 offers a USB-C port. Display-wise, you get more pixels on the Redmi Note 7 than any of the other 2. Quality-wise, looking up close would reveal sharper text and less washed out colors on the Redmi, but the other two aren't really worlds behind.
Processor, RAM, Storage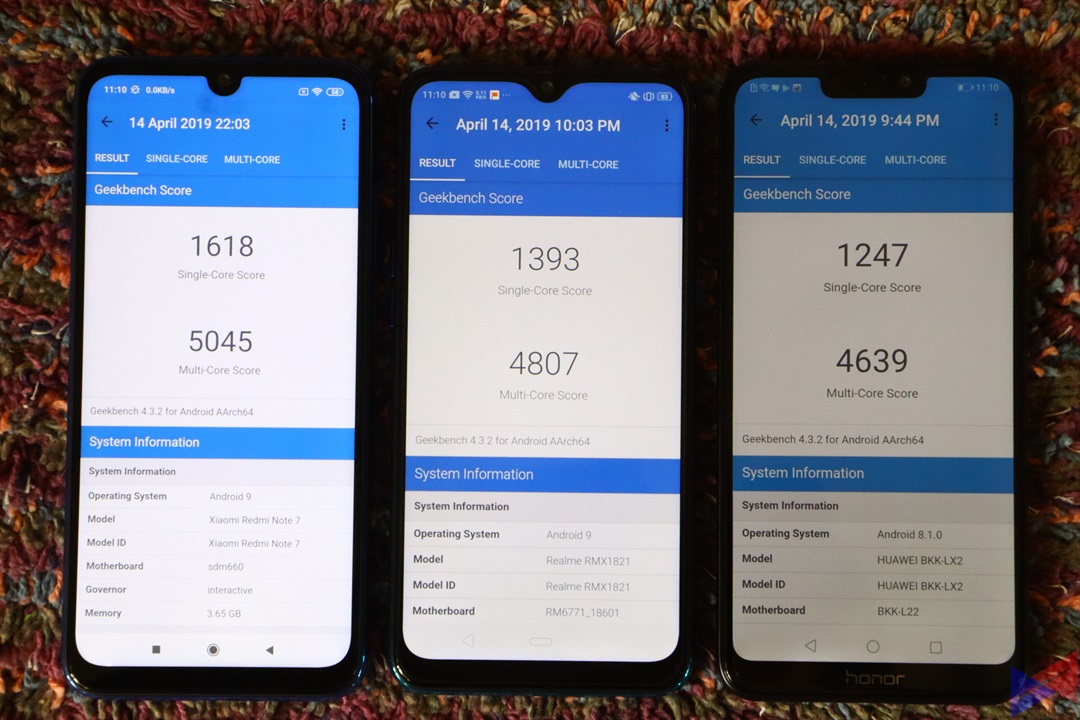 Well, It's a close fight between the Snapdragon 660 on the Redmi Note 7 and the Helio P60 on the realme 3. On PUBG Mobile, both devices can handle up to HD + High Framerate. The Honor 8C can only do Balanced + Medium Framerate at most.
As a daily driver for typical tasks such as social media, email, music, etc., performance is almost generally the same across the three.
Camera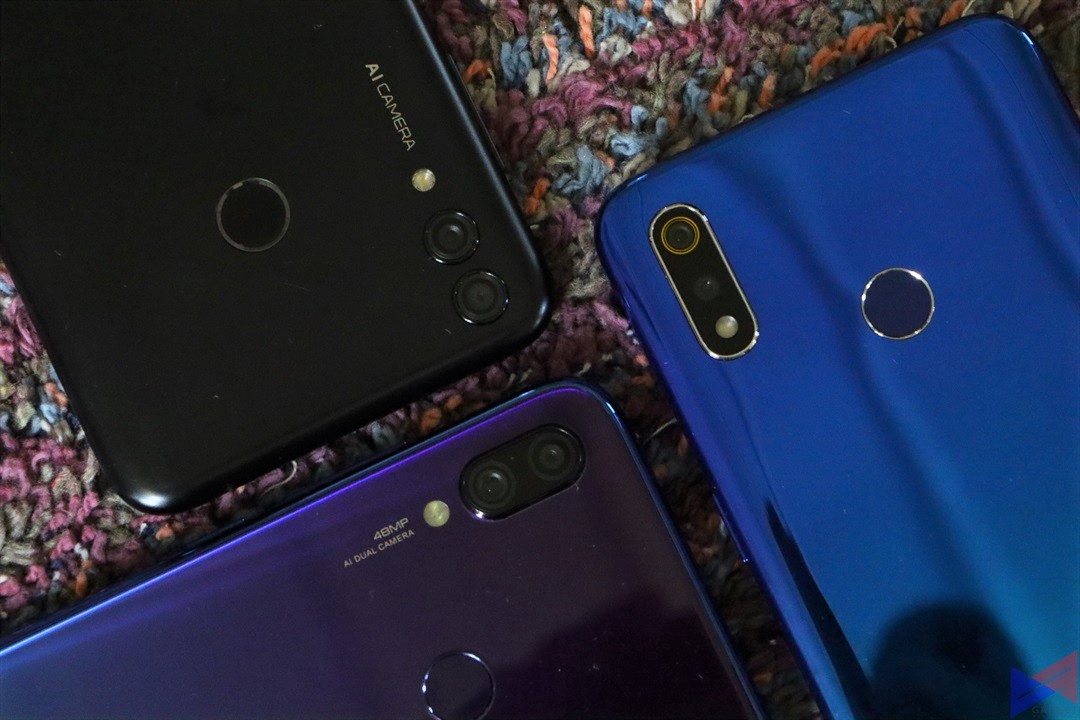 All three are powered by an AI-assisted set of cameras – one main, and one for depth. All can do portrait mode. For night shots, both the realme 3 and Redmi Note 7 have dedicated modes ( Nightscape, Night Mode), to achieve the same result, you'll have to use the Honor 8C's Pro Mode in the Camera app, but for those who are not familiar with photography jargon, the task might be too difficult, especially when you have to adjust the setting for every shot.
For selfies, both the Realme 3 and Redmi Note 7 also offer a dedicated Portrait Mode, which again, isn't present when you're using the Honor 8C's front camera.
Software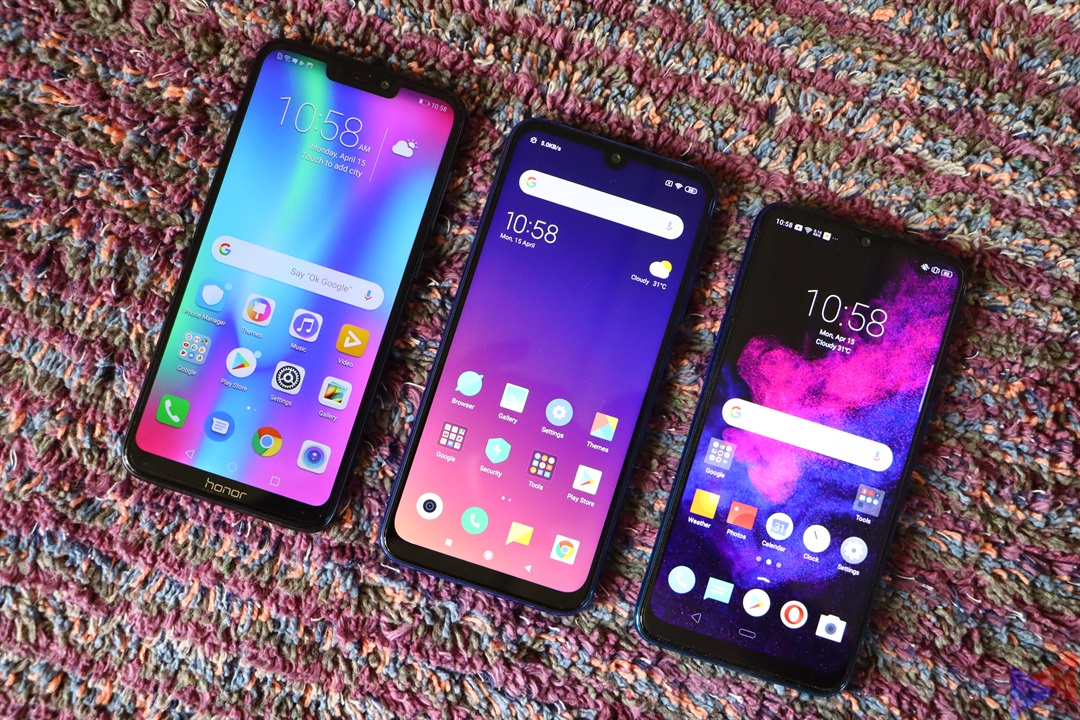 This is more of a personal preference, as each take on Android offers something different. EMUI for example, has a more formal motif to its user interface, and offers the bare minimum in terms of customization. ColorOS on the other hand, has evolved into a more simplistic, but still literally colorful take. It does offer a few nifty features such as GameSpace. Similarly, MIUI is also very popular for offering a lot of room for the user to personalize the device.
In terms of performance, all three run smooth and fluid. The Realme 3 and Redmi Note 7 are already on Android Pie, while the Honor 8C is still on Oreo.
Battery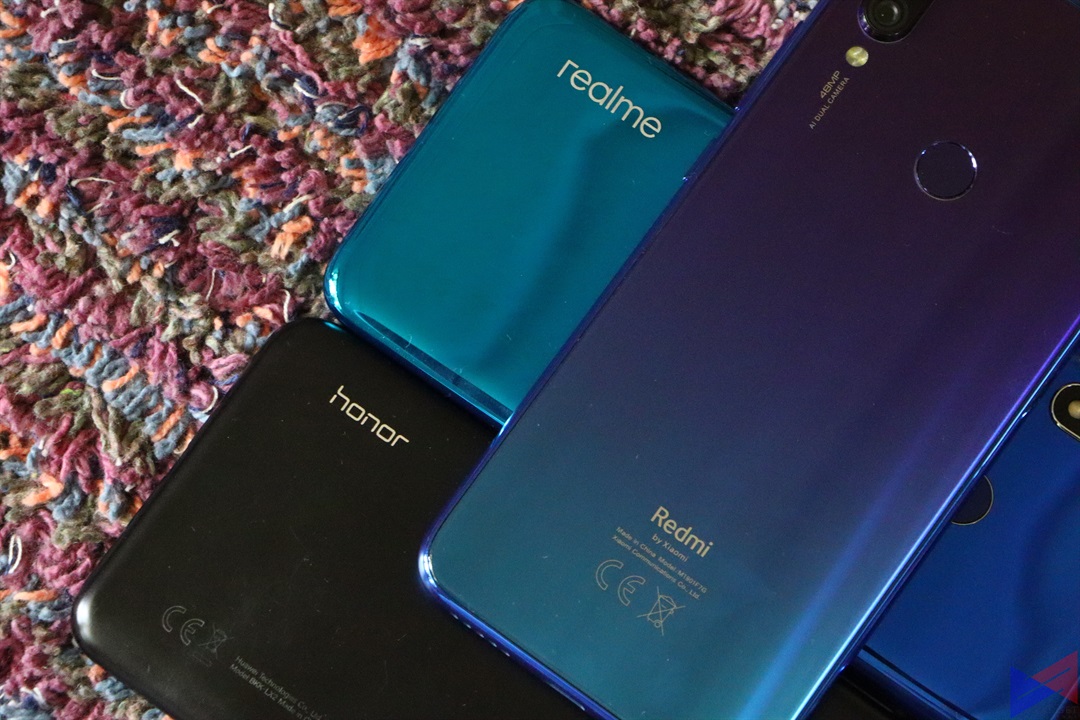 While the realme 3 holds the biggest battery capacity of the three, the Redmi Note 7 makes up for the difference with Quick Charge 4 compatibility. If there's a premium feature you wouldn't want to miss, It's this one. In any case, all three should last at least a full day of light to moderate use.
Other Features
All three have Face Unlock and physical fingerprint sensor mounted at the back of the device. Both the realme 3 and the Redmi Note 7's displays are also protected with Corning Gorilla Glass.
Verdict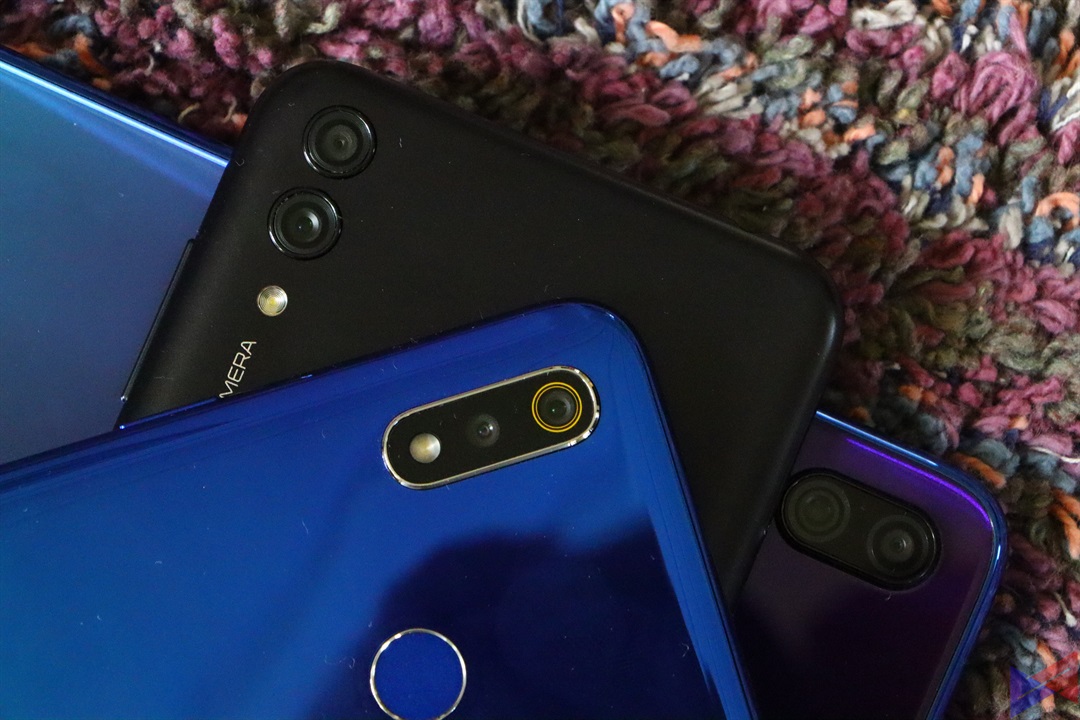 All three phones offer a great experience that's worth more than their respective prices. If you're on a tight budget and are in need of a phone that's slim, light, and offers decent performance and capable cameras, the Honor 8C is a fairly good choice. If however, you prefer a more complete package – a phone that can take good night shots, both the realme 3 and the Redmi Note 7 are good picks.