The Realme 3 is the company's newest attempt at disrupting the budget segment in the Philippine smartphone market. Armed with an arsenal of improvements in both hardware and software, and priced at just PhP7,990, this phone aims to match if not surpass, the phenomenal success of the C1.
Unboxing
Specifications
[table id=289 /]
Design and Build Quality
Like the C1, the Realme 3 sports glossy metallic body, which again, doesn't fail to add that premium feel. There are some minor changes here and there, such as the position of the brand's logo, and the layout of the dual rear cameras.
Its body is quite prone to scratches, as our review unit never fell, and was usually used with a case, and yet, looking closely at its rear panel revealed a number of hairline scratches.
The Realme 3 still has a 6.2-inch display protected by Gorilla Glass 3.  And while it still remains at HD+ resolution, text is still sharp enough, colors are punchy enough, and visibility under direct sunlight is surprisingly decent.
Buttons layout is also the same as on the C1. Volume rocker on the left, and power button on the right. You'll find MicroUSB port at the bottom, along with the speaker grill and headphone jack.
Performance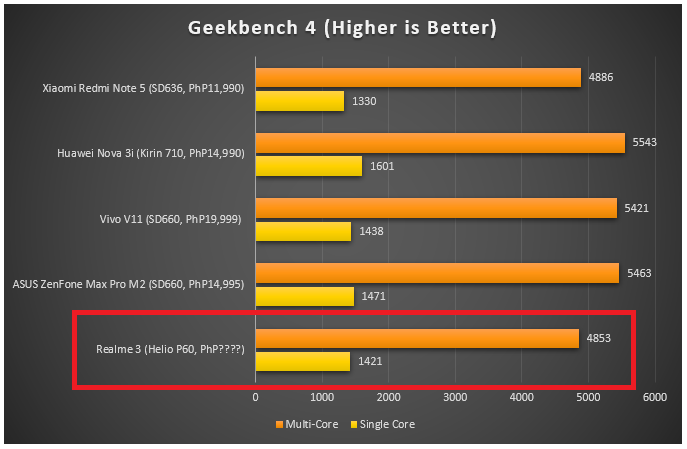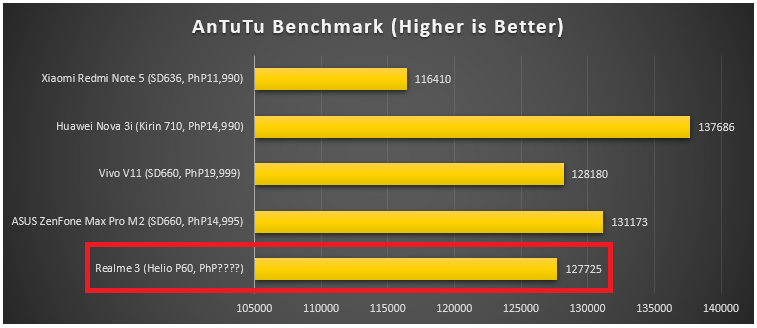 The Realme 3 runs on a Helio P60 octa-core processor, along with 4GB of RAM, which is a nice upgrade from the C1's SD450 and 2GB of RAM. As such multi-tasking is a breeze, and daily performance is more than satisfactory. In fact, benchmarks will reveal that it can perform just as well if not better than some of its more expensive rivals.
If you plan to game on this phone, you'll most likely get an enjoyable experience, as PUBG Mobile for example can be played at HD + High Frame Rate settings with no major issues. Moreso on other games such as Mobile Legends, and Real Racing 3.
Here's some gameplay data on PUBG Mobile, captured using GameBench.
As you can see, the phone managed to run the game for 15 minutes without any major drop in framerate. CPU usage peaked at only 28.94%, and memory usage at only 625MB.
Camera
Having tested a number of devices with the same chipset, we did expect the Realme 3's rear cameras perform well, but not as well as out shots turned out. Everything was better than expected, the details were there, sharpness was on point, and colors are just about as vivid as they could get without going overboard.
Its dedicated depth camera also does a great job of blurring out the background with decent accuracy.
And it's even more amazing at night, thanks to Nightscape mode, which basically lets you take long exposure shots without the need for a tripod. You'll need to have steady hands to get the best result, though.
Its selfie camera is perhaps almost the same as the C1 or slightly better as far as overall quality is concerned.  We do like that it's able to capture a good amount of detail, and can add a refined blur effect to the background.
There's still AI-assisted beautification, which can take care of any imperfections on your face, though it does tend to overdo the correction at times.
Software
The Realme 3 runs on ColorOS 6, which basically introduces new aesthetics, while retaining core features such as Game Space, Game Assistant, AI Face Unlock, which by the way, works quick, even in less than ideal conditions.
The Game Space Sidebar is your handy in-game companion that lets you do certain tasks such as taking  screenshots, and even recording your gameplay for sharing on your social media account!
There's also Clone Apps, which basically creates a second instance of select social media apps, so you can login to two accounts on the same platform on the same device, letting you monitor your personal and business accounts without hassle.
Battery
At the time of this writing, we're still working on the battery benchmark, so we'll keep you excited for now, but don't worry, we guarantee that it'll finish on a good note!
The Verdict, So Far
We've been using the Realme 3 for quite some time now, and we're quite happy with how it performs as a daily driver. As far as its cameras are concerned, we're also more than impressed with the quality.
Perhaps the most defining feature of this phone is its Nightscape mode, which can capture photos with quality that's if not at par, actually surpasses a number of more expensive devices. We also like the new look of the software, which is quite feature-packed and well optimized too.
We can't wait for the battery test results, but so far… it looks like Realme has done it again with its simple formula of putting more emphasis into value more than anything else.
Emman has been writing technical and feature articles since 2010. Prior to this, he became one of the instructors at Asia Pacific College in 2008, and eventually landed a job as Business Analyst and Technical Writer at Integrated Open Source Solutions for almost 3 years.