During its regional laser projector showcase in Bangkok, Thailand, Epson launched two new laser projectors. Equipped with the company's signature 3LCD technology which delivers unparalleled image quality, both the EB-L12000Q and the EB-L20000U are fitted with innovative features that elevate them up above the class.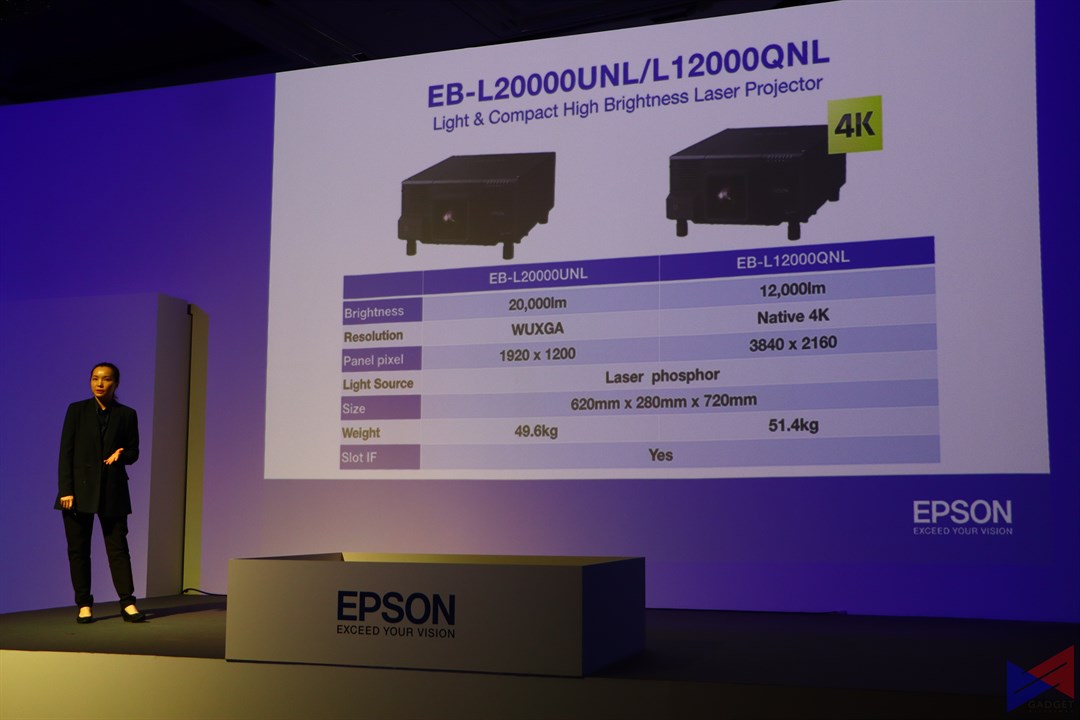 The EB-L12000Q is one of the lightest products in its class, and is an industry-first -12,000 lumens (brightness) and native 4K resolution. The EB-L20000U on the other hand, is Epson's first model with 20,000 lumens of brightness, and uses an in-house developed native 4K panel for ultra high-definition images.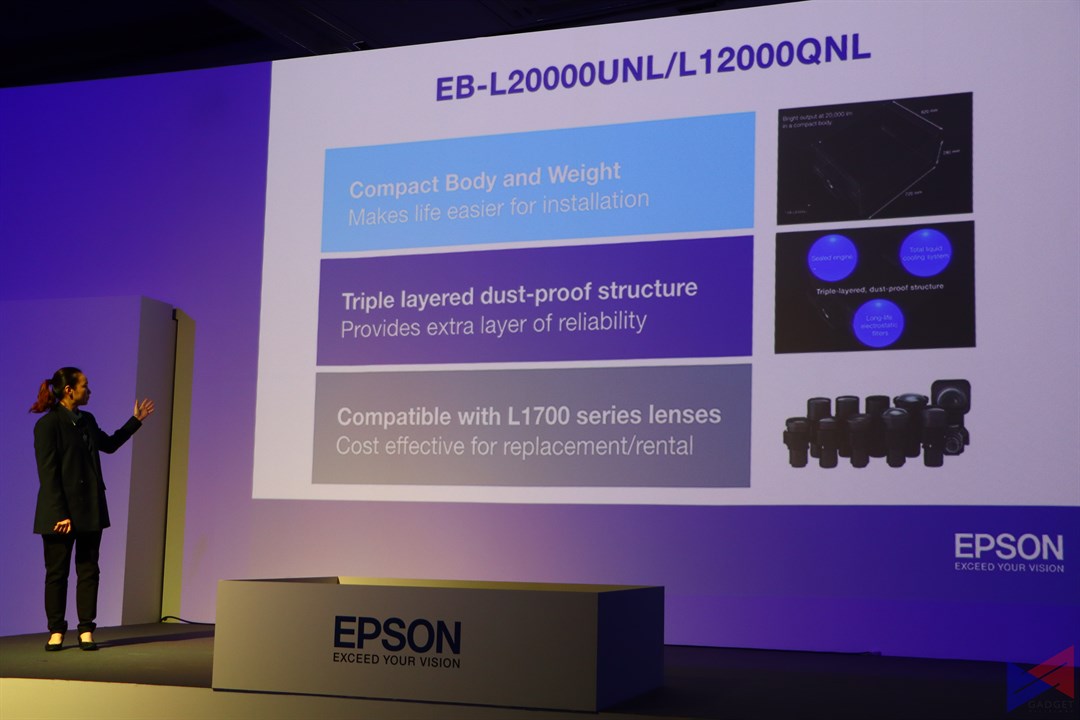 Both sport a compact and light design, and are equipped with a triple layer dust-proof structure, which actually houses a sealed optical engine for absolute durability. Just as we need it to cool our PC's, these projectors are also fitted with a newly-designed liquid cooling system, which maintains the optimal temperature for core components. They're also equipped with a mechanical shutter, to protect the lens from light damage.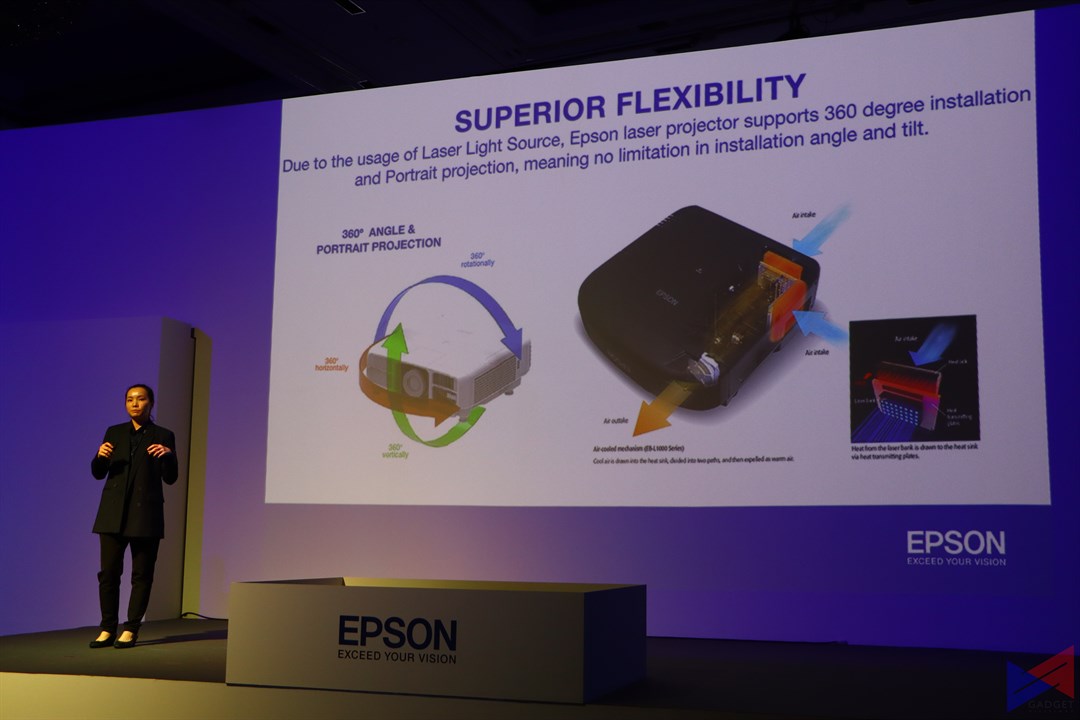 These projectors can rotate 360 degrees in any direction without any loss in brightness. Thanks to a built-in camera, users can now perform diagnosis and have them setup remotely. Epson's Professional Projector Tool software simplifies the once tedious process of setting up multi-projector installations, while also providing intuitive geometry correction such as automated edge-blending, curve correction and colour matching.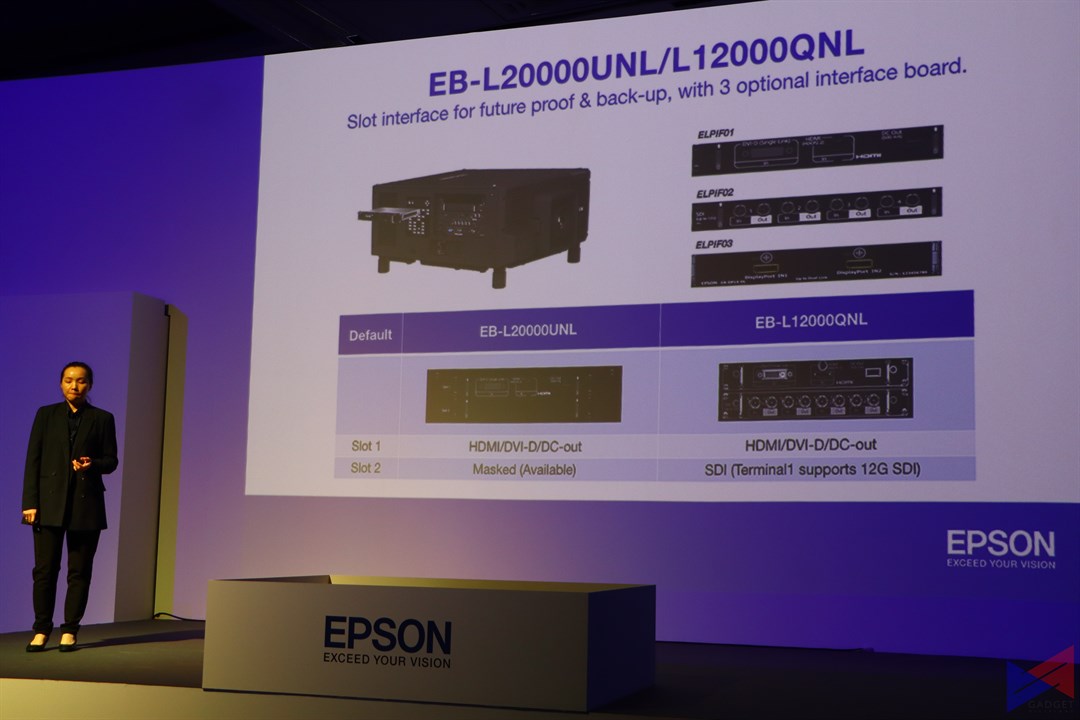 With Interchangeable interface boards, these projectors are future proof, allowing for new interfaces and interface updates as they come. Both are also compatible with the same 4K lenses used by Epson's EB-L1000 series projectors. The zero lens offset ultra-short throw lens ELPLX02, for example, offers a wider lens shift, which makes it ideal for places with very limited lens-to-screen distances. Both models also support Hybrid Log Gamma and HDR10.
"We have achieved a new milestone with the EB-L12000Q with 4K native projection, bringing amazing quality resolution to our range of projectors. Both the projectors are able to offer a wide range of functions and ease of integration to existing infrastructure to the rental and staging sector with their compatibility of lenses and interchangeable interfaces, and are indeed an important addition to our high brightness line up."
– Ng Ngee Khiang, Regional Director, Visual Products & Robotics Solution Division, Epson Singapore.
The EB-L12000Q projector has been awarded the Good Design Awards 2018, an award that's given to designs that benefit and enrich people's lifestyles and society in general.
Both the EB-L12000Q and EB-L20000U projectors are expected to be available in the Philippines some time in the second half of 2019.
Emman has been writing technical and feature articles since 2010. Prior to this, he became one of the instructors at Asia Pacific College in 2008, and eventually landed a job as Business Analyst and Technical Writer at Integrated Open Source Solutions for almost 3 years.