The smartphone revolution is upon us.
While brands present us with plenty of impressive choices of flagship smartphones, we take note of a few amazing ones like the Samsung Galaxy Note 9 and the Apple iPhone XS Max. However, consumers have started to take into account the benefits they can get than just having a slab of metal that they can use to take their next Instagram photo. For instance, Samsung Galaxy Note 9's features are leaps beyond when directly compared to the bigger yet more expensive Apple iPhone XS Max.
For a hardcore Android user, Samsung's latest Note is bliss. It packs all the bells and whistles a Note has and features that only a powerful flagship smartphone possesses. It always sets a barometer that's worthy of emulation; no wonder why other brands always look up to this smartphone as something they aim to beat.
Design
There are certain aspects of its design that make it look and feel different than its predecessor. Without trying, its minute design differences make it distinctly Note 9. Things will even make more sense when you grab and feel it with your bare hands. The smartphone's chamfered sides seemingly break the continuity of its curved screen and back panel.
Similar to our initial impressions, the phone's weight is just right, the position of the fingerprint sensor is just right, though it's a bit too small for my taste. Then there's the glossy finish, which may make it a smudge magnet, but adds a more premium vibe. I dig it, and I really hoped that they thought of this last year with the Note 8.
Display
The Galaxy Note series is synonymous to 'phones with big screens'. Similar to previous iterations, this year's Note has a wide real estate without compromising quality and overall beauty. It sports a 6.4-inch Infinity Display with QHD+ resolution, which is something that's rare to find these days as brands seem to be going to the FHD+ direction. I have no problems with smartphones with QHD+ resolution for as long as its battery has all the available juice that's needed to power it up for more than 8 hours.
Spoiler alert: Note 9's 4000mAh battery is more than enough to make it run for more than 10 hours. This is leaps beyond versus the previous Note, which is something that Note 5 or Note 7 users would be happy about.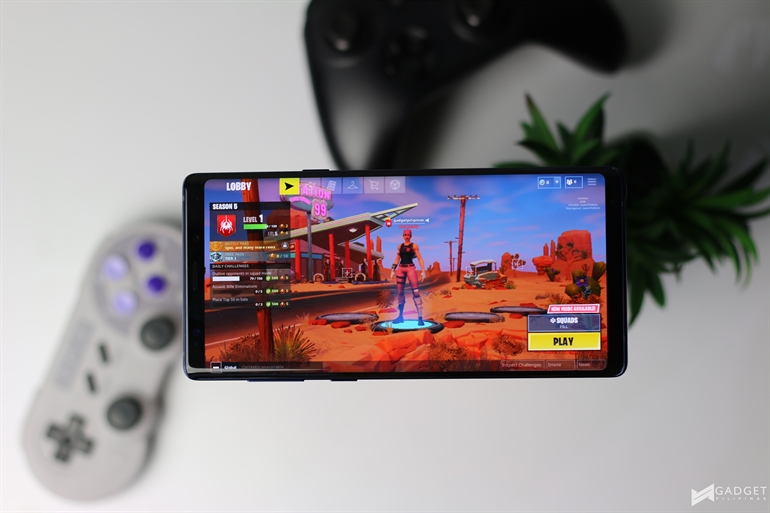 Huawei, for one, isn't a fan of phones with 4k displays and I get it. Perhaps, their priority is energy consumption prioritization; display quality only comes in as a second priority. Samsung, on the other hand, wants the display quality of the Note 9 superior among its competitors. Unsurprisingly, among all the flagship smartphones we tried, the Samsung Galaxy Note 9 proved to be the smartphone to have the best display. Details are impressive, and colors are punchy and lively. Text is also as sharp as it could get.
The Mighty S Pen
Note 9's screen is only half of what makes it a 'Note'. Its latest S Pen is now smarter and powerful than ever before.
As a former Note 8 user, one of my frustrations was that I didn't get to use the S Pen as much as I wanted to. I knew it was there, but I didn't use it as much as I thought I would. Perhaps, my muscle was just so trained to take off my phone from my pocket and start tapping the screen right away.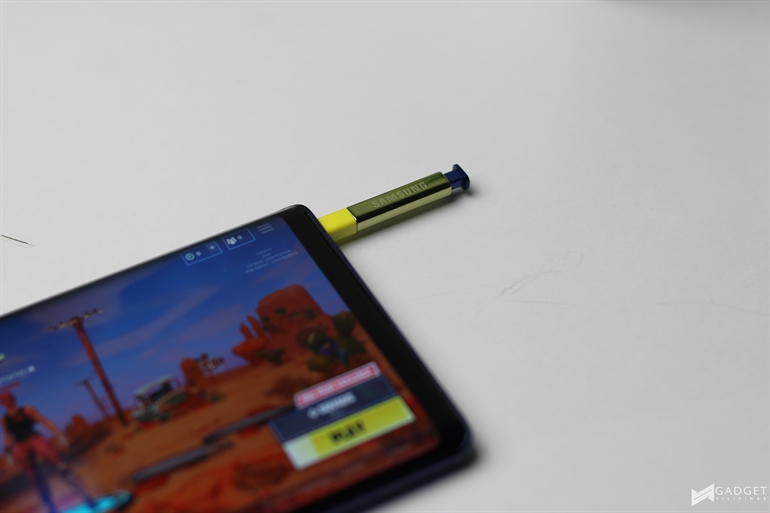 Ideally, with someone with a Note 8, I could have taken off my phone from my pocket, pushed and pulled the S Pen from its receptacle and scribbled notes on my device. Now with the Galaxy Note 9, even if it's now wirelessly connected via Bluetooth and makes a scribbling sound when jotting notes via S Note, I still found myself underutilizing the new S Pen.
The Most Powerful Galaxy ever
[table id=136 /]
Powered by the latest Exynos 9810, Note 9 is undoubtedly the fastest Galaxy smartphone in existence. Our synthetic benchmark shows that it can take on current flagship devices but fails to reach the levels of smartphones with Snapdragon 845 and the brand new Kirin 980.
Nevertheless, we aren't easily swayed with synthetic benchmark results that's why we subjected the note to actual gameplay benchmark using Gamebench.
Prepare a charger or power bank when playing Arena of Valor on the go with the Galaxy Note 9. Based on our benchmark, you can play a total of 20 full rounds (15 minutes average) of AOV or 5.2 hours of total gameplay from a single charge on a Galaxy Note 9. This is way shorter total gameplay duration than the OPPO Find X.
Software and Security
The heart of everything that makes the Galaxy Note 9's features work is its software. Like I always say, the software makes or breaks the features a flagship smartphone presents. Almost every feature on Note 9 is hooked on Samsung Experience, which we all fondly called TouchWiz before the Galaxy S7 was introduced in 2016.
I am happy to report that Samsung Experience on Note 9 is made to work perfectly on Note 9. It is simply the most refined UI we have seen on a smartphone that a lot of mobile brands should take note of. It is responsive, flexible, easy on the eyes and surprisingly lightweight compared to its previous iterations. Samsung obviously tries its best to give as many features as it could on the smartphone without taking a toll on its overall performance and available storage.
Security is another facet that Samsung wants to excel at. Through the years, their efforts are evident and their initiatives to maintain a high level of security and privacy deserve applause. Apart from the software-based security feature, Samsung Knox, the company puts hardware features that can rival Apple's Face ID: Iris Scan, Face Scan are fingerprint sensor (in a relatively better position). There is nothing I can ask for Samsung to add; and yes, even the in-display fingerprint sensor, which OPPO, OnePlus, Huawei and VIVO have been lately putting on their flagship devices.
Camera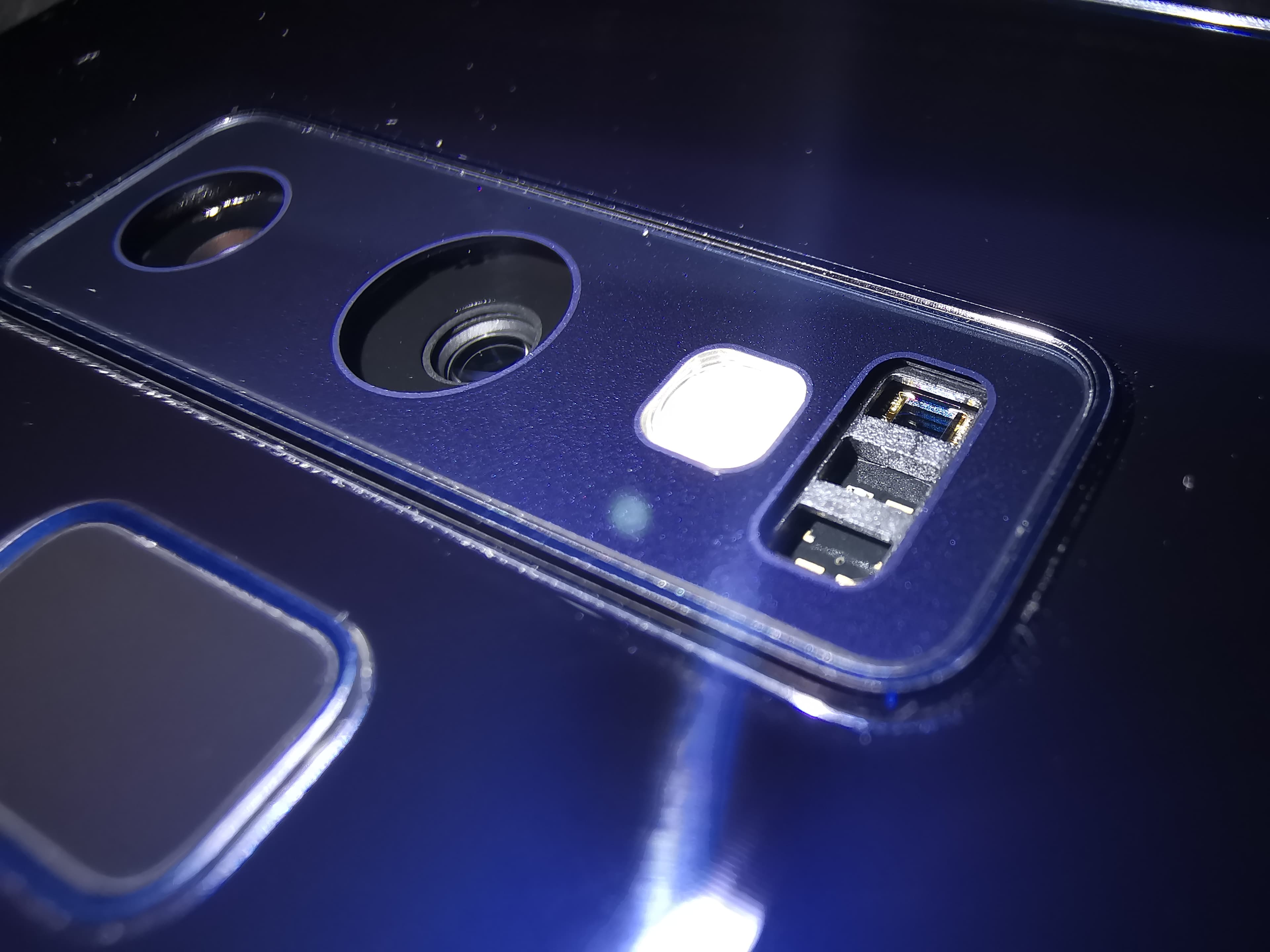 Following the ingenuity of the camera on Galaxy S9+, Note 9 now has the same dual aperture mode, which allows users to switch between f/1.5 and f/2.4 apertures. This is a monster in low-light photography, but its quality is miles apart when compared to Huawei P20 pro and Huawei Mate 20 Pro.
Switching from one aperture mode to another may only be done in Pro Mode, and that's quite a bummer especially if you do not wish to break away from Auto Mode. However, this mode is targetted towards professional mobile photographers, which I fully understand.
When it comes to right color accuracy, saturation and contrast levels, this phone's set of cameras can definitely deliver a satisfyingly impressive quality; something that even Huawei P20 Pro and Apple iPhone XS Max cannot achieve.
Its 8MP front camera with f/1.7 aperture is no slouch either. However, just like most front cameras, it doesn't work quite well in the dark.
Samsung Galaxy Note 9: Buy or Pass?
One word: Buy!
If you're looking for a more definitive answer for Apple fans: Note 9 is among the best Android devices available in the market. It presents a wildly different ecosystem that you're used to, but it's hard to pass on all its features like the S Pen, Iris Scanner, variable camera aperture setup and longer battery life.
Android users who are thinking of replacing their current smartphone:  Dig in! This is the smartphone you always thought of getting, but it might hurt your budget as it is a littler pricier that your usual purchase. There's plenty of competition though, and at the end of the day, it depends on how you're going to use the Note 9. If you're a serious mobile gamer, consider getting an ROG Phone; if you want the best camera smartphone, try the new Huawei Mate 20 Pro; and if you want something similar to this without the S Pen features, you are better off with the Galaxy S9+. or the OPPO Find X.