Prior to the launch of the Mate 20 series, Huawei made an earlier announcement regarding its newest processor, the Kirin 980, which promises a ton of improvements over its predecessor, which by the way, wasn't a slouch in any way.
Built for Performance and Efficiency
The Kirin 980 is the world's first mobile processor to be built on a 7nm chip; that's 6.9 billion transistors in a less than 1 square centimeter. Versus its predecessor, it promises to improve single core performance by up to 75%, and is the first to use the Mali-G76 GPU, which offers up to 46% improvement in graphics performance.
What good is a fast and capable processor if it eats up a ton of power, right? Huawei once again pushed the limits to make the Kirin 980 as efficient as it could be. In fact, it offers up to 58% improved overall power efficiency, which means more up time for you. And take this – it can intelligently adapt and adjust power consumption depending on what you're doing, so you're assured of great battery life with no compromises to performance.
While these things may be technical and marketing jargon for most of us, we thought of putting the performance of the Kirin 980 to the test by playing a few of our favorite games. 3 of the games that we currently play so far would test the capability of the chip and the overall performance of the Mate 20 series. There will be sections that we will pit its performance against last year's Kirin 970 to give you a definitive proof of the current chipset's improvement on the Mate 20 Series.
The Lowdown
As stated, we thought of putting the Kirin 980 up for a gaming test; one of the best ways to see how it really performs. Using the Mate 20 and Mate 20 Pro, we'll play three games – PUBG Mobile, Survival Heroes, and Arena of Valor. We'll use GameBench to measure FPS, Memory and CPU usage, as well as battery usage. This is far from the usual synthetic benchmarks that we are used to do.
Oh, and before we forget: at default both Mate 20 and Mate 20 Pro have Performance Mode disabled. In order for us to fully maximize the experience, we did the following things:
Enter "Settings"
Click on "Battery"
Toggle "Performance Mode" on
Performance Mode is now activated
[su_spoiler title="Where to find this?" style="simple" icon="plus-circle"]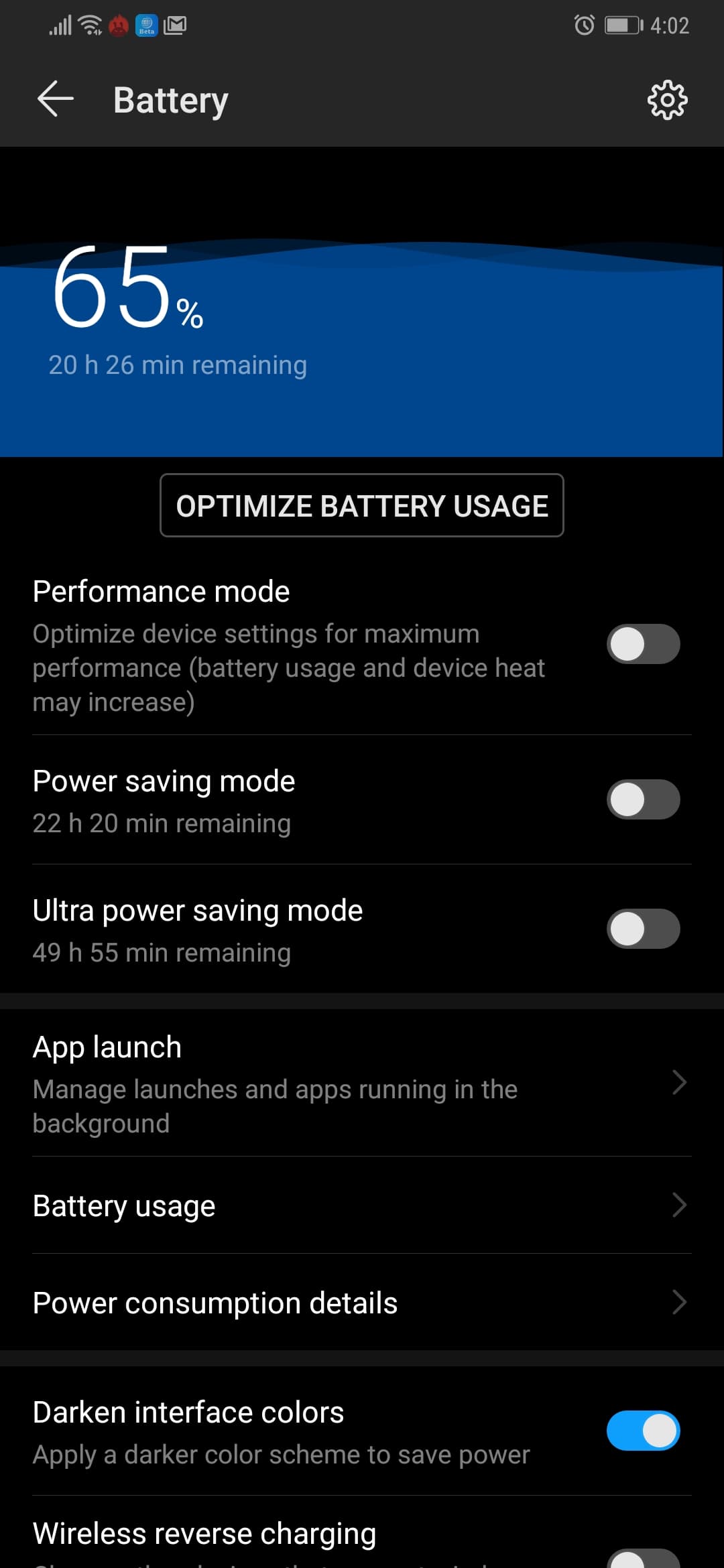 [/su_spoiler]
PUBG Mobile
PUBG Mobile, as of this writing, isn't optimized for the Kirin 980 processor.  We wanted to natively crank up the settings on the Mate 20 and Mate 20 Pro, but could only go Balanced + Medium FPS for the time being. Perhaps, PUBG Mobile doesn't fully support the relatively new Mali G76 on Huawei Mate 20 Pro, but that's something we have to verify from PUBG Mobile Corp. Based on our research, Kirin 980 is the first system-on-a-chip (SoC) to have Mali G76 GPU.
On Mate 20, the phone managed to output a median FPS of 27, which is close to the 30 FPS cap, with 97% stability. This means that the fps is very close to the median for most of the time, which is positive by most standards.
CPU usage peaked at around 40%, while memory usage peaked at 930MB. As far as battery usage is concerned, you should be able to play PUBG mobile for 9 hours straight. Quite impressive power management.
We artificially cranked everything up on Mate 20 Pro using GFX+ Tool for PUBG Mobile. It is a paid application, but it allowed us to entirely play and test the game in maxed out settings. We used it along with Gamebench to measure its gaming performance while disregarding the cap imposed by PUBG Mobile. For reference, here is the custom settings we enabled on GFX+ Tool:
Game Variant: Global 0.9.X & 0.8.x: LightSpeed & Quantum
Resolution: FHD (For gaming phones)
Graphics: HDR
FPS: Extreme: 60FPS (May experience high phone heating)
Style: Colorful
Shadow: Enabled
Shadow Quality: High
Shadow Pixels Resolution: 2048
Shadow Distance: High
MSAA: Enabled
MSAA Level: 4x
Anistropy Level: 1x
Graphics Rendering Level: High
Detail Mode: Enabled
Detail Mode Level: High
Color Rendering Level: Default
Light Effects: Disabled
Memory Boost: Enabled
Safe Mode: Enabled
For your information, there is a high ban rate when using this mod for PUBG Mobile due to offense of cheating due to the modification of the graphics configuration. We do not support this move by PUBG Mobile Corp as the tool only modifies graphics configuration and it helps in playing the game in low-end devices or high-end gaming devices such as Huawei Mate 20 Pro, which PUBG Mobile does not currently support. Our purpose of using this tool is to see how our device can handle the phone and a plea to PUBG Mobile Corp. to bring full support to this device.
Here is the result:
PUBG Mobile on Huawei Mate 20 Pro at cranked up settings performed significantly better than the rest of the flagship devices we recently tested. The median FPS is at its peak (60FPS) with 99% stability. Battery usage was through the roof, however, as the mode we used was highly customized to show the best possible look of the game. RAM usage was also high, but despite running the game at boosted setting, it managed to stay at par with Galaxy Note 9's performance. Average CPU usage, on the other hand, is just 22.58% percent and a peak usage of 42.21%.
Arena of Valor
Kirin 980 shows its prowess here, as even with everything cranked up to max, HD Display enabled, the game ran at at least 60 FPS throughout the duration of the test. The game wasn't even consuming a lot of resources at all, as CPU usage peaked at only 16% on Huawei Mate 20 and 15.05% on Huawei Mate 20 Pro, while memory usage only peaked at 648MB and 711MB accordingly. You should be able to play this game for 12 hours straight at average on both smartphones.
Survival Heroes
A game that taxes even a Snapdragon 660, Survival Heroes was a breeze for the Kirin 980 to handle, with FPS going at 60 or more for most of the test's duration on both devices. CPU usage only peaked at around 20% and 15% on Mate 20 and Mate 20 Pro accordingly, while memory usage peaked at around 570MB and 737MB. The game seems to require more power compared to the others, as you'll only be able to play it for around 5 hours at average. This may have something to do with the game's optimization.
So is the Kirin 980 ideal for gaming? Yes, except for optimization issues in some titles. This isn't exactly the issue on Kirin 980, but game developers should take note of this. It's also top notch in terms of efficiency, as it can give an entire afternoon of playtime, and in some instances, even a few hours more. If that's not enough to make your eyes tired and force you to take a break, then, you're quite a hardcore!
As a chipset, Kirin 980 works efficiently for you as evidently seen in the benchmark results we presented. Imagine it having 2 brains that work individually to work on specific tasks: one for image processing and another one for power and battery efficiency. This is one of the leverages of the Kirin 980 on Mate 20 series, and if you've got one, that's another reason to be really proud of that little powerful computer in your hand or pocket.
Kirin 980 is a powerhouse, but we still find this method enough to test the full capabilities of the Kirin 980 on Mate 20 and Mate 20 Pro. Catch our full review of both devices on Gadget Pilipinas.