Tokyo Game Show just sent us the official count of attendees for this year's event. Close to 300 thousand attendees over 4 days walked through the 8 halls of Makuhari Messe.
This record showing is not just good for the Japan gaming scene but for gaming in general since it reversed the dip in attendance from last year.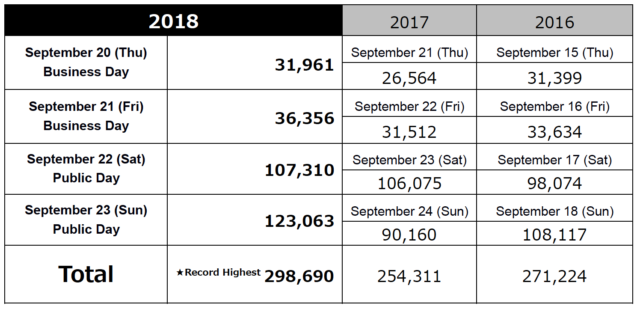 Though public attendance has the lion's share on the numbers,  the growing E-sports scene, as well as the higher number of developers that attended the event, helped push attendance numbers.
Here's hoping that TGS 2019 will smash attendance records once again.
Our Tokyo Game Show 2018 Coverage is brought to you by our brand partners: Huawei Mobile Philippines, PLDT Home Fibr, Smart and Cherry Mobile. Access our coverage here.
Allan Abaca is an avid gamer through and through. Virtually, he is locked-in with his PS4 almost daily and has just introduced the awesomeness of gaming to his two sons.
Next in his sights is PC gaming. The platform which he nows considering going back to after a two decade hiatus.
Oh, and let's not forget the Nintendo Switch...
His psn id is hip2b2