What if there is a social listening app that was developed by big data, marketing and behavioral psychology experts? This is exactly the unique selling proposition of Olelo, a San Francisco-based company with Filipino developers.
According to its developers, Olelo isn't your run-of-a-mill listening tool. It is an integrated tool that understands the online conversations for the users and transforms them intoactionable insights. When I worked at a digital agency in 2016, our team used several listening tools: Sysomos Heartbeat, Talkwalker and BrandsEye.
| | |
| --- | --- |
| Company | Highlight Feature |
| Sysomos Heartbeat | Proactively monitor your industry, brand, product, and competitors to stay in the know and act on opportunities to engage your audience. It also includes a feature to monitor brand reputation. |
| Talkwalker | Track unauthorized usage of brand logos with the most complete logo coverage on the market. Prevent escalation of crisis situations by getting complete coverage of negative mentions. |
| BrandsEye | Human verified media monitoring. |
Based on the features detailed on their website, Olelo utilizes a comprehensive analytics engine that allows users to monitor trends and insights from its dashboard.
There is also supposedly a way to compare your social media campaigns and posts to your audience using Five Personality Traits framework. As far as I understand, this is one way to gauge how your audience behaves to your posts, and see how it compares to the brand's behavior as projected by the posts. How this is done or explained is something that I also want to understand.
And of course, there is also a feature that allows users to compare the performance of social media posts in a given time. This is a typical service offered by international and local vendors.
What can I say to their free service?
I subscribed to Olelo's free service and confirmed that only Facebook may be linked to the monitoring tool. For proper context: I only subscribed to their free service and I am only allowed to link 1 Facebook page.
Olelo's interface is generic, and the Overview page does not say much about our contents on Facebook. Perhaps, it will get more populated as time goes by, but right off the bat, the page does not say much.
As we get deeper into the pages, the more interesting Olelo gets.
The Mentions page talks about comment feed sentiment, and the day's aggregated reactions, engagements, and mentions. There is also a word cloud that shows the trending words our fans say to us. In fact, it is obvious that in the last 15 days (as of this writing), the most trending word our fans mention in their comments is NOVASTAR. It works great, but it would have been much nicer if the words were clickable and may be expanded for further information. I would have also preferred the summary of reactions and engagements may be changed according to preferred schedule.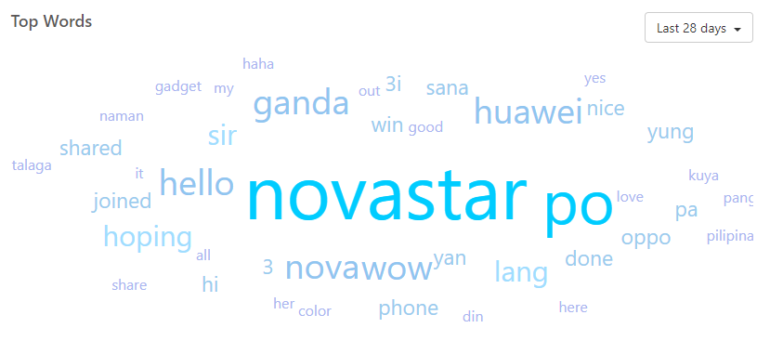 One of the strengths of Sysomos as a listening tool is the ability of end-users to modify the sentiments. Currently, Olelo does not allow this, so end-users are left off with the sentiment graph presented in the page. Usually, listening tools automatically tag words as positive, negative or neutral based on the word pool seeded to the system. Olelo probably does the same thing with this tool, and they seeded words are not enough to tag the sentiment of some descriptive words.
Behaviour page is the most interesting part of the tool, in my opinion. As stated earlier, this is one way to gauge how your audience behaves to your posts, and see how it compares to the brand's behavior as projected by the posts. Here's what I found out:
The variance between our behaviour against our audience is wide in some respects.
Our audience has the tendency to challenge our authority, and we are proactively trying to keep up.
Our audience is emotional on things we post. Surprisingly, their reaction is not something we expected.
I am barely scratching the surface here and it would have been much better if there was someone explaining this to me. I am not a psychologist, and the results presented are not something I can easily understand and deduce. One thing's for sure – we need to further improve how we converse with our audience.
Big Five
Openness
Conscientiousness
Extraversion
Agreeableness
Emotional Range
Personality Values
Personality Needs
Lastly, the Analytics portion of Olelo shows the current and historial performance of our page, and the KPI that we need to ideally meet based on the standard they set. I wonder though how Olelo managed to peg the KPI for our page. Was it based on the industry we are a part of, or across all industries? I am dying to find out.
Olelo is undoubtedly a work in progress but proves to be very useful even its free service. If you own a page or pages that regularly get more than 1,000 brand mentions, it's worth looking at their $99 plan or customized plan. Find out more here.