Huawei has been on a roll with their new products, and with each one bearing excellent quality, innovative technology, and cutting edge design, it's no wonder, the brand has been steadily increasing its consumer base in many regions.
As proof of this feat, research firms IDC, Strategy Analytics and Canalys confirmed that Huawei has achieved rank 2 in the global smartphone market, and for the first time, surpassing another giant, Apple for an entire quarter.
IDC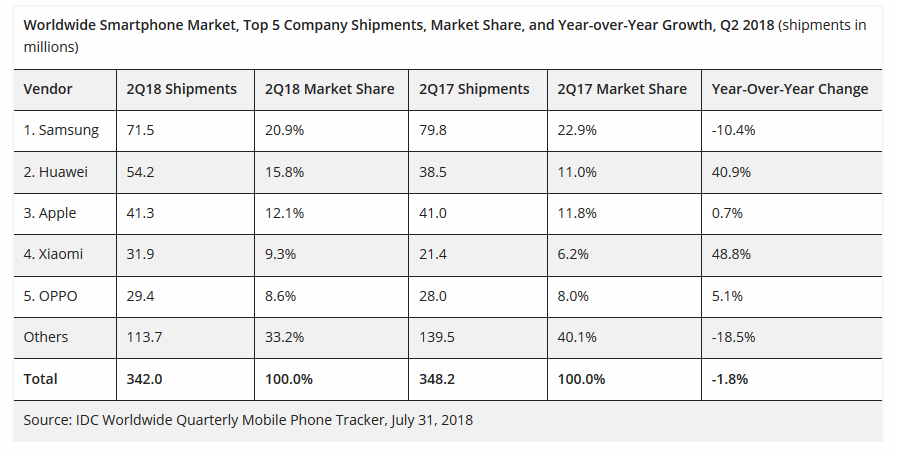 IDC's recent global quarterly monitoring report states that Huawei garnered a market share of 15.8%, surpassing Apple by 3.7% in a whole quarter for the first time.
[su_quote cite="Ryan Reith, program vice president with IDC's Worldwide Mobile Device Trackers."]The continued growth of Huawei is impressive, to say the least, as is its ability to move into markets where, until recently, the brand was largely unknown.[/su_quote]
Huawei also continues to lead the Chinese smartphone market with a record-high market share of 27.0% in Q2 of 2018. In the first half of this quarter.The P20 and P20 Pro was in strong demand for the $600 to $800 price segment, which in turn, helped Huawei to build up on a high profile. The announcement of its GPU Turbo technology also led the brand to continuously earn good reputation on the second half.
Strategy Analytics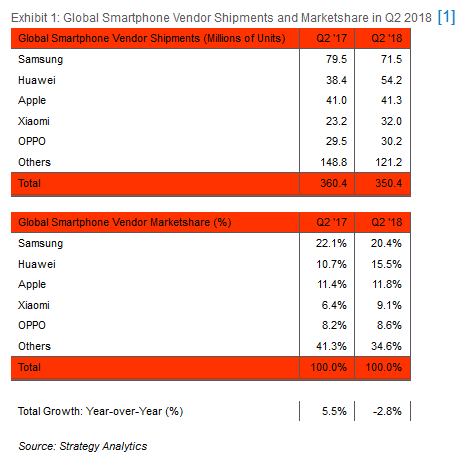 According to Strategy Analytics, Huawei also achieved a 41% growth in smartphone shipments worldwide, 38.4 million during Q2 of 2017 to a staggering 54.2 million units in Q2 of 2018, with the brand's mid-range models such as the Nova 2S and Nova 3e being the source of its popularity across Asia and Europe.
Canalys
[su_quote cite="Mo Jia, Canalys Analyst based in Shanghai"]Huawei's strategy has evolved significantly over the last six months.[/su_quote]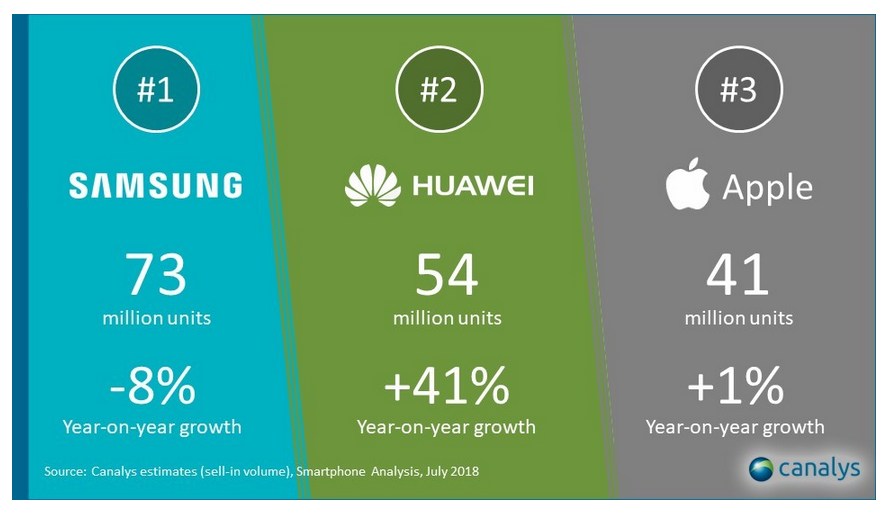 Canalys also acknowledged the brand's achievements,  drawing a massive 41% year-on-year growth, with strong sales of the Huawei P20 exceeding quarter sell-in for both the P10 and P9.
The Secret
Huawei's success can be attributed to its consistent and massive investments into research and development. In fact, over 10% of its revenue if placed into R&D every year. The 2017 EU Industrial R&D Investment Scoreboard Report stated that the brand also ranked 6th among other tech giants in terms of R&D investment.
The brand has also built hubs of expertise all around the world, such as an Algorithm Center in Moscow, a UX Design Center in San Francisco, a Design Center in London, an Aesthetic Center in Paris, and a 5G Development Center in Germany, with some of the world's best talents recruited to further enhance its line of R&D.
You may view the full reports below.
Emman has been writing technical and feature articles since 2010. Prior to this, he became one of the instructors at Asia Pacific College in 2008, and eventually landed a job as Business Analyst and Technical Writer at Integrated Open Source Solutions for almost 3 years.