If you've got your mind set on buying a new gaming laptop, you may want to hold off your horses for now, as ASUS Republic of Gamers have just announced the newest addition it ROG Strix lineup.
Welcome the Strix SCAR II (GL704), a 17.3-inch gaming laptop with extremely slim bezels that allow it to be housed on a 15.7-inch chassis, making it the first laptop of its class that's less than 400mm wide. It utilizes a display that's made in collaboration with AUO, and features 144Hz refresh rate, and 3ms response time.
This in turn, leads to crisp visuals and a truly immersive gaming experience. Thanks to a full sRGB color gamut, the screen can also show truly vivid colors, allowing you to see the game as intended by the developers.
The Strix SCAR II is designed with FPS games in mind, reflected by its Kevlar and camouflage textures. The hairline finish brushes across its Gun Metal lid, while its copper cooling fins deliver flashes of color through the vents. Its RGB lighting can be customized across seven zones – 4 on the keyboard, and 2 on the light bar at the front. With AURA Sync, you can even synchronize the lighting effects with peripherals such as the Strix Fusion 700 Headset, and the Gladius II Origin Mouse.
The Strix SCAR II uses a desktop-style keyboard layout. That means you get a wider space bar, and separate blocks of function keys. Its switches are rated for 20 million key presses, and Overstroke technology allows them to trigger halfway through the 1.8mm key travel for faster response time.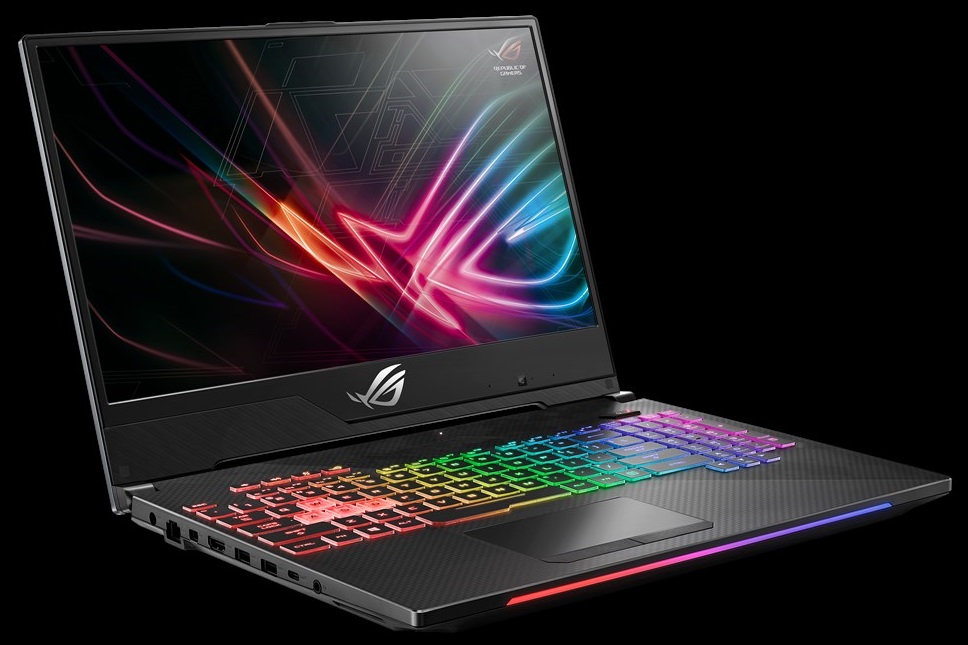 Under the hood is an Intel Core i7-8750H with up to 6 cores and 12 threads, backed by an NVIDIA GeForce GTX 1060 with 6GB of GDDR5 VRAM and 16GB of 2666MHz DDR4 RAM. For storage, you get a 256GB M.2 Solid State Drive in conjunction with a 1TB SATA Hybrid Hard Disk Drive.
This time, ASUS also focused its efforts into developing cutting-edge cooing. The Strix SCAR II's HyperCool Pro cooling system utilizes 3 heatsinks and 2 fans. 1 heatsink is exclusive to the GPU, while the remaining 2 are shared to ensure optimal cooling performance in a variety of scenarios. Each heat sink is lined with thin copper fins that allow for more fins, resulting to increased surface area for heat dissipation, while reducing resistance to airflow. There are also trapezoid cuts in the lid to ensure that the flow of warm air through the exhaust vents is not impeded.
ASUS is also introducing a unified platform called Armoury Crate, which is a central hub where gamers can access the most important settings. It currently covers system settings and Aura Sync lighting, and features five different system profiles that can be cycled through without having to leave the game, and designed for different conditions. Turbo Mode for example is best for serious gaming, while Silent Mode reduces noise for media consumption and the like.
There's also a Mobile Dashboard, which extends the interface to both iOS and Android devices. This allows users to remotely monitor their systems, and make the necessary changes to the settings, without having to switch between windows.
Availability and Pricing
The ROG Strix SCAR II (GL704) will be available in all ROG stores nationwide before the end of Q3. For more details, click here.
Specifications
[table id=141 /]
Emman has been writing technical and feature articles since 2010. Prior to this, he became one of the instructors at Asia Pacific College in 2008, and eventually landed a job as Business Analyst and Technical Writer at Integrated Open Source Solutions for almost 3 years.