[vc_row][vc_column][vc_column_text]OPPO's newest selfie expert is finally here. And after all the numerous rumors and leaks, we were able to try it out and see if it's shaping up to be another hit in the brand's books.
The OPPO F7 follows the success of its predecessor, the F5, and offers major improvements in just about every aspect. From its Super Full Screen display with a 19:9 aspect ratio, to its new Helio P60 chip that brings a myriad of AI-related features, the F7 is geared to deliver an even better user experience than before.
Unboxing
OPPO F7 Specs:
2.0GHz MediaTek Helio P60 octa-core processor
4GB of RAM, 64GB of storage expandable via microSD card
6.23-inch FHD+ 19:9 Super Full Screen Display
16MP rear camera, AI-Assisted Scene Detection, Portrait Mode
25MP front camera, Sony IMX 576, f/2.0, HDR, Vivid Mode, AR Stickers, AI Beauty Technology 2.0, Facial Recognition
Fingerprint Sensor
ColorOS 5.0 on top of Android 8.1 Oreo
3,400mAh battery with AI battery management
Design and Build Quality
The F7 features an all new design, with a more minimalistic form. The front  houses a slightly larger display with a 19:9 aspect ratio, with a notch in place of the top bezel to house the front camera. There's no LED notification light, which is a letdown.
The device has a flatter rear panel, with curves only focused on the sides and edges. Despite that, itIt also now comes in a glossy finish, which makes it more of a smudge magnet, but at the reward of looking more elegant. The rear camera protrudes, which is probably a design restriction.
Surprisingly, OPPO still chose to go with a microUSB port, when the reversible Type-C connector is already becoming a trend in the mid-range segment.
The F7 has a slightly larger 6.23-inch display with FHD+ resolution, and one of the better screens we've seen from the brand. The text looks sharp, icons look detailed, and colors really pop out in vividness. Visibility in direct sunlight is also adequate, so long as you turn it up to max brightness.
Performance
At the core of the OPPO F7 is the new MediaTek Helio P60 chip, which delivers a 70% performance boost, and a 12% increase in overall power efficiency versus the Helio P23 on the F5. Its Mali G72 MP3 GPU also provides up to 40% better performance than the G71.
Throughout the time I was using the phone, I didn't encounter any lags or slowdowns even when running multiple apps. There was a bit of heat buildup on the rear panel when I was continuously taking photos, but I think that's normal for most phones.
Unfortunately, we're still working on gaming benchmarks, but I'm expecting the device to perform way better in games than the F5, which by the way, was no slouch too. I'll also monitor how well the phone manages temperatures when under load.
Camera
Another benefit of the Helio P60 chip is that it gives the OPPO F7 the capability to take shots with a depth of field effect, along with AI-accelerated facial recognition and scene detection. That means the camera can now intelligently adapt to the shooting conditions.
Strangely, OPPO has opted to use a single 16MP rear camera on the F7, when the Helio P60 actually supports up to a 24MP + 12MP dual camera setup. My guess is that it's to bring costs down.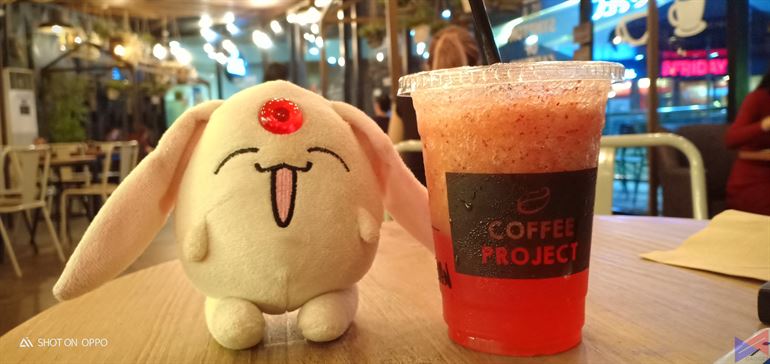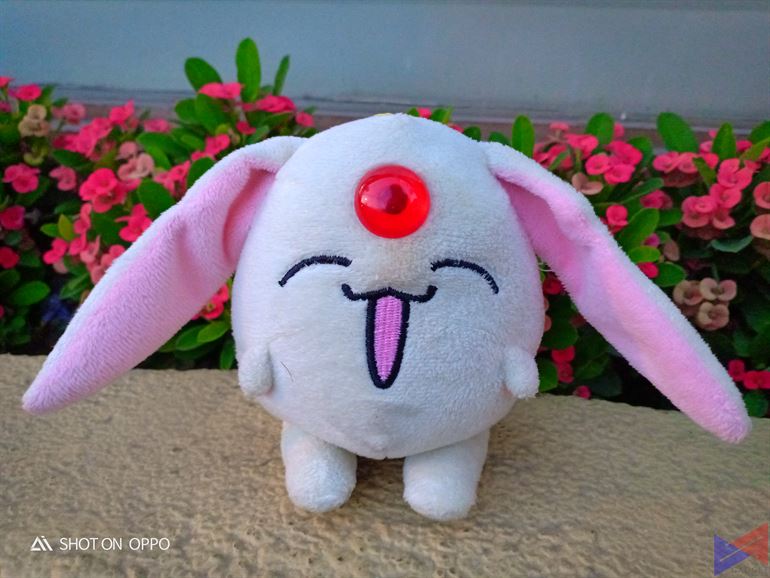 Moving on to samples, the rear camera takes great looking photos with good detail and on-point color accuracy.[/vc_column_text][vc_row_inner][vc_column_inner][images-comparison default_offset_pct="0.5″ el_css="" image_1="42549″ image_2="42550″ before_label="Vivid Mode OFF" after_label="Vivid Mode ON"][/vc_column_inner][/vc_row_inner][vc_row_inner][vc_column_inner][vc_column_text]The new Vivid mode also enhances colors so that photos look more lively.
The depth of field effect can be enabled by the tap of an icon, and works quite well, provided you're in the right distance to the subject.[/vc_column_text][/vc_column_inner][/vc_row_inner][vc_row_inner][vc_column_inner][images-comparison default_offset_pct="0.8″ el_css="" image_1="42552″ image_2="42553″ before_label="Depth Effect OFF" after_label="Depth Effect ON"][/vc_column_inner][/vc_row_inner][vc_column_text]The 25MP front camera is even more impressive, as the depth of field effect looks very refined, with no signs of pixelation. It's also quite accurate as to which sections to and not to blur.[/vc_column_text][/vc_column][/vc_row]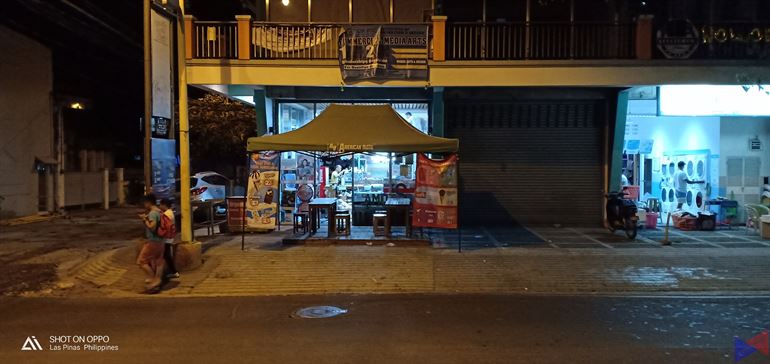 Low light shots came out as expected, slightly oversharpened and very grainy at times.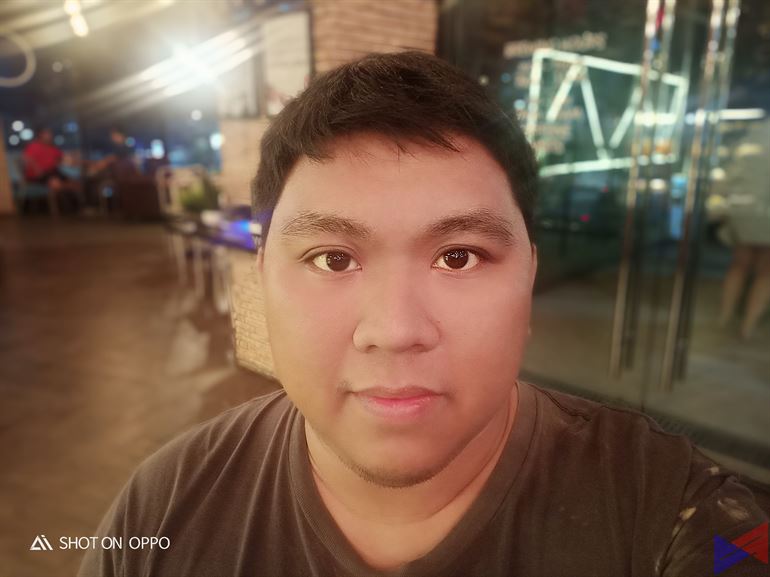 OPPO's signature AI Beauty Technology which analyzes your face to know how it should "beautify" you returns on the F7. And while I personally prefer not to use it, it does quite a decent job of getting rid of blemishes. It's just that it slightly overdoes it in my case.
One thing i've noticed was the relatively slow shutter speed, especially when shooting with Vivid Mode or Depth Effect ON. It takes around 2 seconds to snap again, which is quite frustrating when you're in a hurry. At times, the camera also struggles to focus on subjects even up-close when shooting with Depth Effect ON.
Software
The F7 runs on the new ColorOS 5.0 on top of Android Oreo, and introduces a number of changes and new features. To start off, OPPO has gotten rid of the control center that pops up when you swipe from the bottom of the screen upwards, and has opted to go with the more traditional approach of swiping downwards from the top of the screen.
This new version also introduces the "Raise to Turn On Screen" feature, to compliment facial recognition. Speaking of which, facial recognition on the F7 has also improved. It's quicker, and works even in poor lighting.
The OPPO F7 also now has screen recording, which lets you capture up to a 30 minute clip. Unfortunately it's only able to record sound from the microphone, so if you're looking forward to sharing gameplay online, you  may have to resort to other means.
So far, most apps have been working as intended, except for a few. When using Messenger for instance, the name of someone going online gets blocked out by the notch. There are also random crashes with some apps such as Spotify. We'll be testing more apps over the course of our full review.
Initial Verdict
The OPPO F7 is shaping up to be a big step forward, and for good reasons. The display looks more vibrant, add to that the larger real estate for content, the performance so far is also quite impressive, and as far as casual snaps are concerned, both its front and rear cameras are quite capable of getting some good quality ones, except in poor lighting of course.
Given that, there are of course downs – The Camera's focusing and shutter speed in particular can still be improved, and the OS needs some more optimization to work seamlessly with some apps. I also wished that the phone had an LED notification light, as it doesn't have an always-on-display that tells you when your device is fully charged.
Apart from that, I'll also have to see if that AI battery management actually works, and how it performs in games. Expect more tests, more shots, and more in-depth analysis in our full review, coming soon.