[vc_row][vc_column][vc_column_text]Remember ASUS ROG Zephyrus? Yes. It's one of the brand's most powerful gaming machines to date with a slim form factor and powerful internals – a 7th-Gen Core i7 Processor, up to a GTX 1080 with Max-Q design and 16GB of RAM, which basically produce the highest numbers you'll see on a gaming notebook. It has an 8th Gen version now, and it's definitely more powerful than ever.
There was just one thing about it, it's quite an expensive gadget. So ASUS thought, let's create a more affordable version! Thus, the new GM501 Zephyrus M was born. A few days ago, ASUS teased us about this new product so we had to guess what it was all about. Check out our post here.
https://www.youtube.com/watch?v=zAXQyo6OyVM
Design
[su_spoiler title="Special acknowledgement" open="yes" style="fancy" icon="plus-circle"]Thanks to Jam Ancheta of JamOnline for providing us his photos of the ASUS Zephyrus M.[/su_spoiler]
At first glance, this new gaming powerhouse actually looks more or less the same as its more powerful brother. What's even better is that it's only 17.5mm thin. That's just only a few millimeters thicker than the original – not something that's exactly noticeable.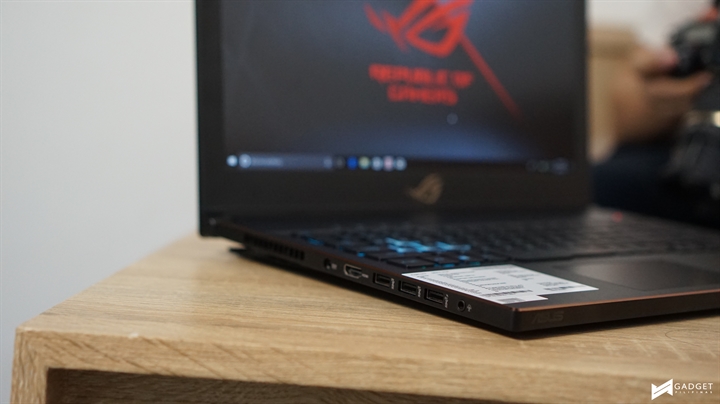 What's noticeable though is the keyboard and touchpad, which have now been positioned where they would be in a traditional laptop, thanks to an all-new cooling design, which we'll talk about later. The keys are designed with maximum comfort in mind and are made to register every press as quickly and accurately as possible for superb responsiveness. The other benefit of this design is a bigger battery, now a 55 Wh one to be exact.
The Zephyrus M's 15.6-inch IPS display now features 144Hz refresh rate, along with a 3ms response time, and NVIDIA's G-SYNC technology, for smooth and tear-free gameplay. Under the hood is an 8th-generation Core i7-8750HQ processor and an NVIDIA GeForce GTX 1070 with 8GB of GDDR5 VRAM. Surely, more than enough for most games.
Expandability
There are now 2 DIMM slots, which means that you can have as much as 32GB of RAM. There are now 2 M.2 slots – both are occupied by default with a 256GB NVMe SSD and a 1TB Seagate FireCuda SSHD.
Connectivity
As far as ports are concerned, you get an HDMI 2.0 port, 3 USB 3.1 Gen2 ports (1 Type-C Thunderbolt), two USB 3.1 Gen1 ports, a combo jack, and a standard power port.
Cooling
The original Zephyrus was also known for its unique AAS or Active Aerodynamic System. Basically, the rear end of the laptop opens up and raises the unit slightly to allow for adequate airflow. On the Zephyrus M, that opening's been increased by 2mm. That means 20% increased airflow space, 32% increased airflow versus traditional designs, 20% cooler temperatures (As per ASUS' internal testing).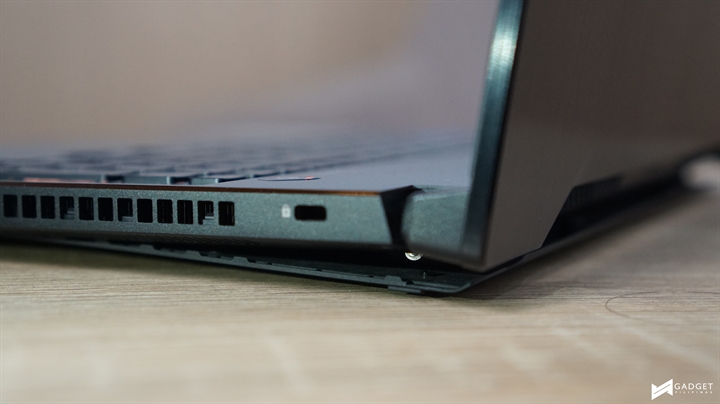 It also uses ASUS' improved cooling fans which are 33% thinner, allowing for more fan blades. AAS fans have 71 blades versus about 53 on traditional designs. These fans are also designed with an Anti-Dust thermal tunnel, in which dust, hair, and other particles are expelled, allowing the thermal fins and fan blades to perform more effectively, resulting to stable performance as far as thermals are concerned.
Another unique feature of the Zephyrus M is the addition of NVIDIA's Optimus Technology, which basically allows the user to switch between the Intel HD Graphics and the GTX 1070 for added battery life. Users can easily find the toggle button in the ROG Gaming Center software.
Software
Of course, what would be an ASUS ROG Gaming Laptop without the company's own suite of apps, including the ROG Gaming Center, which provides access to a system information, temperatures, clock speeds and also allows for overclocking. There's Sonic Studio for setting up your sound preferences and Game First for optimizing network performance.
Then there's NVIDIA WhisperMode, which intelligently determines optimal game settings for the best visual quality while keeping noise and power consumption to minimal.
[/vc_column_text][vc_tta_tabs][vc_tta_section i_type="material" i_icon_material="vc-material vc-material-event_available" add_icon="true" title="Pricing and Availability" tab_id="1522752220142-84574a72-fe7f"][vc_wp_text]
| | | | | | | | |
| --- | --- | --- | --- | --- | --- | --- | --- |
| Model Name | LCD | LCD TYPE | CPU | RAM | STORAGE | GPU | SRP |
| GX501GI-EI004T | 15″ FHD | IPS 144HZ | I7-8750 | 24G | 1TB SSD | GTX1080 Q 8GD5X | ₱189,995 |
| GM501GS-EI002T | 15″ FHD | IPS 144HZ | I7-8750 | 16G | 1TB+512SSD | GTX1070 6GD5 | ₱149,995 |
| GM501GM-EI003T | 15″ FHD | IPS 144HZ | I7-8750 | 16G | 1TB+256G SSD | GTX1060 6GD5 | ₱119,995 |
[/vc_wp_text][/vc_tta_section][vc_tta_section i_type="material" i_icon_material="vc-material vc-material-markunread_mailbox" add_icon="true" title="Specifications" tab_id="1522752220196-873a5cea-deca"][vc_wp_text]
Processor
Intel Core i7-8750HQ
Chipset
Intel HM370
GPU
NVIDIA GeForce GTX 1070 with 8GB of GDDR5 VRAM
Memory
8GB DDR4 2666MHz, 2x SO-DIMM, Up to 32GB
Storage
M.2 PCIe x 4 256GB / 512GB / SSD, 2.5" 1TB Firecuda SSHD
Cooling
Active Aerodynamic System
Networking
802.11AC + BT
Display
15.6" IPS FHD 144Hz, 3ms Response Time, G-Sync
Keyboard
Aura RGB 4-Zone Backlit, WASD Highlight, 1.7mm Travel Distance, N-key Rollover
Audio
Dual Stereo Speakers
Connectivity
1 x DC-In, 1 x HDMI 2.0, 3 x USB 3.1 Gen2 (1 x Type-C Thunderbolt)
2 x USB 3.1 Gen1 , 1 x 3.5mm Audio Jack
Battery and Adapter
55Whr, 4 Cell; 230W Adapter
Dimensions
38.4cm (W) x 26.2cm (D) x 1.99cm (H)
Weight
2.45kg
[/vc_wp_text][/vc_tta_section][/vc_tta_tabs][/vc_column][/vc_row]