It was a year ago when we posted our review of Plantronics RIG 500. Back then, using and reviewing a Plantronics audio device positioned for gamers felt weird, but over the course of less than a year, the brand has fully established itself as a competent gaming peripheral brand. It dispelled our fixed notion of it being the brand of first choice exclusively for busy professionals who are looking for wireless Bluetooth headsets.
Plantronics RIG 500 was an amazing gaming go-to headset, but it isn't something without flaws. The included isolating earcups didn't give enough expected isolation to block out background noise, not to mention the lack of breathability. It wasn't comfortable to wear for long gameplay as its padded faux leather cups completely cover both ears. Despite this setback, RIG 500 proved that Plantronics put their heart out in developing a headset that produces excellent audio quality.
A year later, Plantronics, thru their official distributor Banbros, sent us an eSports variant of RIG 500, the RIG 500E. Yup, that's what E technically stands for. What really changed compared to its non-eSports version is the focus of this review. For your better appreciation, we would like to let you know that we used this headset on the devices below.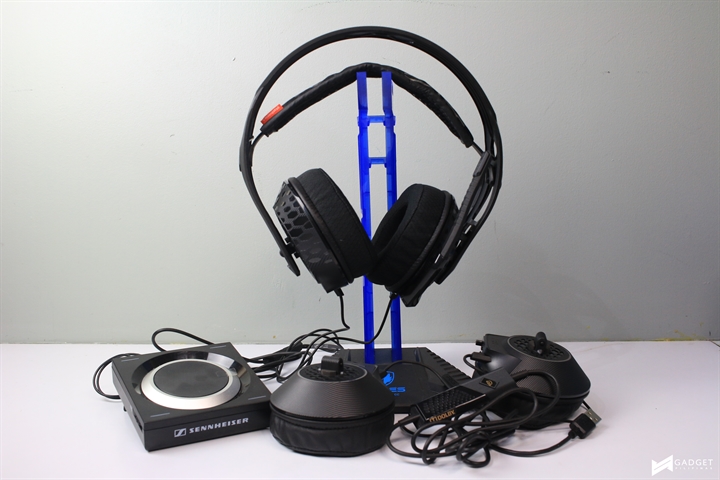 [su_spoiler title="We used the Plantronics RIG 500E on:" open="yes" style="fancy" icon="plus-circle"]
Gaming Desktop PC with ASUS ROG Maximus IX Hero Motherboard and Sennheiser GSX 1200 Pro Audio Amplifier

Processor: Intel Core i7 7700K
Motherboard: ASUS ROG Maximus IX Hero
Memory: 2 x 8G DDR4 2666 Corsair Vengeance LED
SSD: 2 x Samsung 850 EVO 250GB (500GB total)
HDD: 1 TB Western Digital Blue
HDD: 1 TB Spinpoint F3
Graphics: ASUS ROG Strix 1070 OC
Case: NZXT Source 340
PSU: Seasonic X750 750watts, 80PLUS gold full modular
4-Antenna BCM94360CD Wireless Network Card (PCI) for 802.11AC Wifi and Bluetooth 4.0
Mouse: ASUS ROG Spatha
Mouse Pad: ASUS ROG Sheathe
Keyboard: ASUS ROG Claymore Bond + Core
Audio Amplifier: Sennheiser GSX 1200 Pro

Sony PlayStation 4 Pro with Plantronics USB 7.1 Connector
Samsung Galaxy Note 8
[/su_spoiler]
It is also worth noting that during the course of our review, we played the following games on our devices. We intentionally chose to play the ones on the list with our RIG 500E since the developers of these games have put a high regard on sound quality.
Desktop:

PlayerUnknown's Battleground
Hunt: Showdown

PlayStation 4 Pro:
Samsung Galaxy Note 8:
Modular Build
RIG 500E, in terms of overall build, is not remotely different compared to RIG 500. Its eSports edition only has an extra vented earcup and ESL co-branding found on its inner headband and protective cloth for ear loudspeaker.
As a modular headset, it is divided into 4 collapsible parts: flexible boom mic, an outer frame, inner headband and vented or isolating earcups.  Add to this the USB audio amplifier, which can be an excellent option should you wish to play with Dolby surround on. I used this option only once on my Playstation 4 Pro and PC since I opted to use my own Sennheiser GSX 1200 Pro on PC. I will discuss this later on.
The outer frame is flexible yet very sturdy. If you're serious about eSports and you've got your own team, you can spray paint your color theme to the frame to your heart's delight. The inner headband is made of polymer and mesh. It makes the headphone comfortable to wear even especially during long gameplay.
The case of  2 sets of earcups
There are 2 sets of earcups – vented and isolating; both encase 40mm drivers with low-frequency resonators.
The vented earcups are much suitable for long gameplay due to it breathable design. This is relatively the best option when playing eSports games such as DOTA 2, PUBG or Fortnite since these games are usually played for more than 2 to 3 hours. This is ideal too for game streamers who play games in long hours.
The comfort this earcup provides though has its downside. While it's very comfortable to wear, you will very likely hear background noise when playing in public places. If you're commuting and you happen to listen to your favorite music tracks with this one, the person who sits next to you will also hear what you're listening to with this earcup on. Also, when playing games or music, I noticed that there's pronounced emphasis on highs rather than lows on lower frequency. This isn't exactly a bad thing and the variance over the isolated earcup isn't too much.
[su_spoiler title="Note" open="yes" style="fancy" icon="plus-circle"]I used a Sennheiser GSX 1200 Pro Amplifier with the Plantronics RIG 500E.[/su_spoiler]
On the other hand, the isolated earcup offers the sound with the richest quality. Total immersion is what this earcup offers, and it proved to be the right one for me when I played PlayerUnknown's Battlegrounds and Hunt: Showdown. These 2 games put a high regard on sound quality to help players immerse themselves in the game, and Plantronics RIG 500E with isolated earcups on is the best choice between the two earcups. This, however, is at the expense of comfort when playing for long periods of time. My ears were sweaty while I enjoyed my sweet listening time.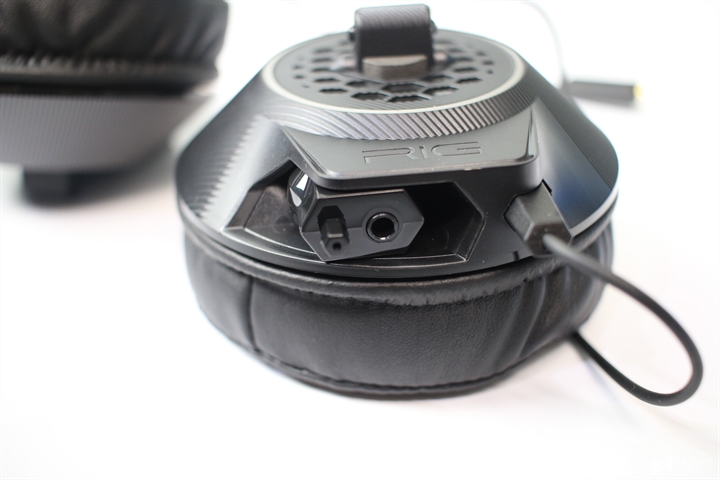 To Dolby or not to Dolby?
Obvious, the best option is to go Dolby, and this is something easy to do with the included USB audio device, which comes out of the box. This is a great addition to this headphones especially now that more and more games are supporting 7.1 surround sound on both PC and Playstation 4.
Thankfully, Plantronics also included a handy audio panel application, which allows users to digitally turn on or off the Dolby Surround, control the mic and sidetone volumes. The application also gives the users several equalizer templates to choose from 30 to 16000hz frequency and -20d to +20 decibels.  Unfortunately, neither on the USB audio and the audio panel application the output volume controls, so you're left off with either controlling everything from Window's volume controls or getting yourself a 3rd party amplifier or audio controller.
One of the best mics I've used on a headset!
I was blown away by the quality of its flexible boom mic. In fact, it's one of the best mics I've used on a headset. While its noise-canceling function didn't live up to its promise, it managed to help me produce impressive voice quality on my livestreams, gameplays, and recordings.
The boom mic may also be removed or easily be stowed up to disable. This is a quick way to mute the microphone without going through the hassle of muting it via the application control panel.
Verdict
The Plantronics RIG 500E has all the available options for a headphone capable of 7.1 surround sound and fit for eSports players and gamers. Plantronics even made it sweeter to those who wish to buy it as it now has a marked down price of PhP5,595 from PhP7,195. However, its marked down price is more expensive by PhP3,300 compared to Plantronics 500 (see Allan's review here). The latter currently sells for PhP2,295, and it offers the same features and functions except for the bundled isolated earcups. We honestly suggest that you grab the Plantronics 500 than the 500E if there's still stock available at Tekplay or Lazada for practicality purposes.
[su_button url="https://tekplaystore.com/product?id=4946″ target="blank" style="3d" background="#126306″ color="#ffffff" size="8″ wide="yes" center="yes" radius="round" text_shadow="0px 0px 0px #000000″]Click this to buy Plantronics RIG 500E at Tekplay.[/su_button]
Giancarlo Viterbo is a Filipino Technology Journalist, blogger and Editor of gadgetpilipinas.net, He is also a Geek, Dad and a Husband. He knows a lot about washing the dishes, doing some errands and following instructions from his boss on his day job. Follow him on twitter: @gianviterbo and @gadgetpilipinas.