Introduction
When Samsung launched its Galaxy S20 series back in February, I was personally surprised at the number of new features and upgraded tech that they put on the devices. It's like the company's top priority was to fire every bullet they had in the gun to impress.
Of course, a device that doesn't hold back at trying everything to be the best is great for us consumers.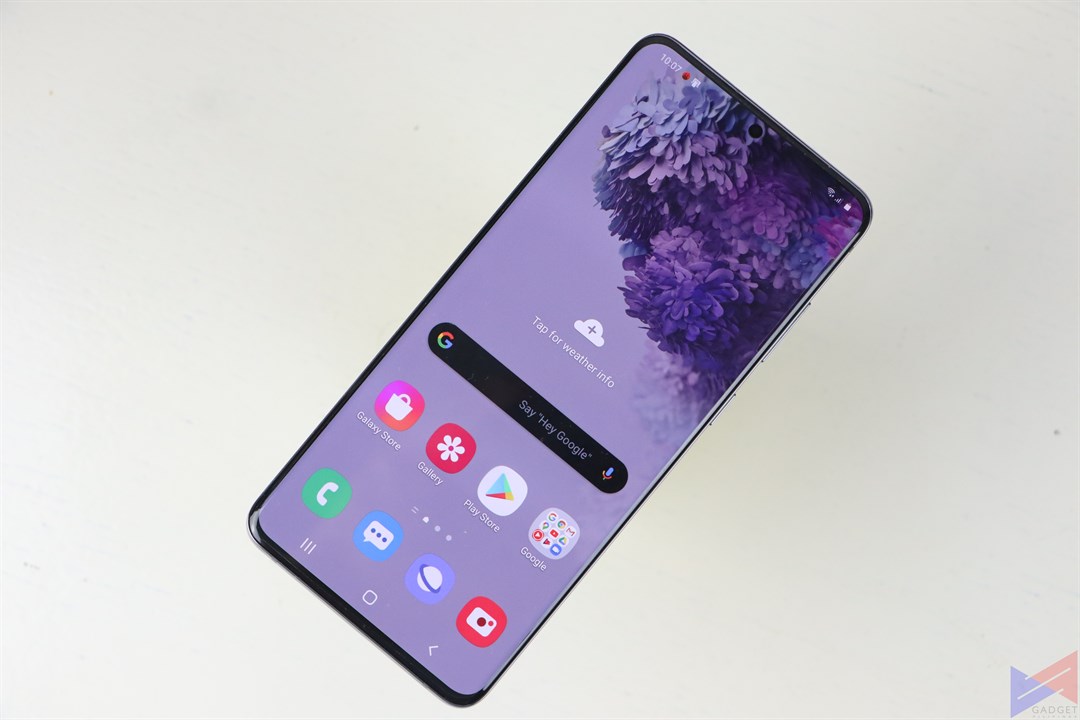 The device we're looking at today stands in the middle of the pack. The Galaxy S20 boasts a lot of what you'll find in the more premium Galaxy S20 Ultra, minus some. But does that take away a lot from the device? Let's find out.
Specifications
Galaxy S20
Galaxy S20+
Galaxy S20 Ultra
Display
6.2-inch Quad HD+ Dynamic AMOLED 2X
6.7-inch Quad HD+ Dynamic AMOLED 2X
6.9-inch Quad HD+ Dynamic AMOLED 2X
563 ppi
525 ppi
511 ppi
HDR10+ certified
HDR10+ certified
HDR10+ certified
120Hz display support
120Hz display support
120Hz display support
Camera
Rear
Triple Camera
Quad Camera
Quad Camera
Ultra Wide: 12MP, 120°, f2.2
Ultra Wide: 12MP, 120°, f2.2
Ultra Wide: 12MP, 120°, f2.2
Wide: 12MP, 79°, f1.8
Wide: 12MP, 79°, f1.8
Wide: 108MP, 79°, f1.8
Telephoto: 48MP, 76°, f2.0
Telephoto: 64MP, 76°, f2.0
Telephoto: 64MP, 24°, f3.5
Space Zoom
Depth Vision
Depth Vision
Hybrid Optic Zoom 3x
Space Zoom
Space Zoom
Super Resolution Zoom up to 30X
Hybrid Optic Zoom 3x
Hybrid Optic Zoom 10x
Super Resolution Zoom up to 30X
Super Resolution Zoom up to 100X
Front
Selfie: 10MP, 80°, f2.2
Selfie: 10MP, 80°, f2.2
Selfie: 40MP, 80°, f2.2
Dimension
151.7 x 69.1 x 7.9mm, 163g
161.9 x 73.7 x 7.8mm, 186g
166.9 x 76.0 x 8.8mm, 220g
Processor
Octa-Core Exynos 990
Memory
8GB RAM (LPDDR5)
8GB RAM (LPDDR5)
12GB RAM (LPDDR5)
128GB internal storage
128GB internal storage
128GB internal storage
Micro SD Slot (up to 1TB microSD)
Micro SD Slot (up to 1TB microSD)
Micro SD Slot (up to 1TB microSD)
Battery
4,000mAh
4,500mAh
5,000mAh
5G
Non Standard (NSA), Sub6, for PH – S20 Ultra is 5G-Ready, but the feature is disabled for the time being. S20 and S20+ are 4G/LTE Only
LTE
Enhance 4×4 MIMO, Up to 7CA, LTE Cat. 20 – Up to 2.0Gbps Download / Up to 150Mbps Upload
Charging
Improved wireless charging speeds with Fast Wireless Charging 2.0, Wireless PowerShare, Super Fast-Charging – Up to 25W for S20 and S20+, up to 45W for S20 Ultra
Sensors
Accelerometer, Barometer, Ultrasonic Fingerprint sensor, Gyro sensor, Geomagnetic sensor, Hall sensor, Proximity sensor, RGB Light Sensor
Authentication
Lock types: pattern, PIN, password; Biometric lock types: Fingerprint, Face recognition
Others
IP68 certified Dust and Water resistant
Design
Take the S20 and make it a bit bigger, add a fourth sensor to the camera module, and you get the S20+. It's as simple as that. No, seriously.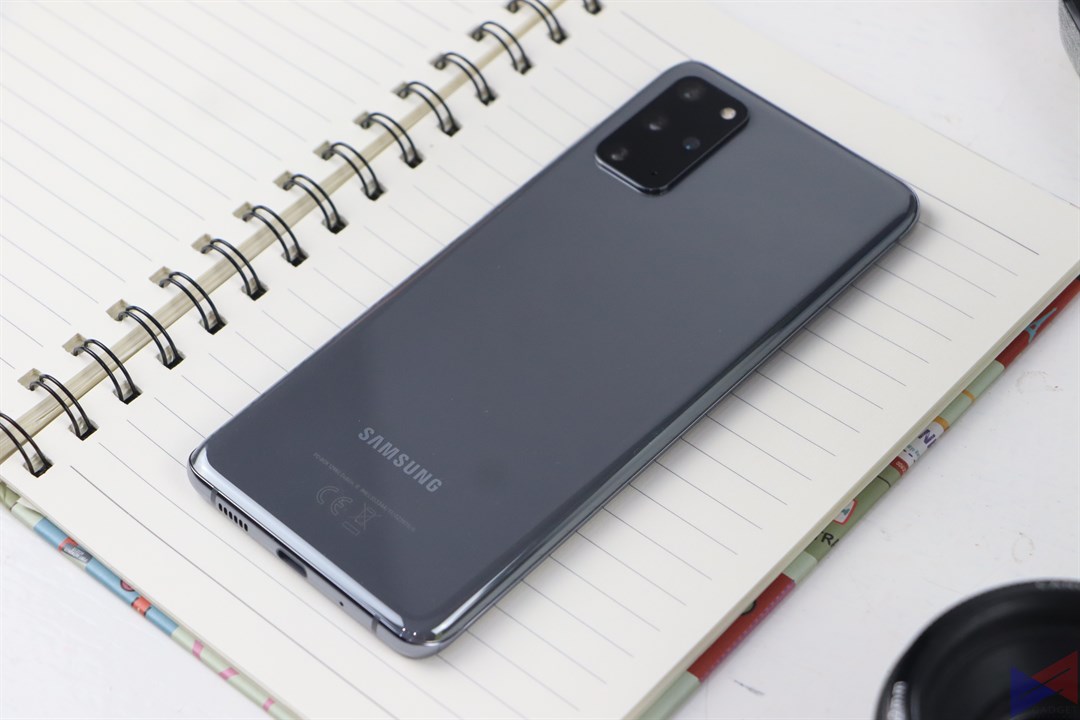 As with the previous generation, Samsung has retained the metallic and glossy look on the S20 series. Unfortunately, this makes the phone's surface quite slippery, not to mention a smudge magnet.
Since most users will most likely have a case, I guess one-handed use won't be much of a problem, won't it?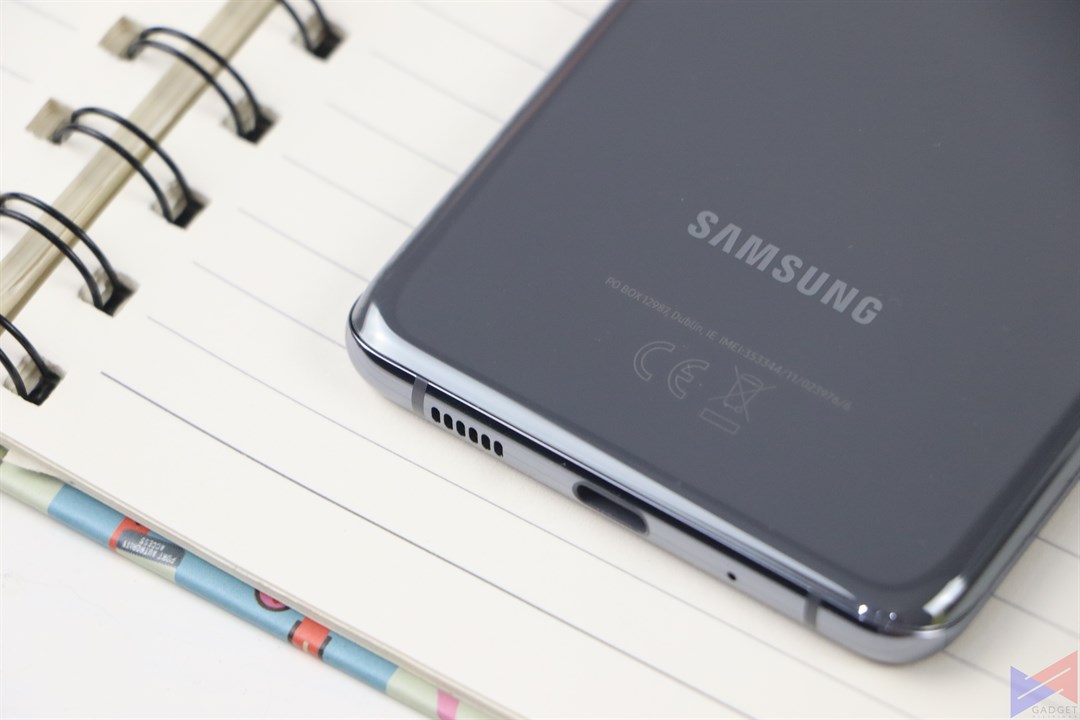 The sides on the back panel are curved to facilitate better handling and gives the phone a more seamless feel. You also get the typical Samsung branding.
Perhaps the most unsightly thing about this design is the camera module, which protrudes so much. That makes the phone uneven when laid flat on a surface.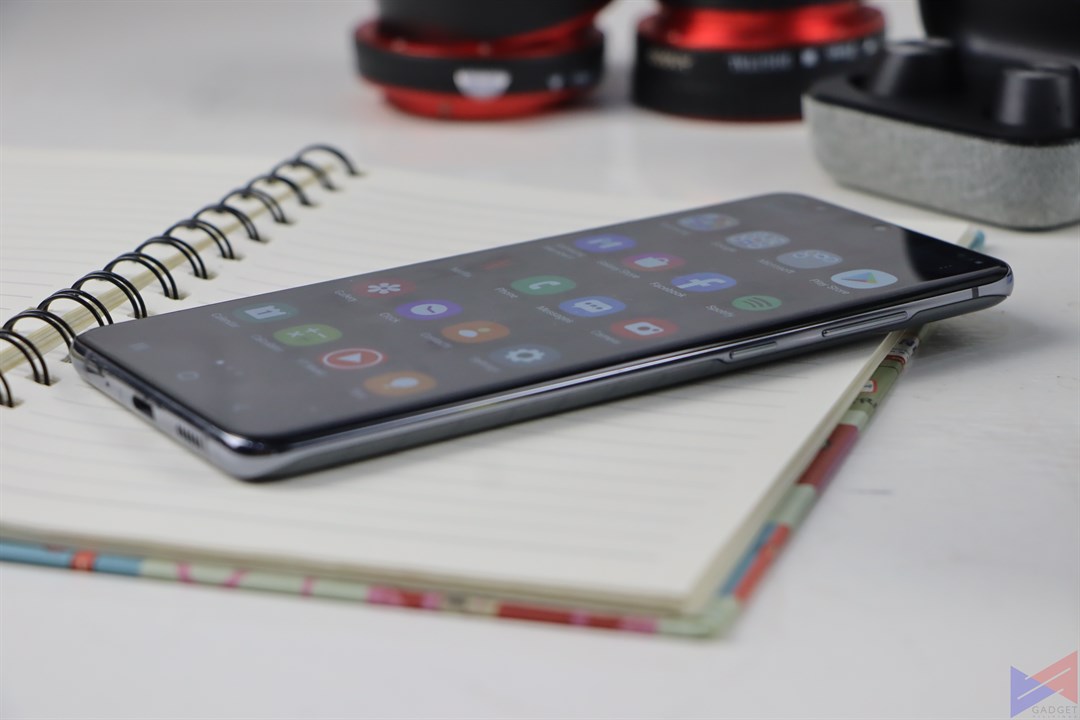 The sides are your typical metallic finish, with both the power button and volume rocker on the right side. One notable change from the S10+ is the absence of the Bixby button.
At the bottom of the device is a USB-C port, along with a microphone and speaker grille. As expected, Samsung has completely gotten rid of the headphone jack. To some, that's a big no-no, and some wouldn't mind. I happen to be the latter.
Display
Samsung devices are quite popular for having awesome displays, and the S20+'s 6.7-inch Dynamic AMOLED 2.0 QHD+ display is no different.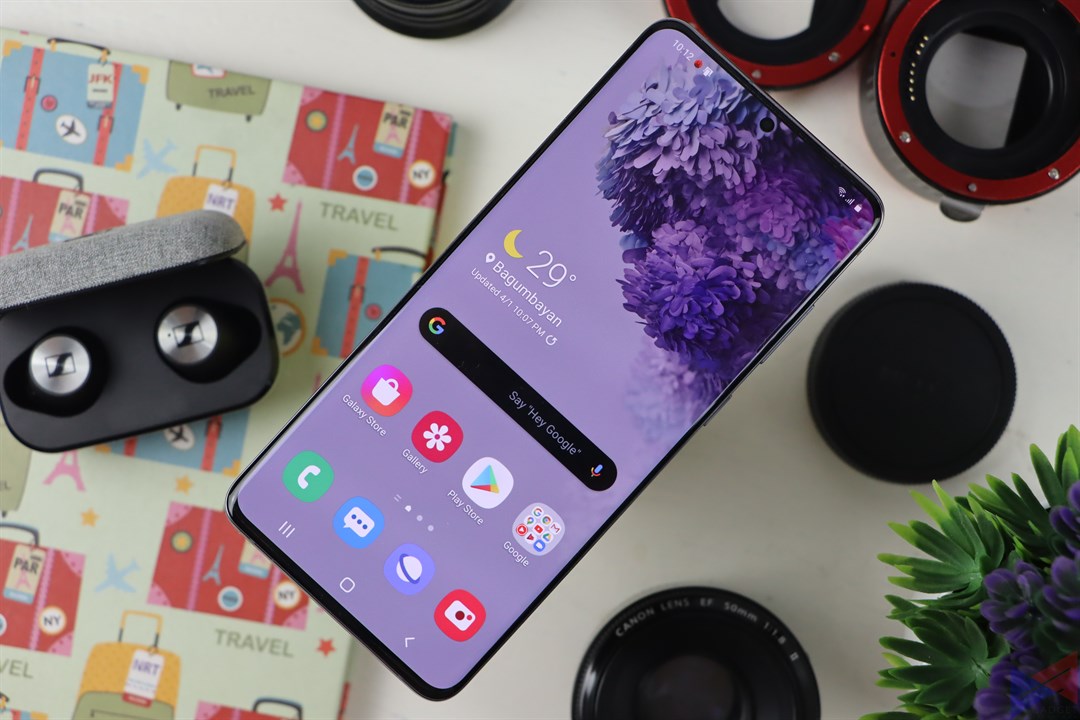 It's one of the most vivid and crisp displays I've seen on a phone this year. You get detailed icons, sharp text, and good levels of brightness.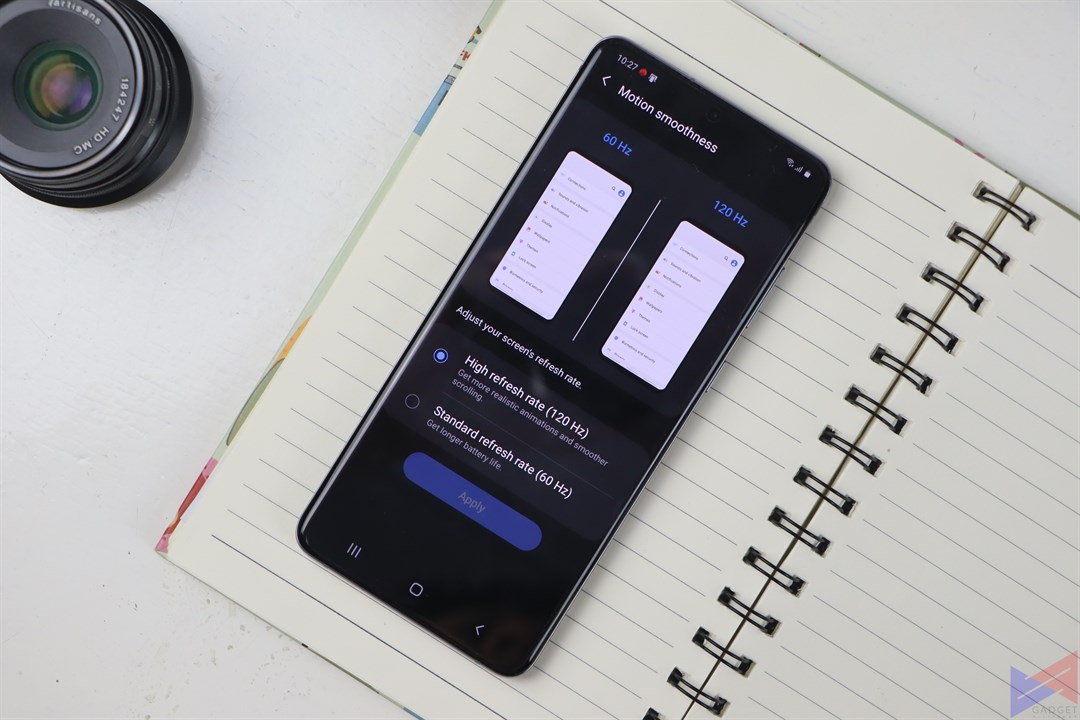 A notable upgrade from the S10+'s display is the bump to a 120Hz refresh rate. To put it into context, if you've used a 60Hz monitor and jumped to a 144Hz one, the difference in fluidity is night and day. It's the same here. From swiping down to reveal notifications to navigating the various menus, the difference is very noticeable.
There is a limitation to this feature (at least for now). The 120Hz refresh rate is currently only available at FHD+ resolution. Most likely due to battery life issues. Still, I think that having it as an option would be great.
I think that the user should've been given more control for such settings, regardless of how much uptime I get. There's also another benefit of having a high refresh rate, and that's for any game that supports it.
Performance
As usual, the S20+ has two variants, one powered by a Snapdragon 865, and one by the Exynos 990. The review unit I have is, of course, running on the latter.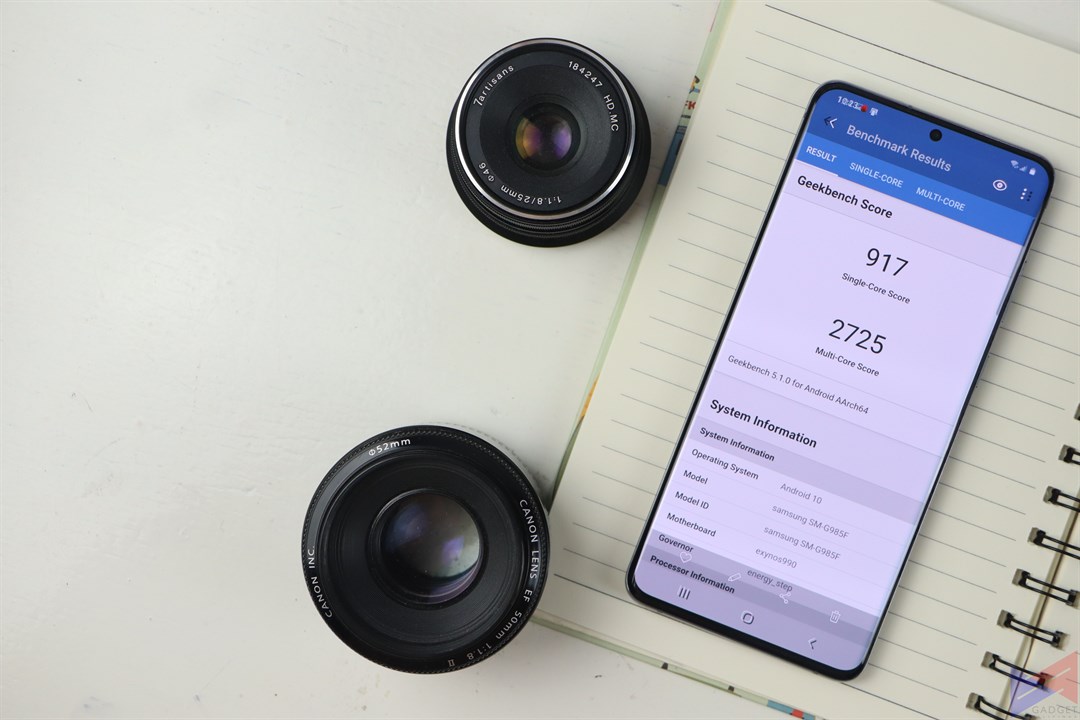 It comes with 8GB of RAM, which should be more than ample even for heavy multitasking. There's 128GB of storage which can further be expanded with a microSD card.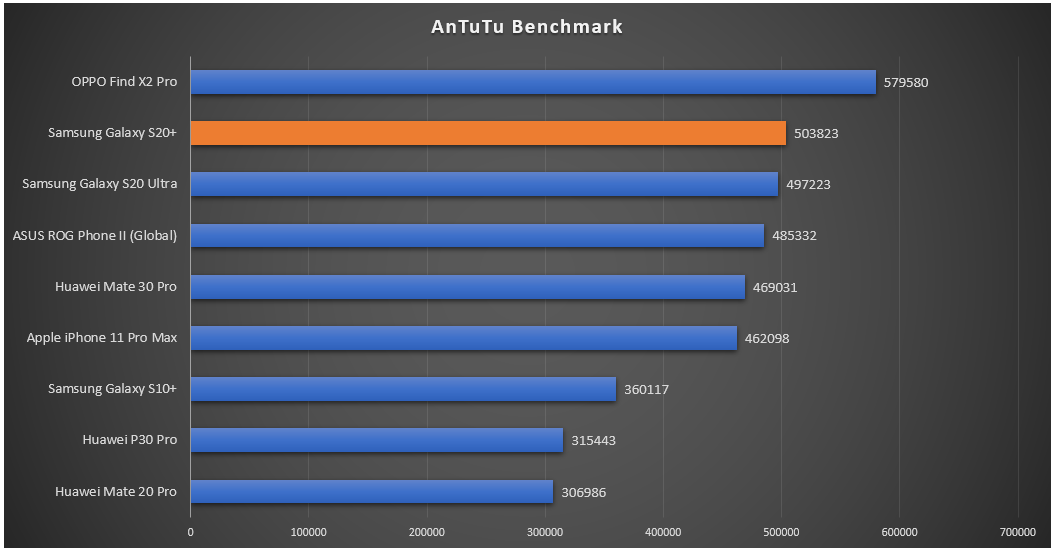 A simple run of the AnTuTu Benchmark shows the Exynos 990 trailing behind Qualcomm's flagship SoC, the Snapdragon 865, while staying ahead of the Snapdragon 855+ powered ROG Phone II, as well as the Kirin 990 on the Huawei Mate 30 Pro. It also shows a huge score jump from the S10+, which, by the way, is no slouch.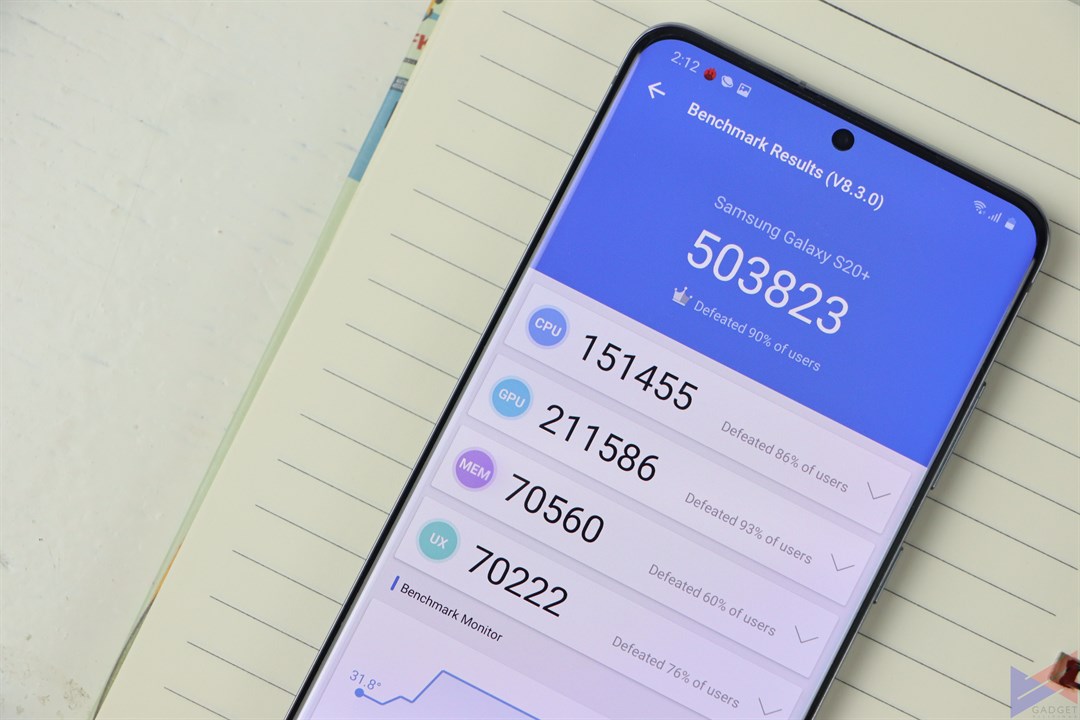 So how does the phone perform in gaming? I tested the following games on the S20+ to find out:
CoD Mobile
FFXV Pocket Edition
Black Desert Mobile
Mobile Legends
Real Racing 3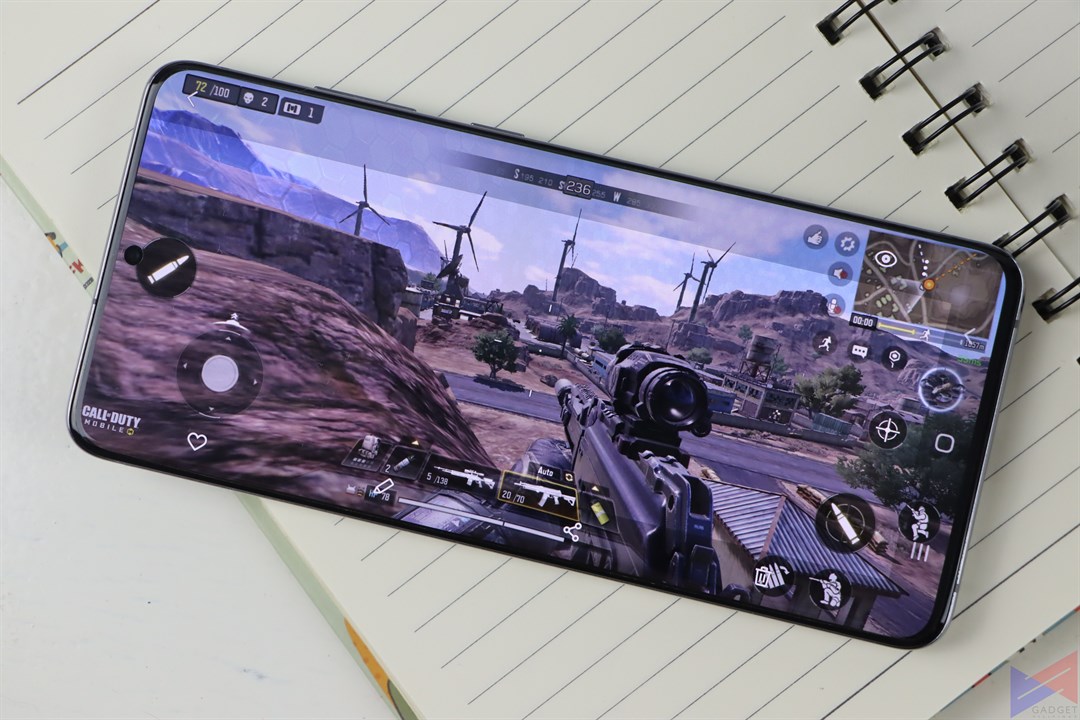 Every game on this list ran at the highest possible settings, or very close to it. CoD Mobile only allowed Max FPS at High Graphics Setting, and Mobile Legends ran with HFR and HD Mode without any serious issues.
Two of the above games support the phone's 120Hz refresh rate – FFXV Pocket Edition and Real Racing 3. In such games, you can really tell the difference. The game is just smoother and more fluid in general.
I did notice visible drops in framerate here and there in FFXV – either the GPU is throttling, or it's a case of optimization.
Unfortunately, I didn't have the tool to measure temperature, but the phone did get quite a bit warm only after a few minutes of starting a game. I won't say it's dangerously hot, but it's also not comfortable.
Camera (Photos)
Perhaps the biggest upgrade to the Galaxy S20 series is in the camera department – both the S20+ and S20 Ultra now pack quad-camera systems, while the regular S20 retains a triple camera setup.
The S20+ boasts the same setup as the S20 Ultra, except that it doesn't have the 108MP sensor, but opts for a 12MP shooter instead. You get a 12MP ultra-wide snapper, a 64MP telephoto module, and Samsung's Depth Vision camera.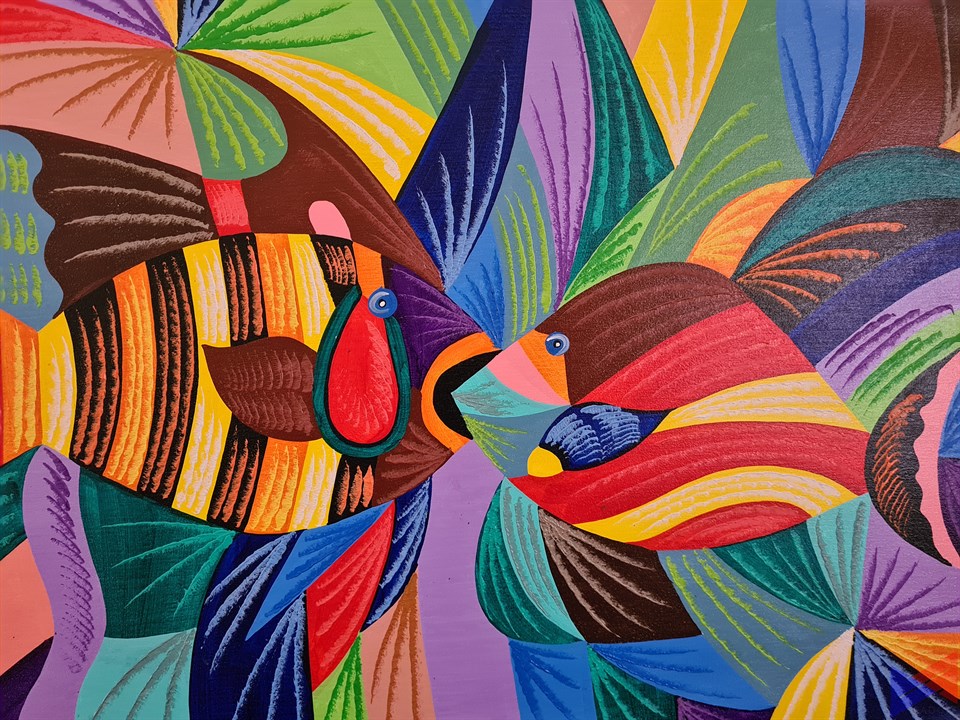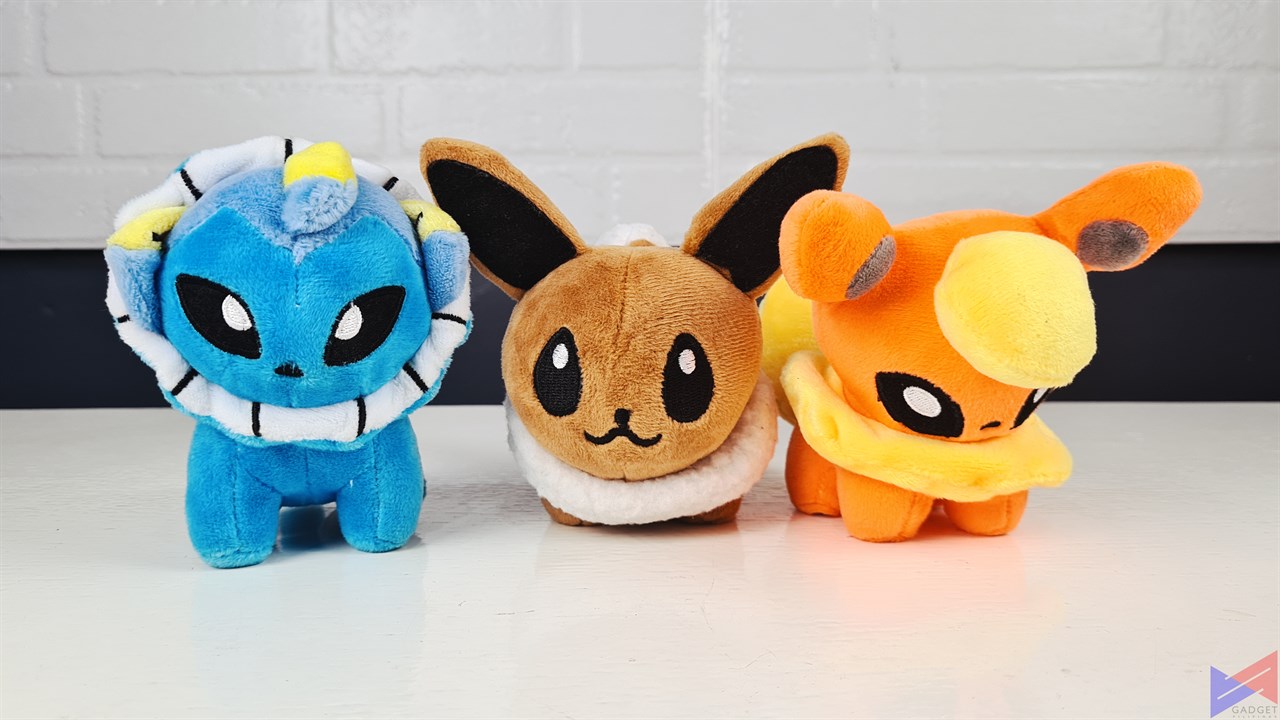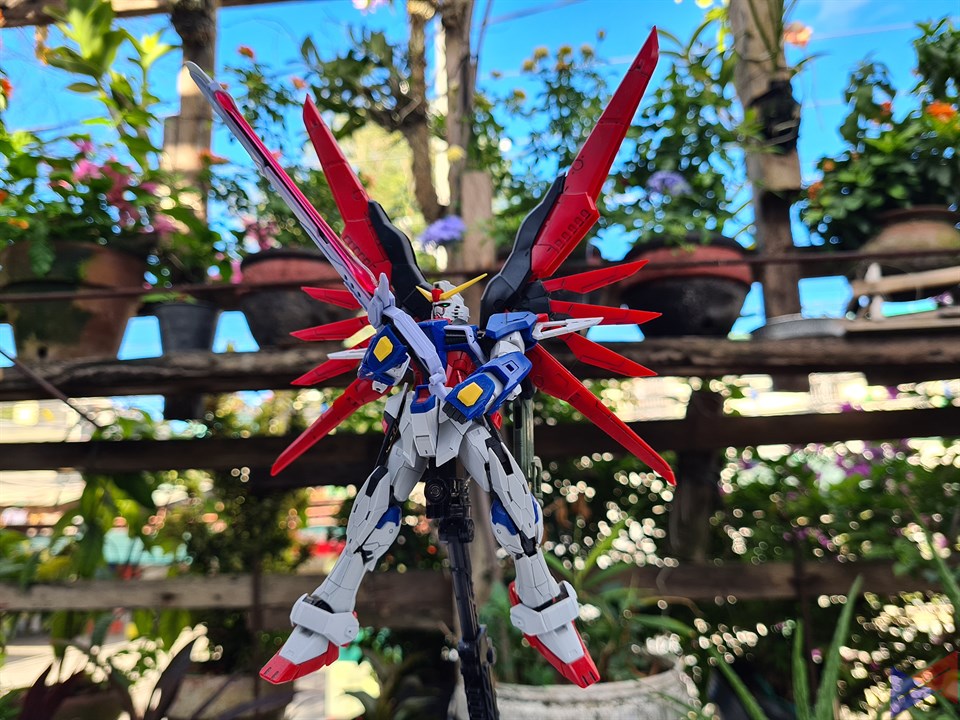 Quality-wise, the punchiness of colors, crispness, sharpness, and amount of detail it's able to capture is no less than impressive.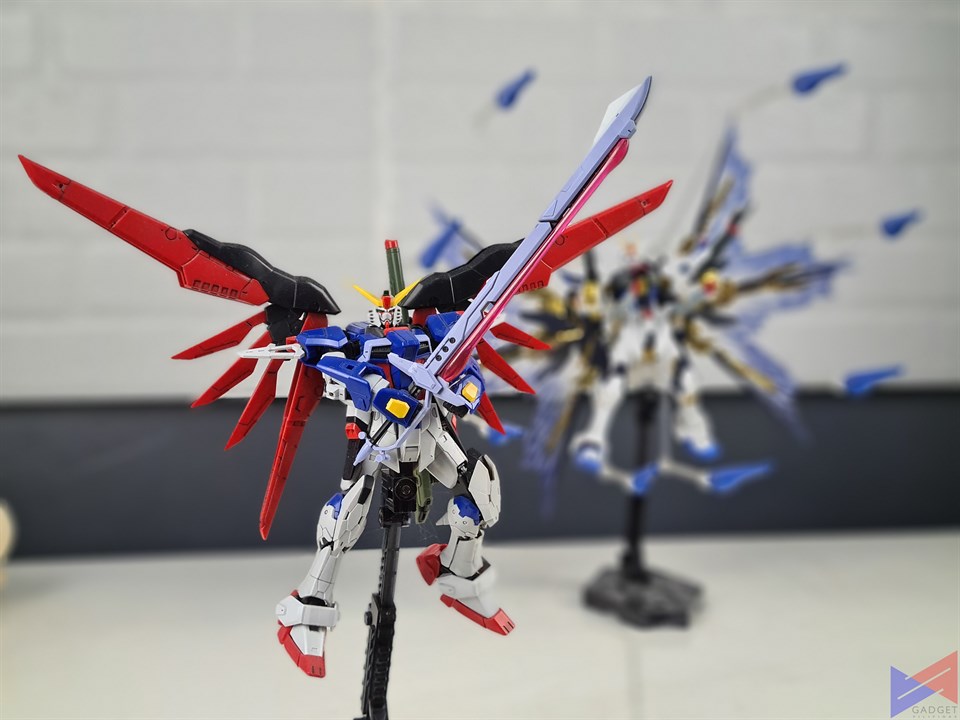 It's able to produce a well-refined bokeh effect with superb separation between the subject and background. At times, I don't even have to use Live Focus.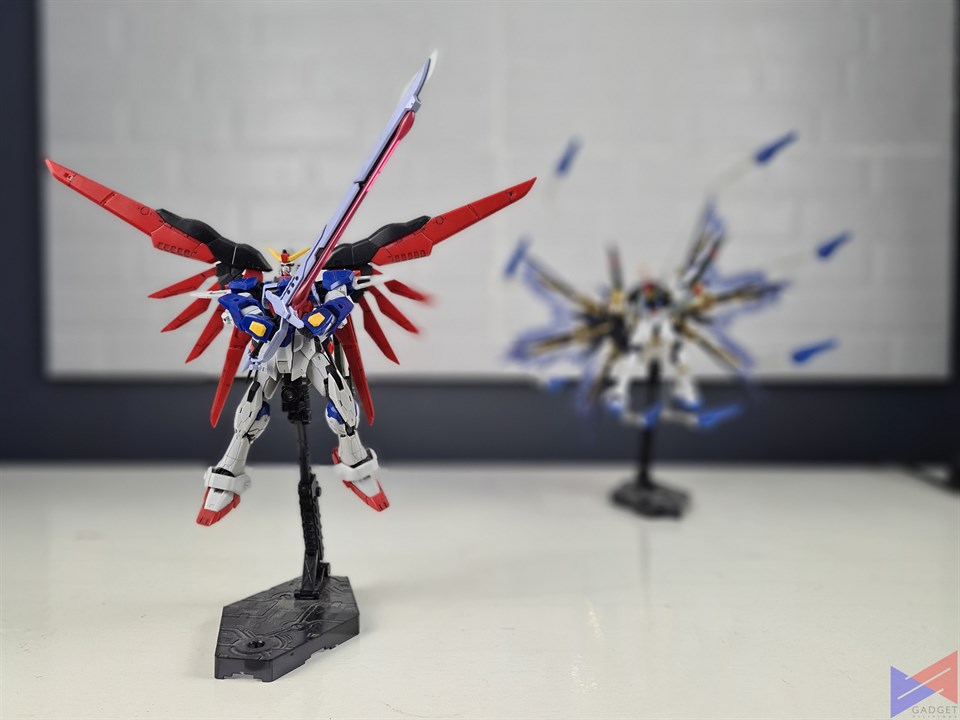 Speaking of which, the AI does seem to miss some sections that should not be blurred out when using Live Focus on a wide-angle shot.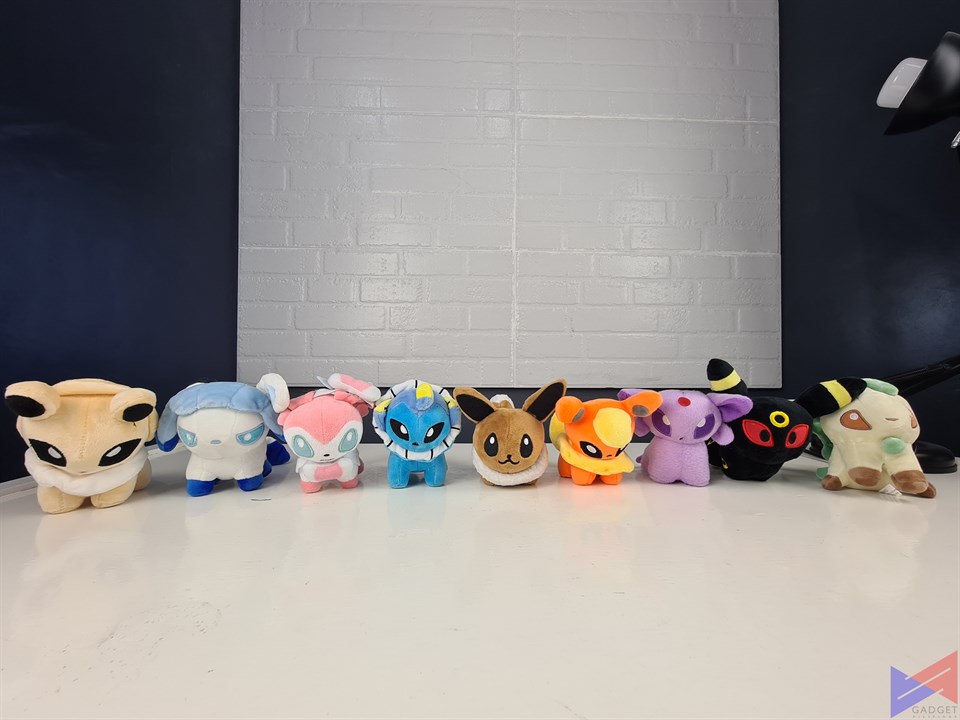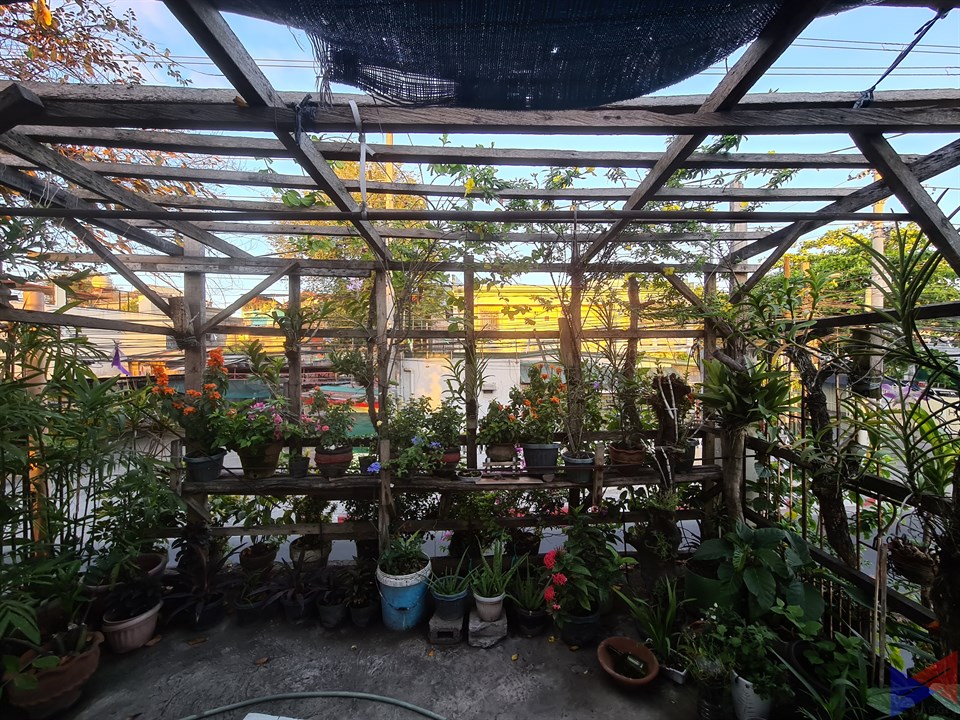 Wide-angle shots allow for more in the frame but show a decrease in detail, and exposure could also use some work.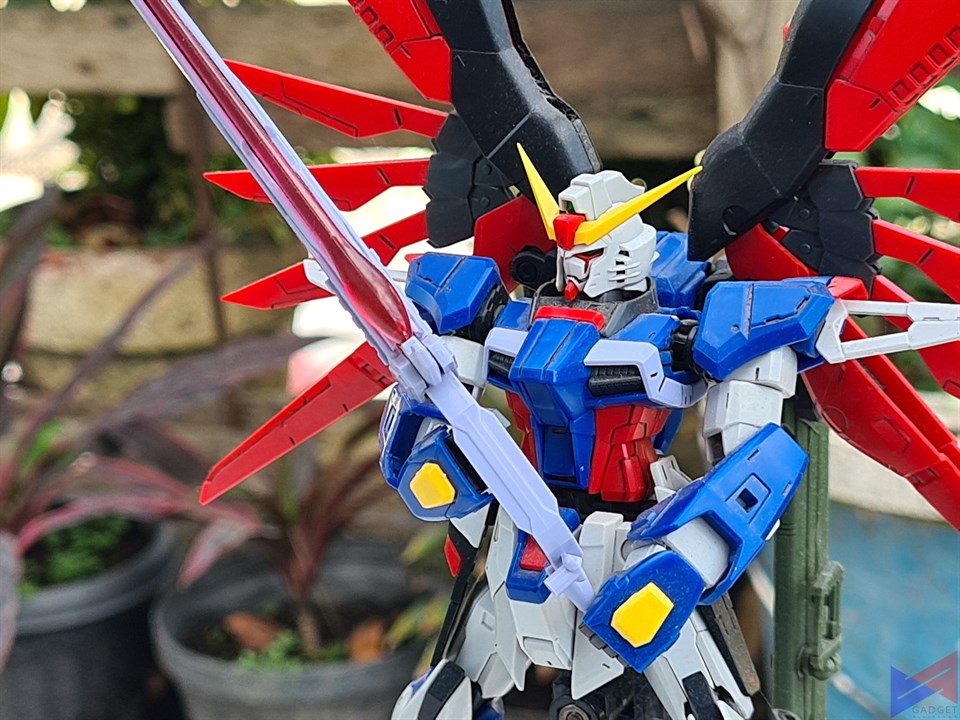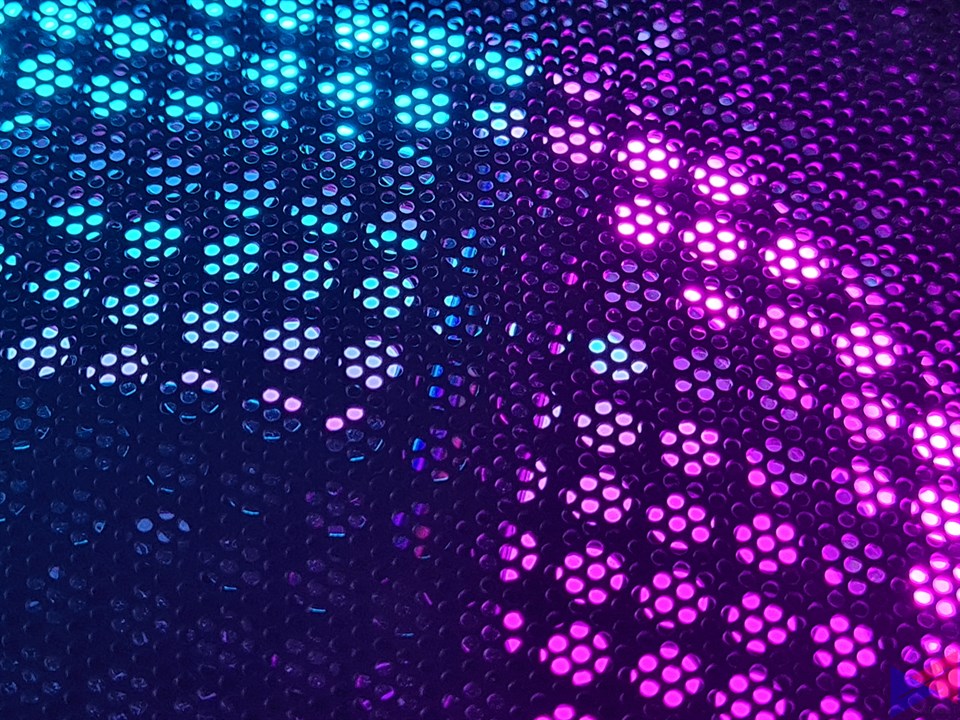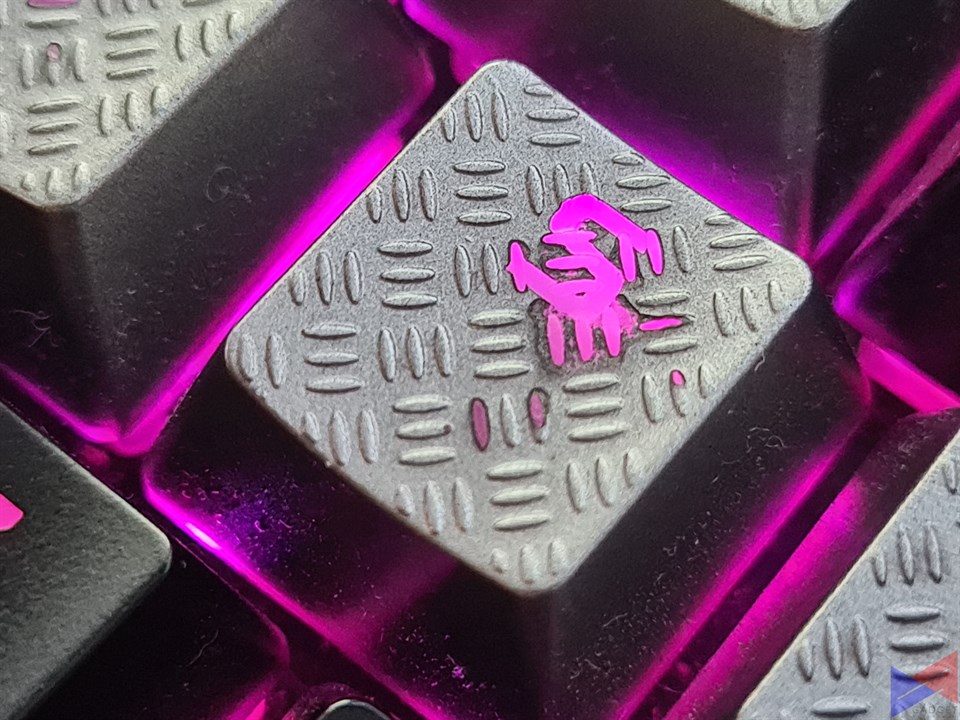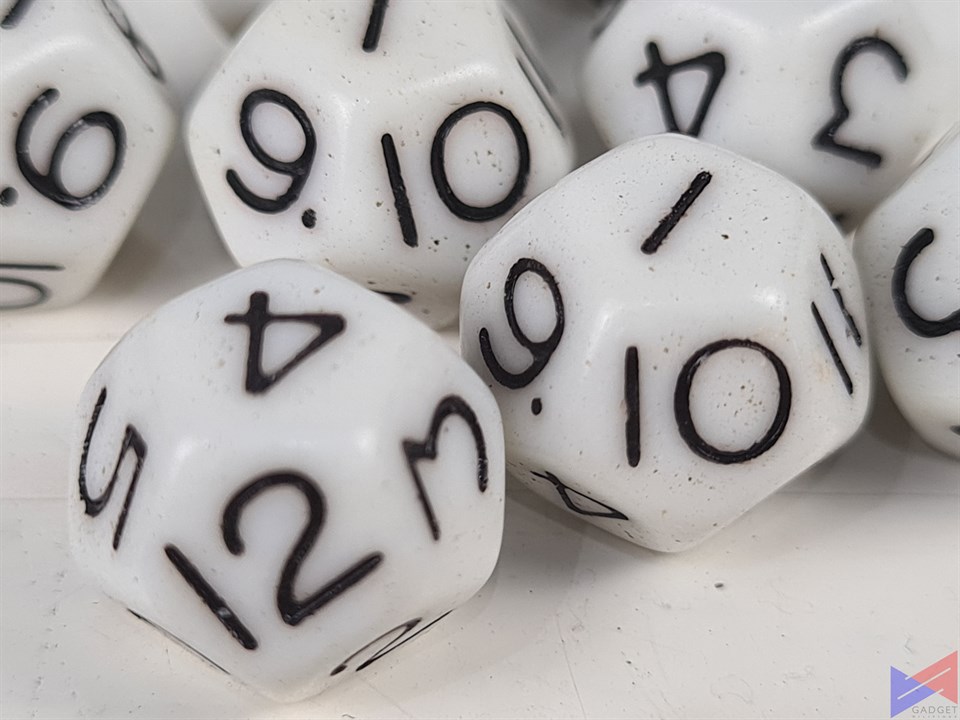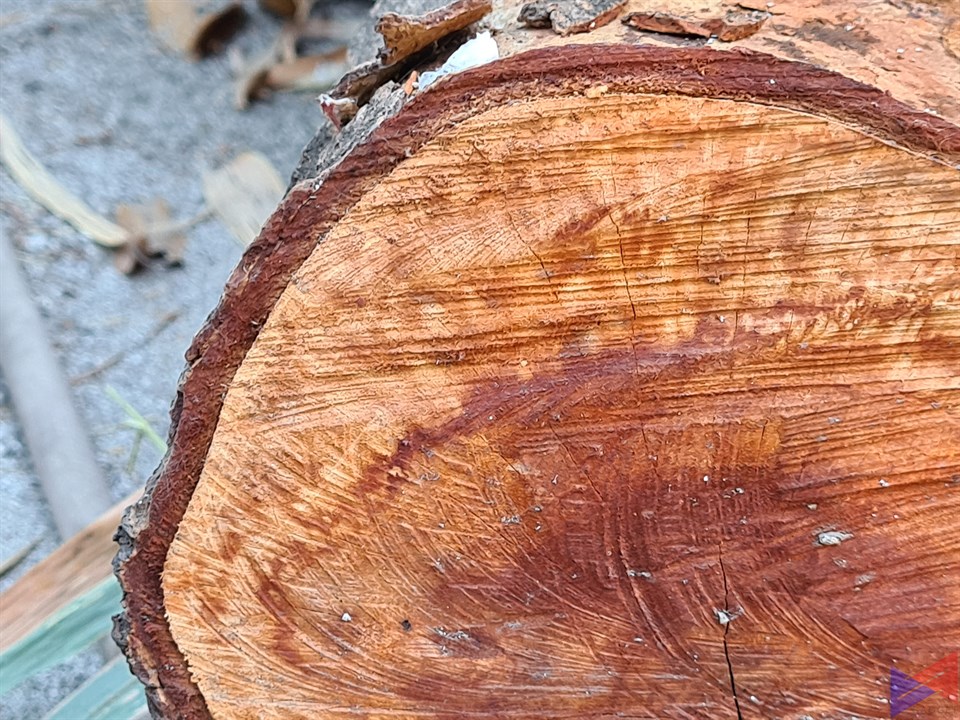 Perhaps one of the most impressive things about this camera system is the macro camera, which produces unbelievably detailed images up close. In other devices, the macro lens is more like a gimmick, but in the S20+, it's not.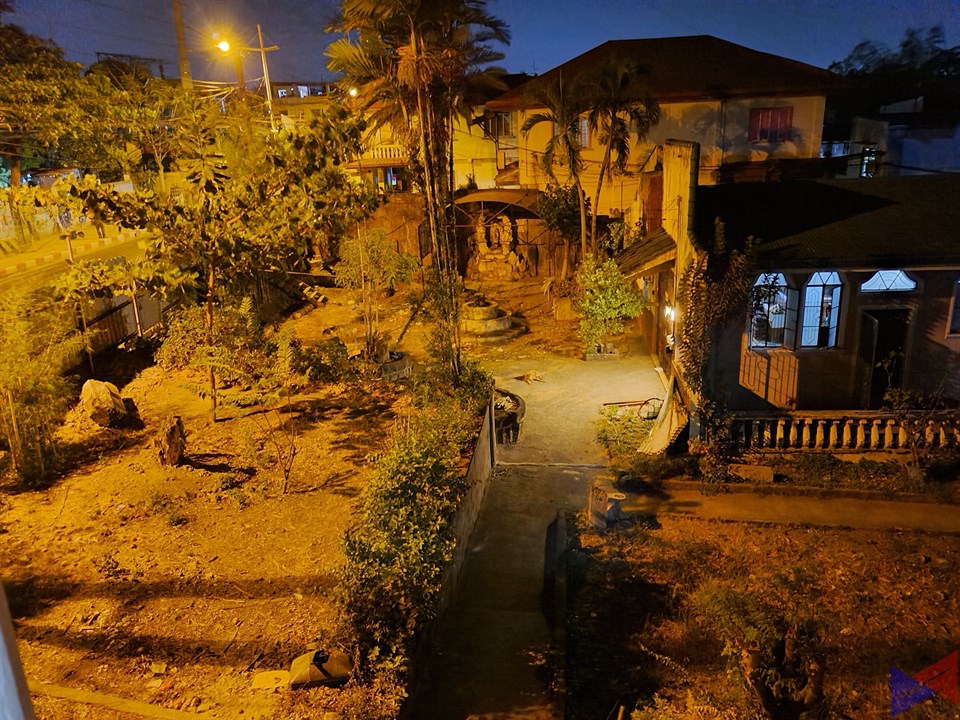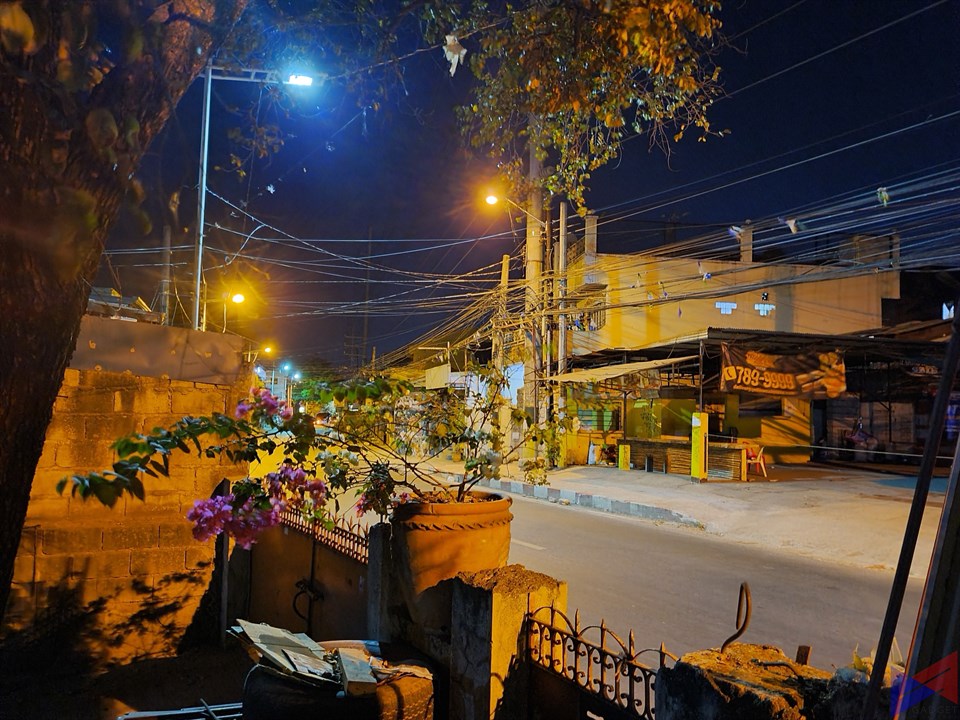 The S20+ has a dedicated Night Mode, which allows it to capture low-light photos with a decent amount of detail. It's not as good as say, the Mate 30 Pro, but it's good enough.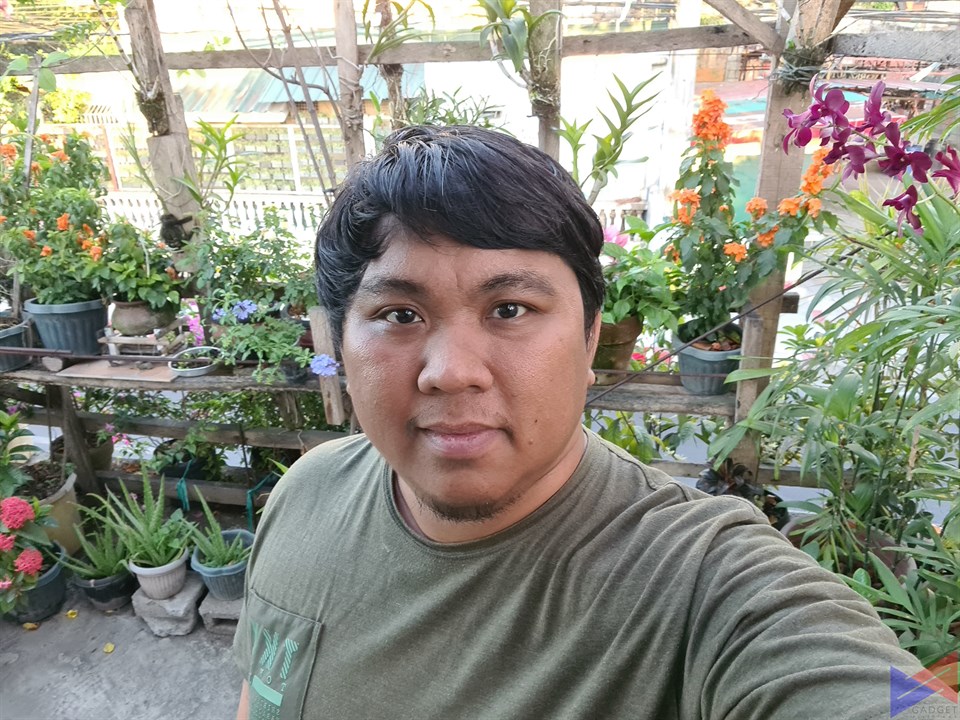 Selfies also show good separation and edge-detection, and the bokeh effect also looks very convincing. You can also set it to wide, to include more in the frame.
While the device doesn't have the 100x zoom of the Ultra, it can still do up to 30x which, while certainly not something you'll use every day, is still quite a feat. The quality? for a photo that's zoomed-in, i'd say it's above-average.
There's also a new feature called Single Take, in which the camera will create variations of your shot, so you can choose which one is the best.
Camera (Videos)
It looks like Samsung is focusing on content creators for the S20 series as well. Features such as Super Steady Video, Live Focus Video, and of course, 8K video recording among others.
Super Steady Video effectively minimizes shakes on abrupt movements for a smoother output.
8K video recording is what I'd consider as a niche feature since not everyone has an 8K TV anyway, but it's good if you want a bit of future-proofing. Quality-wise, it's pretty decent. It would be best to use this feature during the day. (The video above has been scaled down to 1080p at the time of writing).
Live Focus Video, on the other hand, is literally applying a depth of field effect on a video. A great feature to have, but certainly not as refined, as the camera tends to lose focus a lot.
Of course, we can't forget about super slow-motion video, which on the S20+ is pretty good, and could've been better if you had control over the video, say, you want this part to be at just normal speed, and another portion at slow-motion, rather than having the entire video on slow-motion.
The S20+ also lets you capture 4K 60fps videos (even with the front camera), which I think is the sweet spot in terms of file size and quality. Also, it lets you put that 4K TV of yours to good use.
Software
Samsung's OneUI 2.1 introduces a more minimalist approach to design. From the icons to the menus. Performance-wise, the UI runs smooth and fluid without any stutters. It seems to be well-optimized.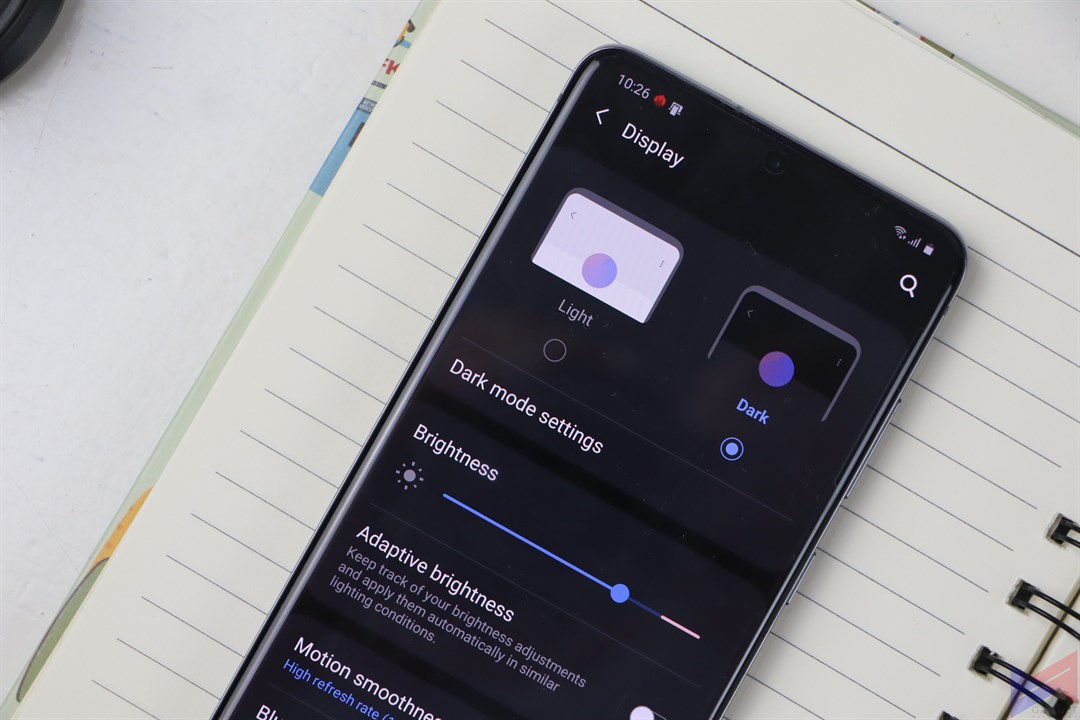 The software now allows for a system-wide Dark Mode, in case you want a fresh new look and well, a bit of battery-saving. You also get Microsoft Apps pre-loaded and other useful features such as screen recording.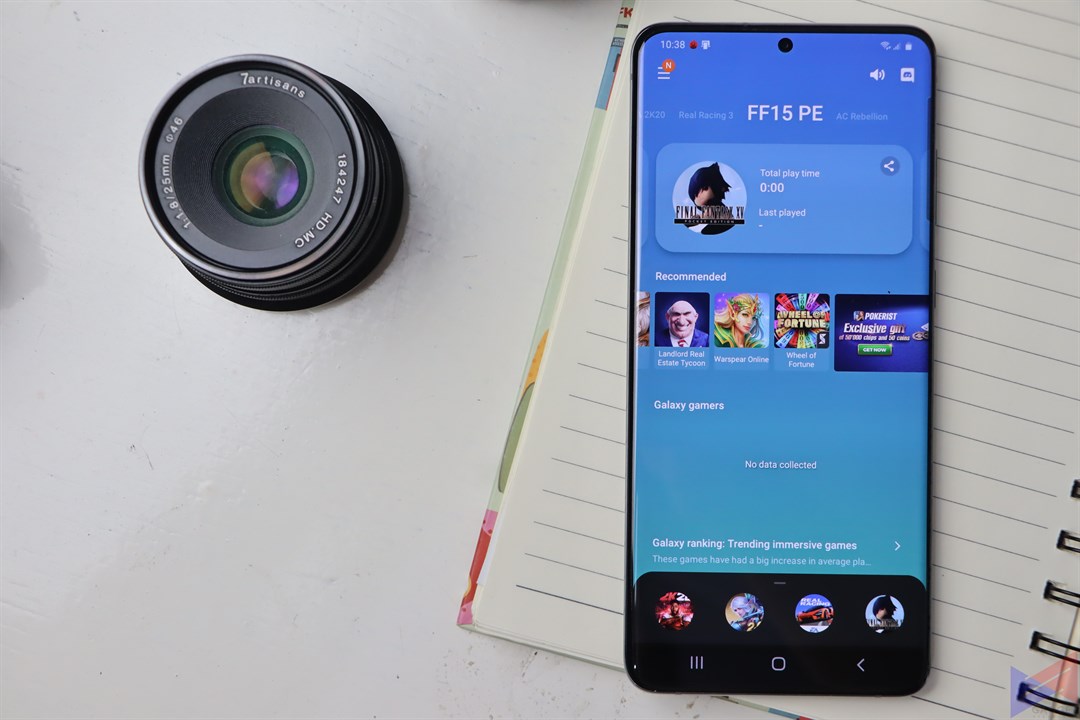 Game Launcher serves as a central hub for all installed games and also lets you change the performance profile via the Game Booster settings menu.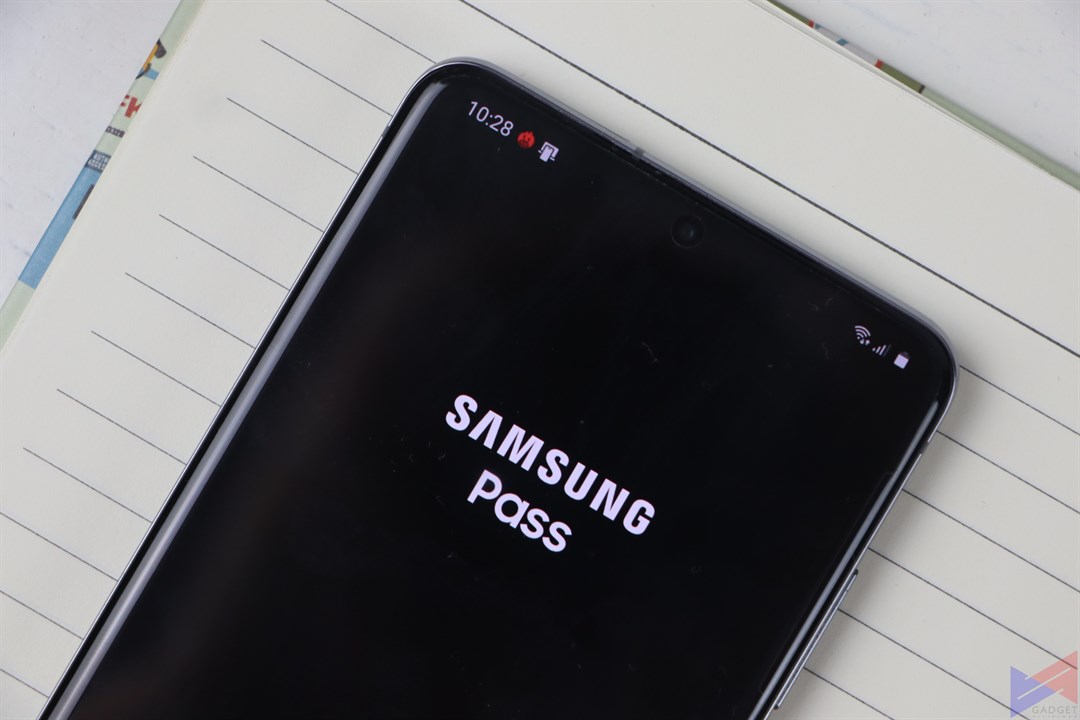 Samsung Pass is also another useful feature, especially if you have a ton of passwords to remember. It takes away the need to input them every time you log on to an app.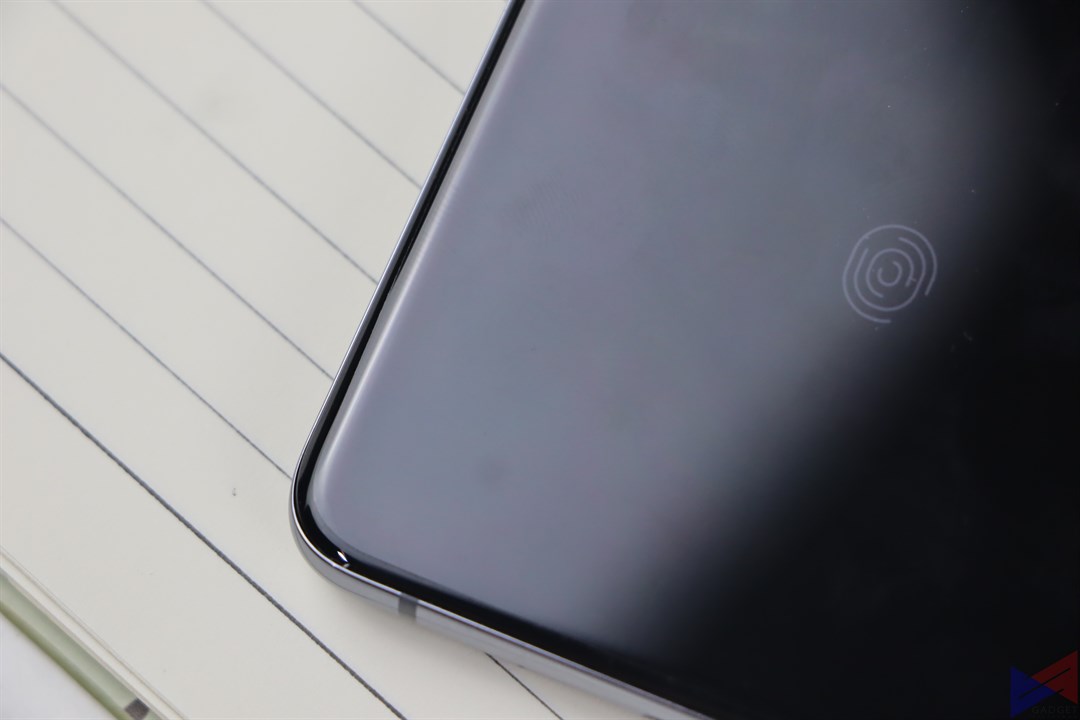 The Ultrasonic Fingerprint Sensor in the S20+ is well, not the fastest out there, but it's fast enough that it's not annoying. I still prefer Face Unlock though.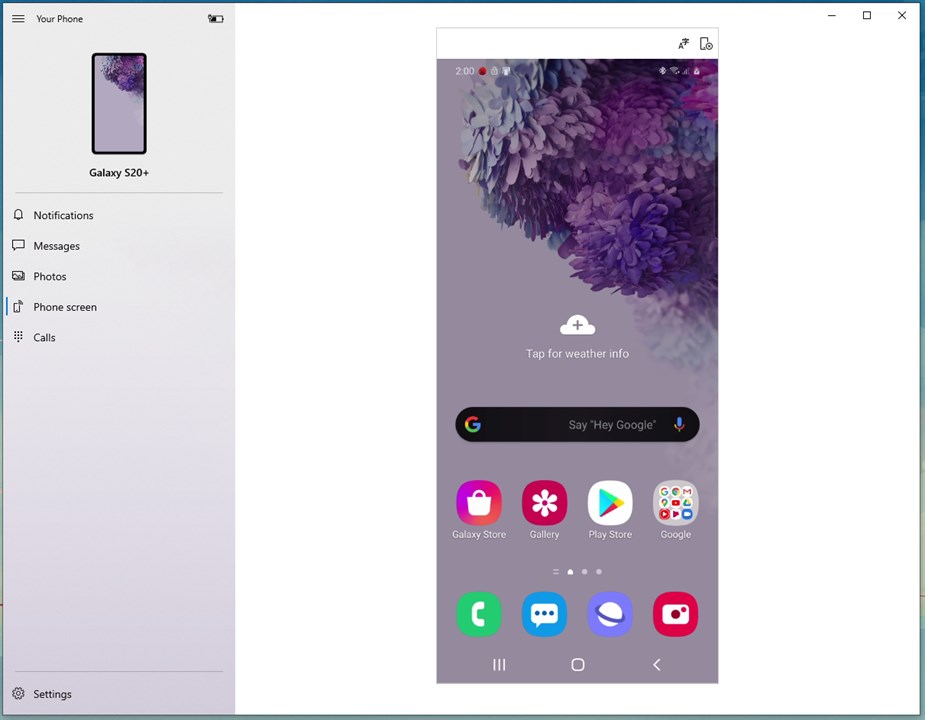 Thanks to improved integration with Windows, you can connect the S20+ to a Windows PC and control it from there using the "Your Phone" app.
You can also view photos, send messages, and even answer calls. It does take a bit of time to set up, as it requires permissions and the notifications for these don't always appear on the phone the first time.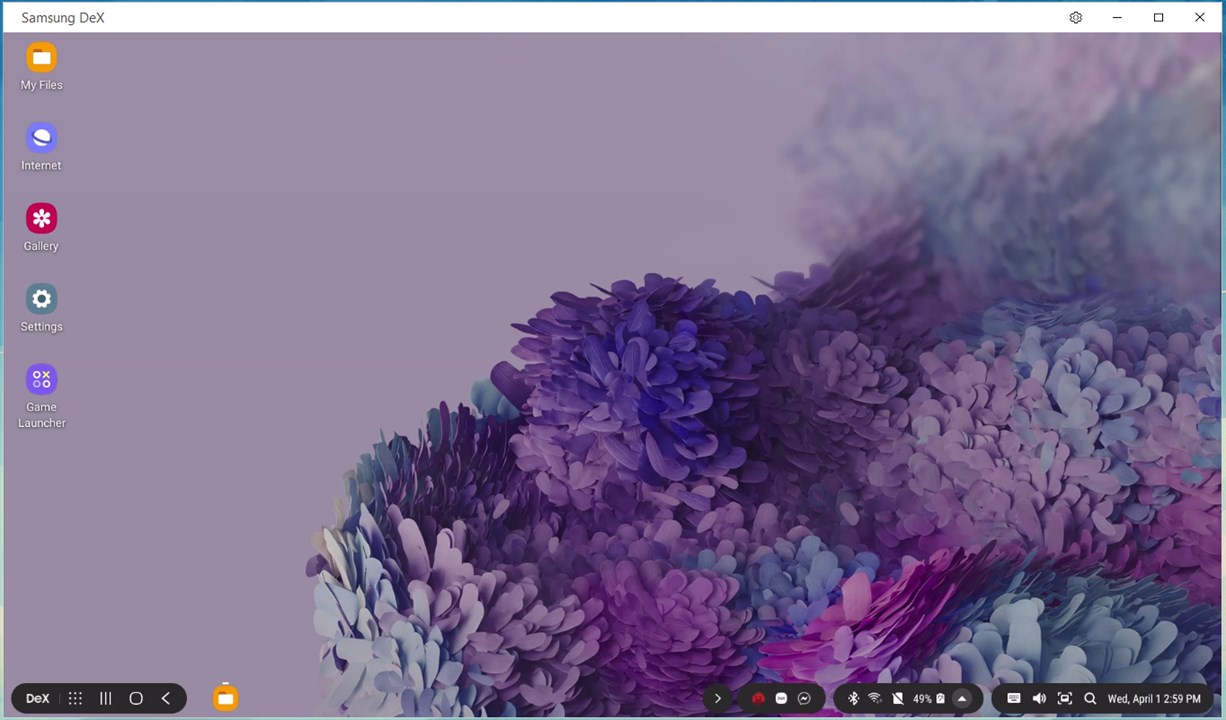 If you want a PC-Like experience, you can also use Samsung DeX, which basically launches a PC-like interface on top of your Windows Desktop (If you use the Windows App). You can also connect your phone to a monitor to do this, but you'll need a dedicated cable.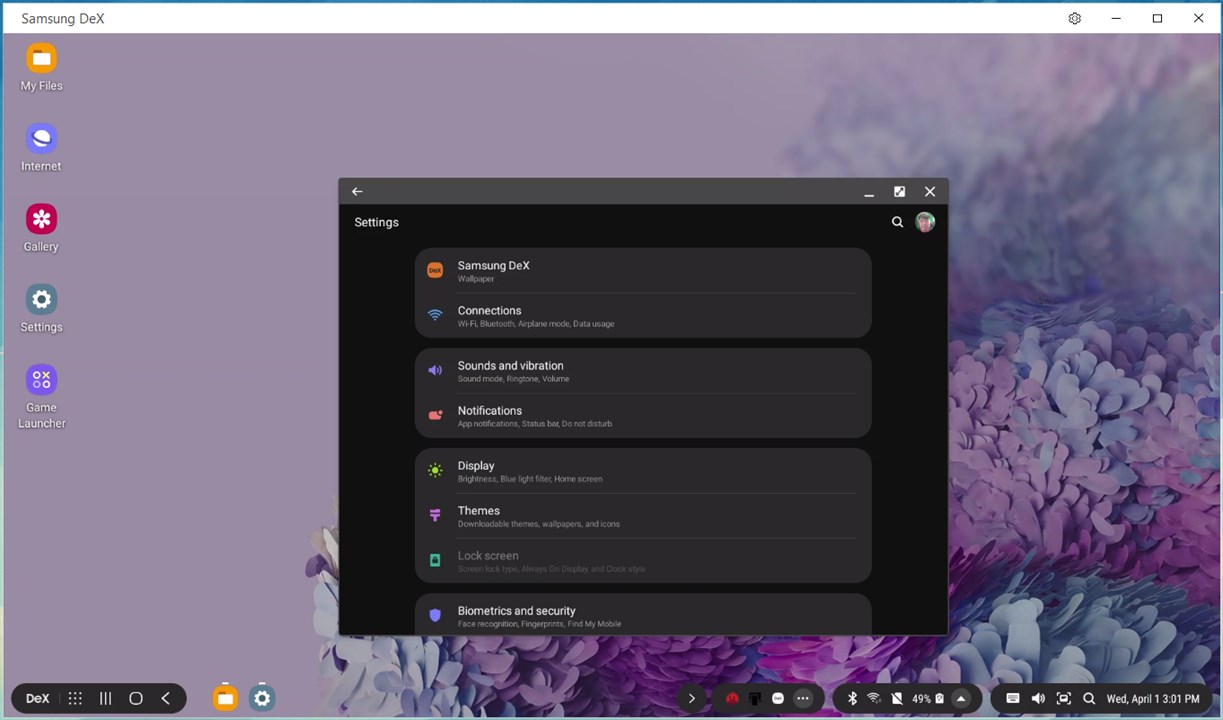 DeX mode allows you to basically use your phone as if you're using a PC. The interface can be navigated using your PC's mouse and keyboard.
While in DeX mode, you can do the usual tasks using the interface – open apps, open your gallery, check your notifications, and more.
Need to transfer files? no problem. You can easily drag and drop files from your desktop to the DeX interface and vice versa.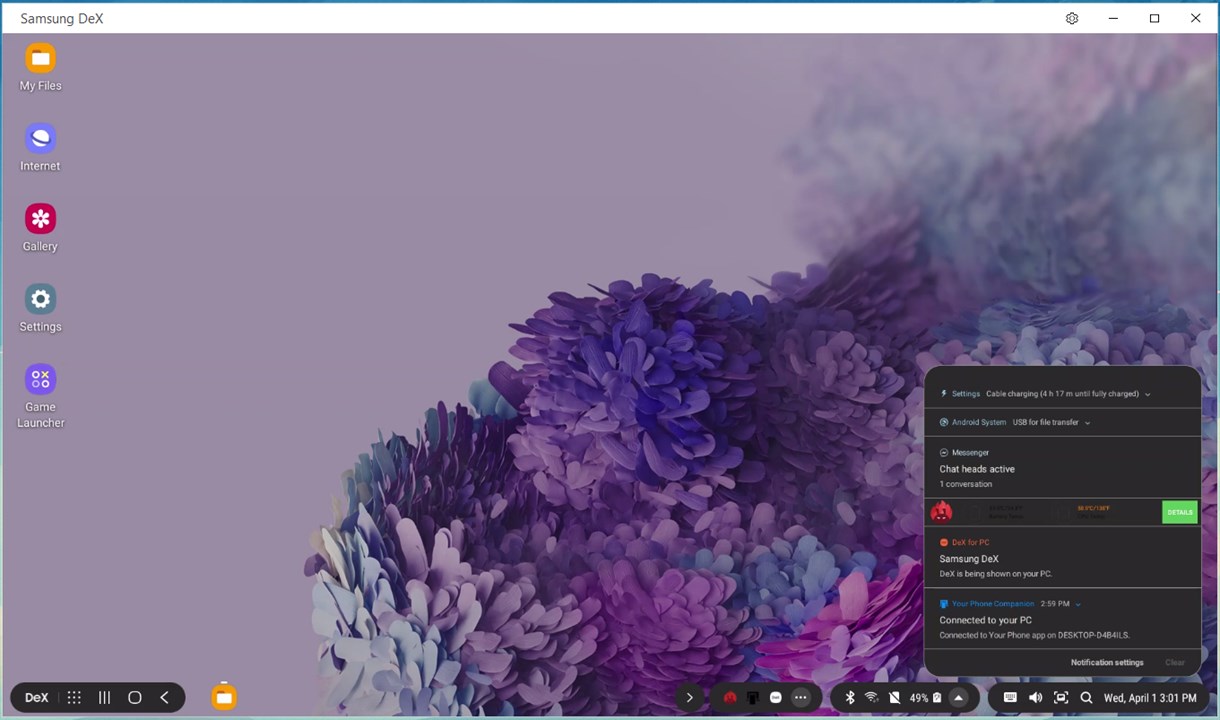 As far as performance is concerned, the DeX interface isn't the snappiest out there, you'll definitely notice micro stutters when say, scrolling through apps. But it's more than usable.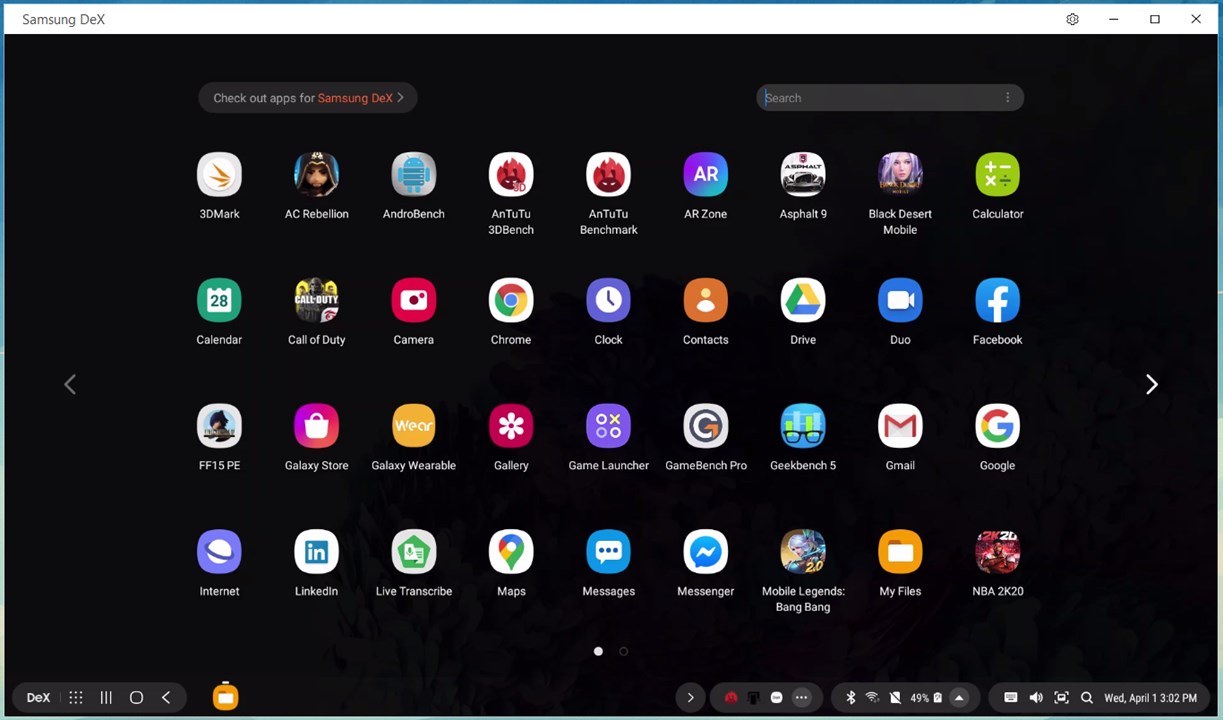 To use Samsung DeX on top of Windows 10, you'll need to download the corresponding app from the Samsung DeX website. Setting things up only takes a few seconds, just open the app, connect your phone, and let the app do its magic.
Battery
For the battery test, I used PCMark's Work 2.0 benchmark to simulate data manipulation and basic video editing. The test was done not once, but twice to simulate standard and high refresh rates. 60Hz at Quad HD+ resolution and 120Hz at FHD+ resolution.
The phone managed to churn out almost 10.5 hours when it's set to 60Hz at Quad HD+ resolution. Setting the refresh rate to 120Hz takes an evident toll on uptime by 2 hours.
Your mileage may, of course, vary depending on what apps you use, or if you only enable high refresh rate when gaming, etc.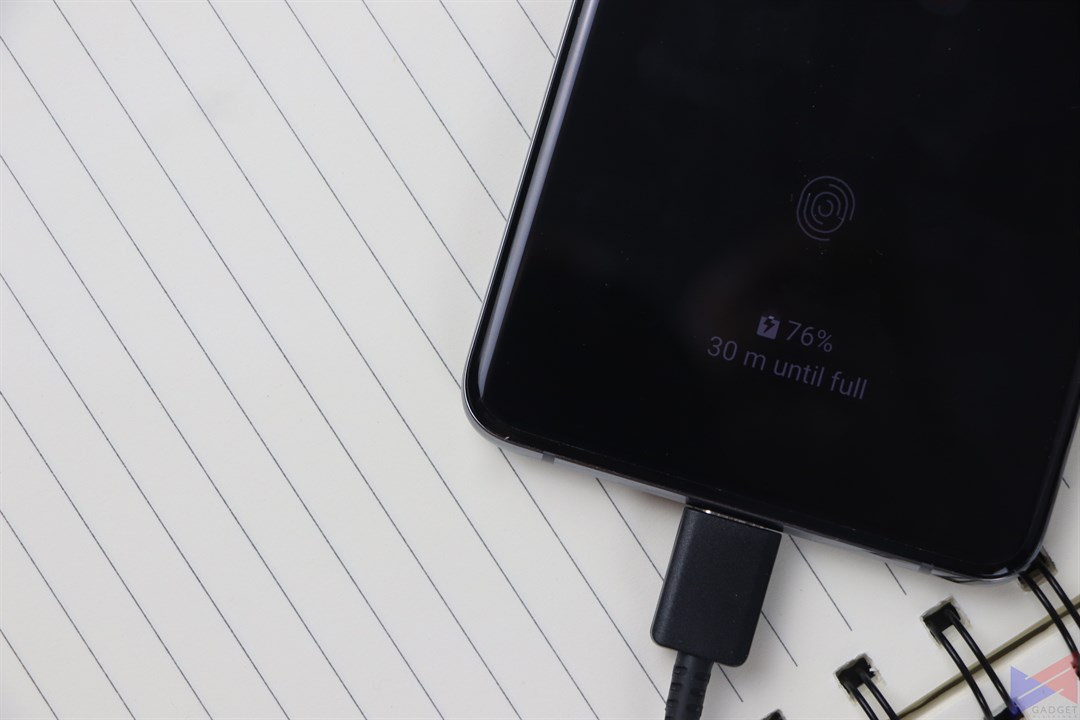 Charging the phone from empty to full takes around 1.5 hours using the supplied charger.
Verdict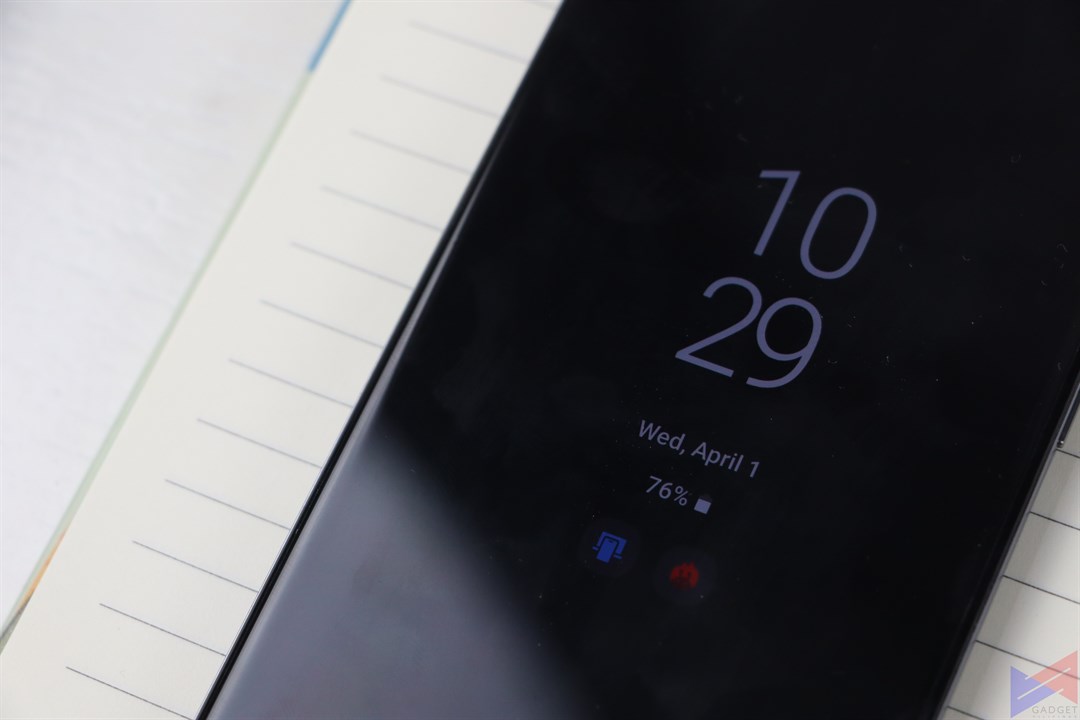 The Galaxy S20+ is perhaps the S20 that most average users should go for. While it's true that it doesn't have some of the features that the S20 Ultra offers, do remember that that device costs PhP14,000 more.
You also won't be left hanging, as it offers more than the regular S20. You still get a high refresh rate screen and good overall performance.
As for its cameras, I'm totally impressed, especially by the Macro lens. The overall quality as well as the versatility, and all the features you'll need to be creative with your content are there. It's not perfect, as some features still need a bit of work, but perhaps most of them can be resolved by an update.
The improved integration with Windows is also a plus. Add DeX to the mix, and you have a device that can give you a mobile and desktop user experience without a ton of setting to tweak.
On the flip side, the huge camera bump may be annoying to some, and the average battery life when using a high refresh rate, and the fact that you can only use it at FHD+, also does not sound appealing.
Unless you really need that 100x Zoom, or the slightly larger display and battery of the S20 Ultra, I'd say the S20+ is the sweet spot in the entire S20 series.
Samsung Galaxy S20+ Review: What Most Should Go For
What's Good
Still has one of the best displays
High Refresh Rate
Good Gaming Performance
Feature-packed software
Versatile and very capable cameras
Great battery life when using standard refresh rate
What's Not
Wide-angle image quality could be better
Low light image quality could be better
High refresh rate is limited to 1080p resolution
Ultra steady video is limited to 1080p resolution
More control on slow motion video recording would be great
Battery life on high refresh rate could be better