WHERE TO BUY AN RTX 3080 Ti
3DMARK
3DMark is the go-to benchmark for gamers because of the ability to share and compare results online. We tested the Nvidia GeForce RTX 3070 Ti FE  both in Fire Strike and Time Spy to get a good gauge of DX 11 and DX 12 API performance. We also tested the GPUs in Port Royal, 3DMark's DX12 Ray Tracing benchmark.
GeekBench 5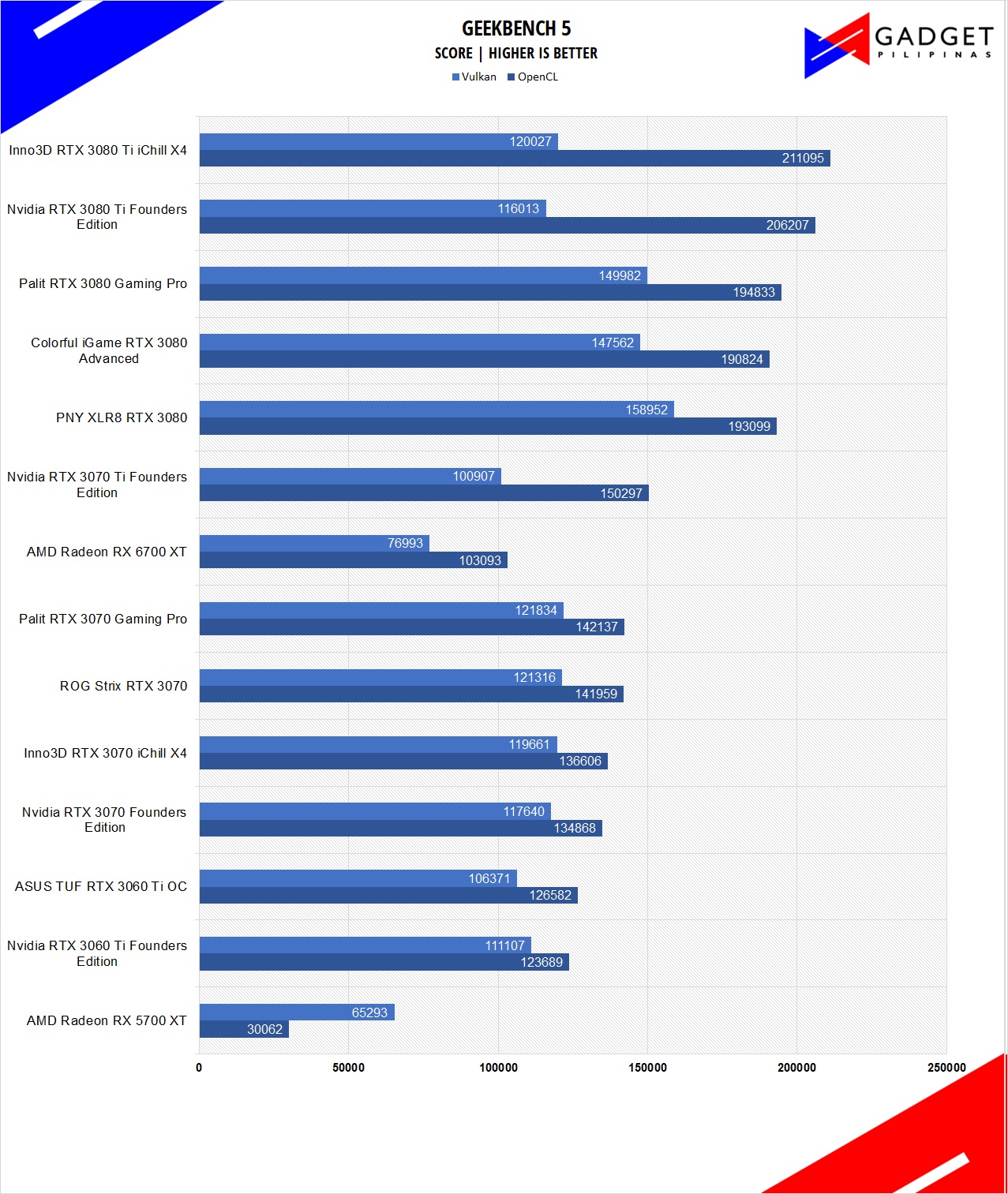 Geekbench is a multi-platform benchmark that's used to gauge CPU performance and compare them across Windows, Mac, and Mobile. Geekbench 5 is the latest version and doesn't rely on memory as much compared to the previous Geekbench 4, making it a great tool to measure both single-core and multi-core CPU performance. For our GPU reviews, we both measure OpenCL and Vulkan performance
VRAY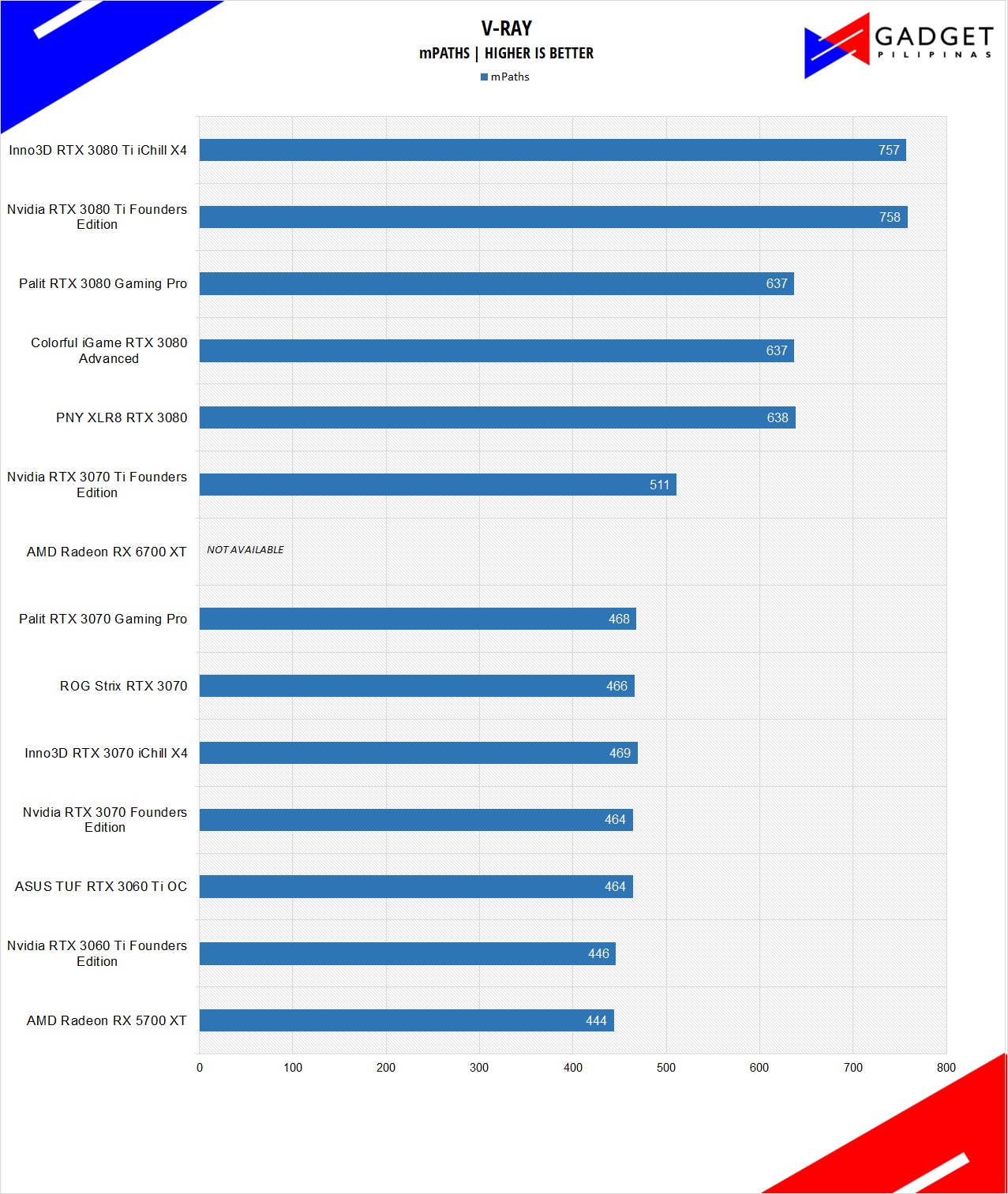 V-Ray Benchmark is a stand-alone version of V-Ray developed by Chaos Group. It is designed to test the CPU and GPU by rendering sample scenes at a fixed amount of time. V-Ray is a plug-in mostly utilized by 3D computer graphics software applications mainly for industrial design, product design, architecture, film, and video game production. V-Ray is not limited to 64-threads as it supports multi and mega-threading.
Nvidia GeForce RTX 3080 Ti Founders Edition Graphics Card Review – The Must Have Flagship Gaming GPU
Our Verdict
We retain to our stand on our take with the RTX 3080 Ti on our Inno3D iChill variant review - The RTX 3080 Ti is the best flagship gaming GPU you can get your hands on. Sure, there's the RTX 3090 with 5% more cores, but that increase comes at the cost of an additional $300 and a thicker cooler that wouldn't most cases as far as the Founders Edition variants are concerned. Having half of the 3090's VRAM or basically an additional 2GB over the vanilla RTX 3080, enables the RTX 3080 Ti Founders Edition and AIB cards' cooler to take in and dissipate more heat from the GA104 core resulting in a thinner shroud, lower temps, faster boost clocks and more stable frame rate as seen in our benchmarks. The RTX 3080 Ti Founders Edition with its updated shiny chaffed design and proven & tested flow-through cooler, is a must-have GPU for gamers for those who can afford it as it provides the best balance of frame rates, form factor, and price.
What's Good
Excellent Thermal Performance
Dual Slot Cooling Shroud
Updated Design that makes it look more premium
What's Not
Limited Availability - US/CA Best Buy Exclusive and GPU Shortage
Non-standard 12-pin microfit connector
WHERE TO BUY AN RTX 3080 Ti
Grant is a Financial Management graduate from UST. His passion for gadgets and tech crossed him over in the industry where he could apply his knowledge as an enthusiast and in-depth analytic skills as a Finance Major. His passion allows him to earn at the same time help Gadget Pilipinas' readers in making smart, value-based decisions and purchases with his reviews and guides.