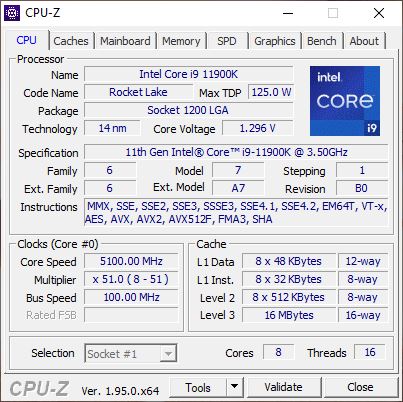 SuperPI 32M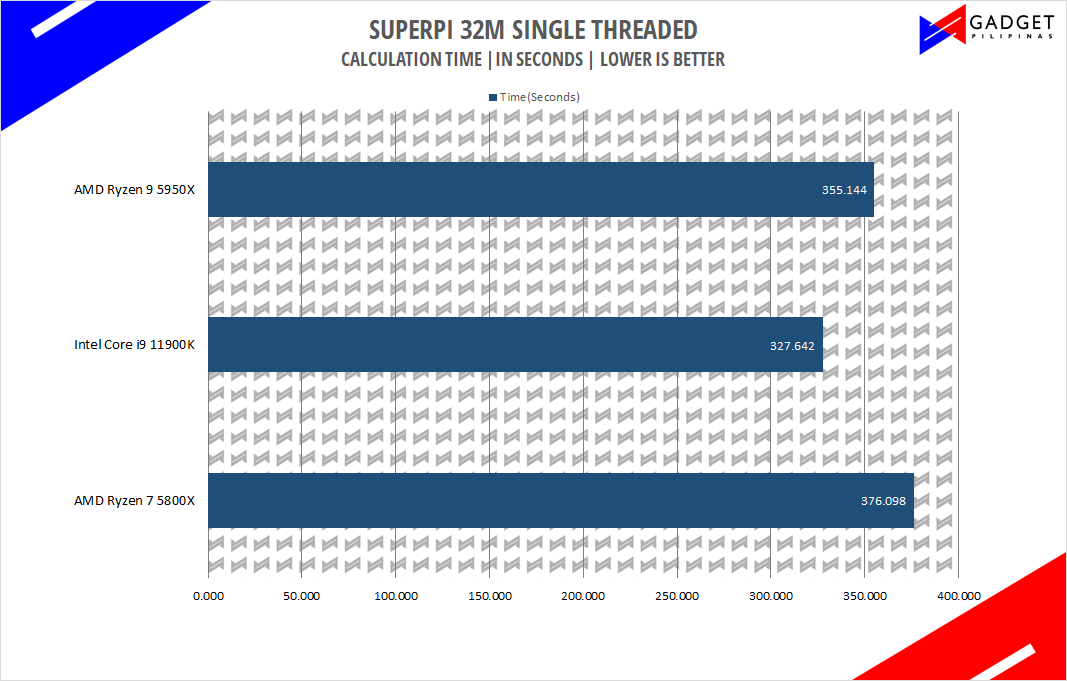 SuperPI is a single-threaded benchmark application that lets the CPU calculate Pi(π) to the nth digit. In this benchmark, we selected the Pi calculation to 32M, the highest available for the app.
wPrime 1024M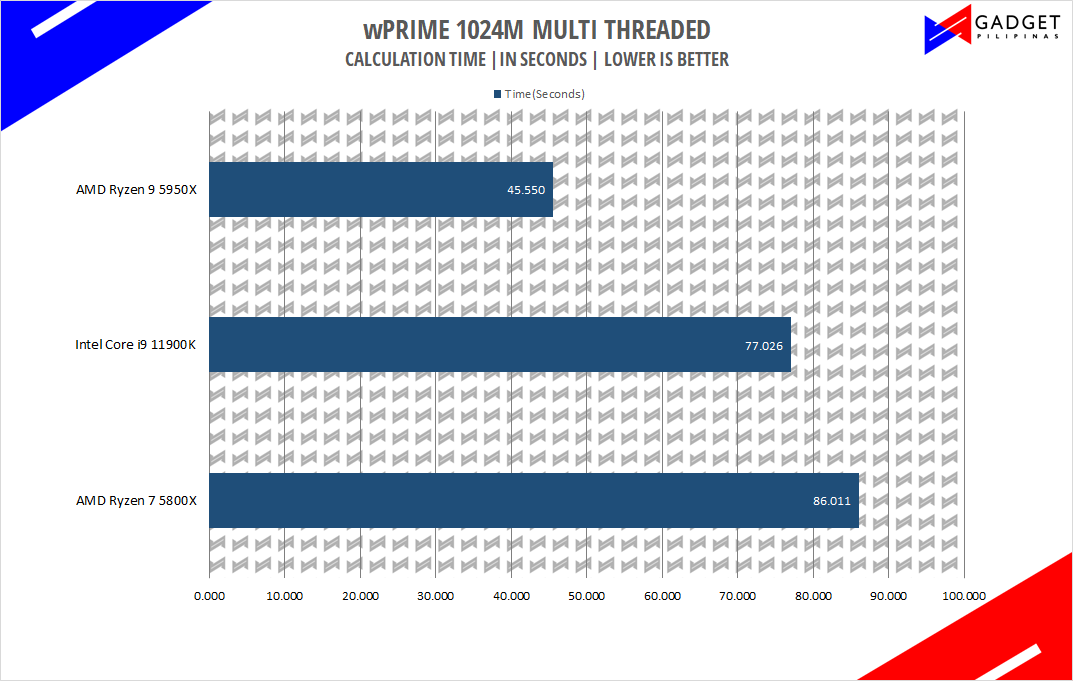 wPrime is a benchmark tool similar to SuperPI, but the former takes on finding prime numbers using Newton's Method. The benchmark is set to calculate 1024 million prime numbers, and the performance is measured according to calculation time.
AIDA64 Memory Benchmark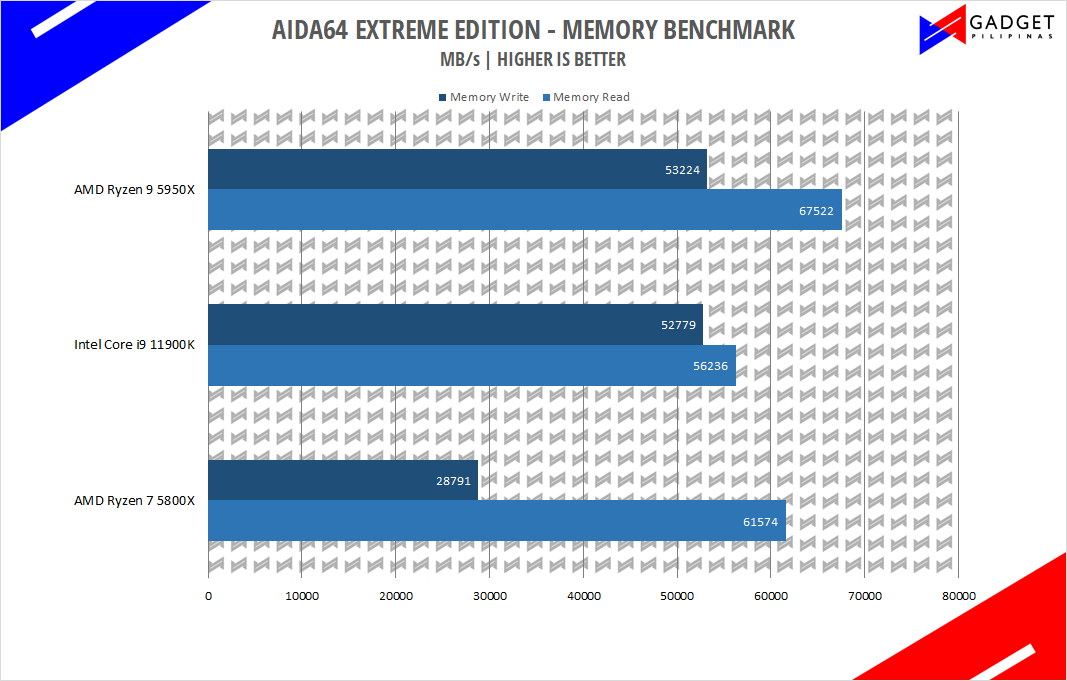 AIDA64 is a very popular and powerful monitoring tool, as well as a benchmarking application. AIDA64 is commonly used to stress test CPUs, especially testing if an overclock is stable. We used AIDA64's Memory Benchmark to measure the data transfer bandwidth of the system memory.
GeekBench 5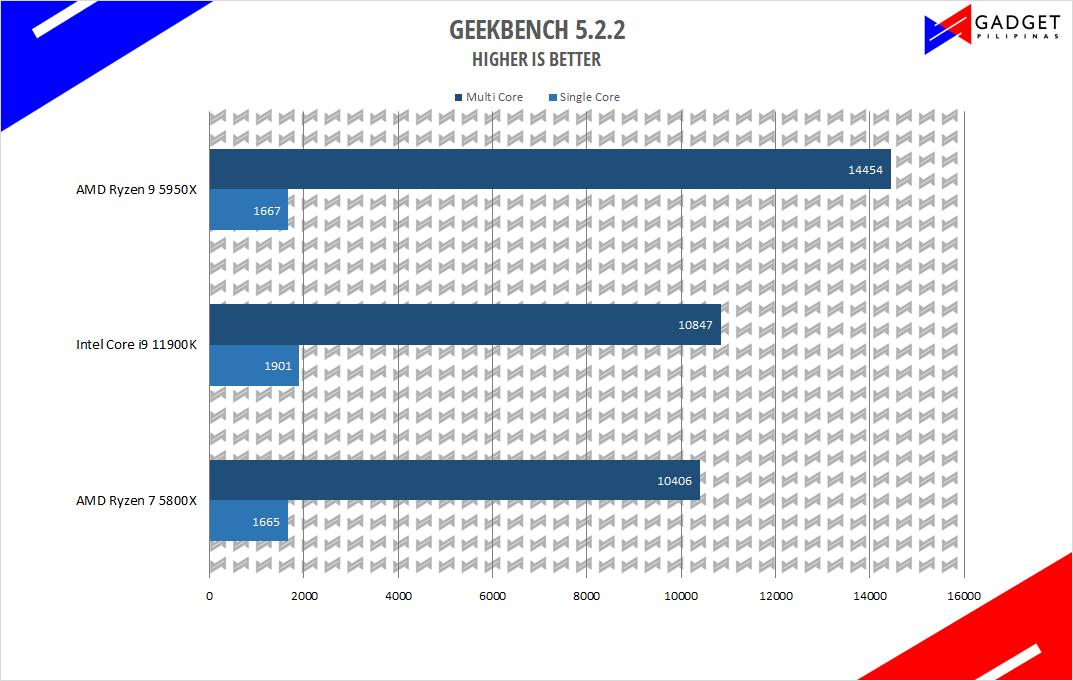 Geekbench is a multi-platform benchmark used to gauge CPU performance and compare them across Windows, Mac, and Mobile. Geekbench 5 is the latest version and doesn't rely on memory than the previous Geekbench 4, making it a great tool to measure both single-core and multi-core CPU performance.
CINEBENCH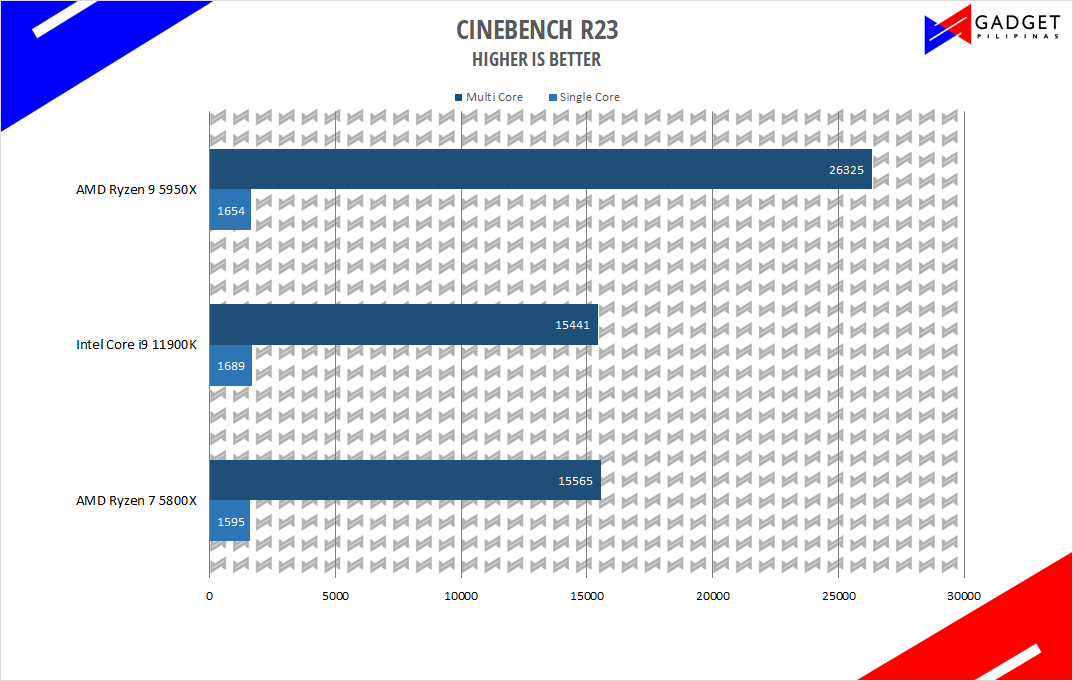 Maxon's Cinebench benchmark is one of the most iconic benchmark applications used by reviewers and enthusiasts. The latest Cinebench R23 uses the latest rendering architectures, including Intel's Embree ray tracing technology and other advanced features from AMD and Intel that allow users to render the same scene on the same hard. Cinebench R20 uses a larger and more complex testing scene than Cinebench R15 by about 8x computational power and requires 4x the memory.
GOOGLE OCTANE 2.0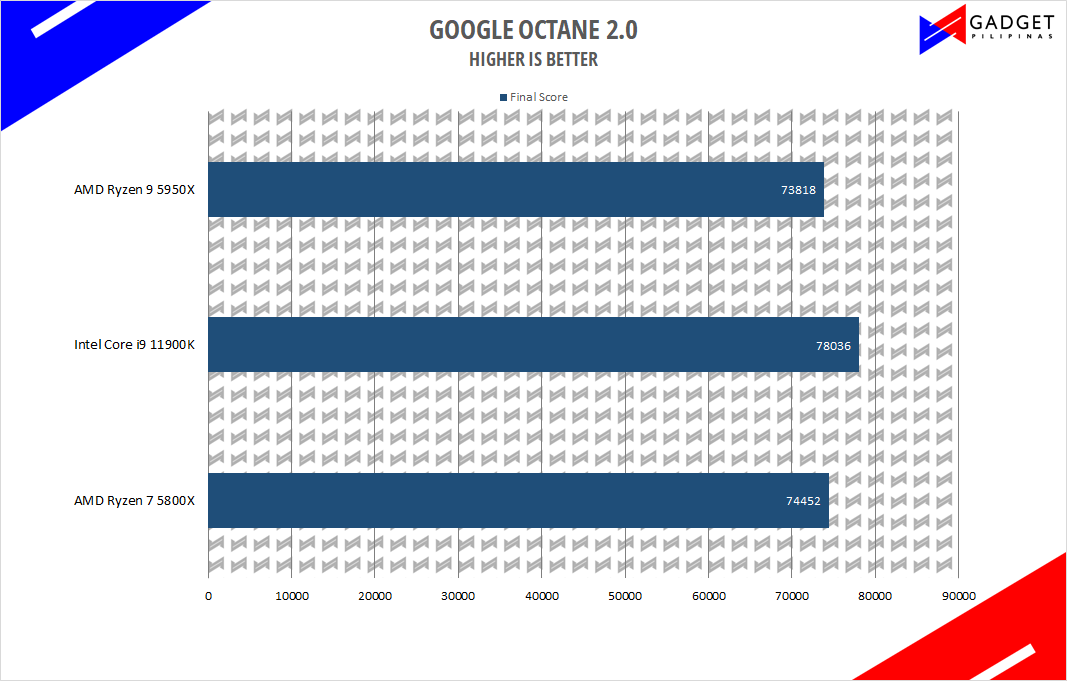 Google Octane 2.0 is a benchmark that measures a Javascript engine's performance by running multiple tests representing different use cases of JavaScript applications. While Google Octane is retired and no longer maintained, it is still a good representation of today's dynamic, interactive web applications. Our Google Octane 2.0 is run on Microsoft's latest Chromium-based Edge browser.
V-RAY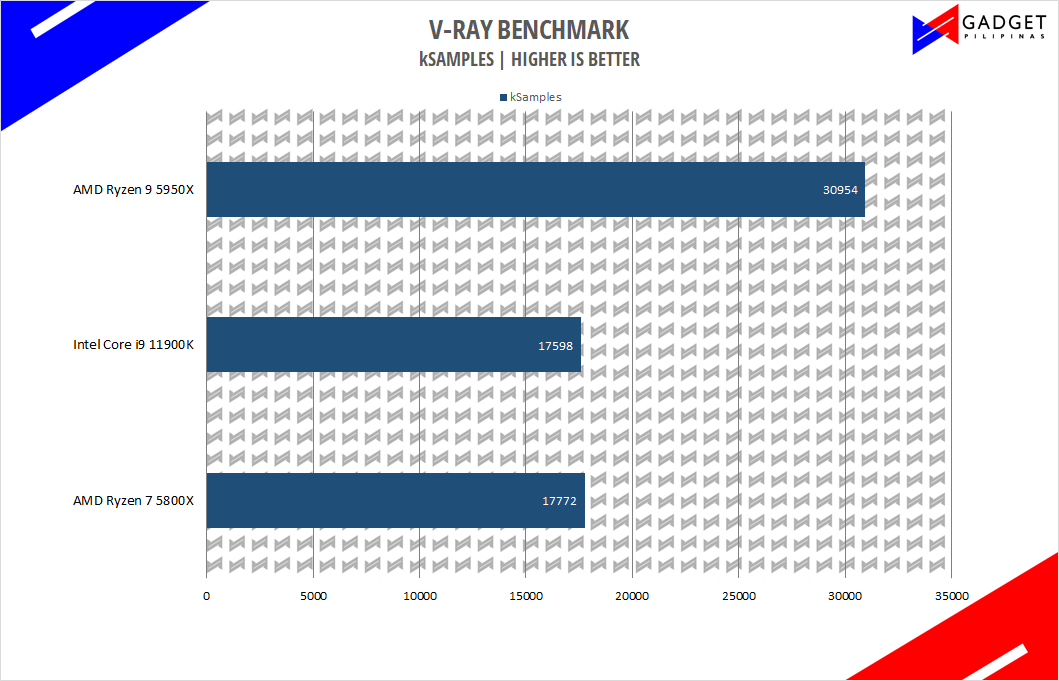 Ray Benchmark is a stand-alone version V-Ray developed by Chaos Group. It is designed to test the CPU and GPU by rendering sample scenes at a fixed amount of time. V-Ray is a plug-in mostly utilized by 3D computer graphics software applications mainly for industrial design, product design, architecture, film, and video game production. V-Ray is not limited to 64-threads as it supports multi and mega-threading.
HWBOT x265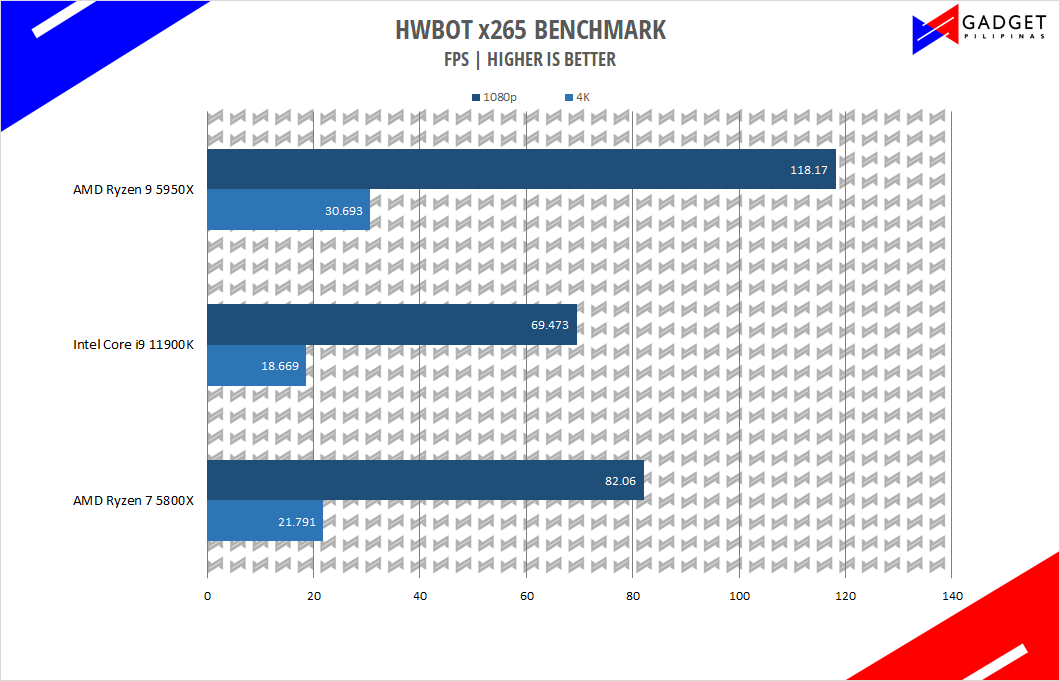 HWBOT x265, developed by Czech overclocker Havli, is a multi-threaded application that takes advantage of modern CPU instruction sets with support for older CPUs.  HWBOT x265 benchmark uses the x265/HEVC encoder that renders a video in 1080p or 4K resolution.
HANDBRAKE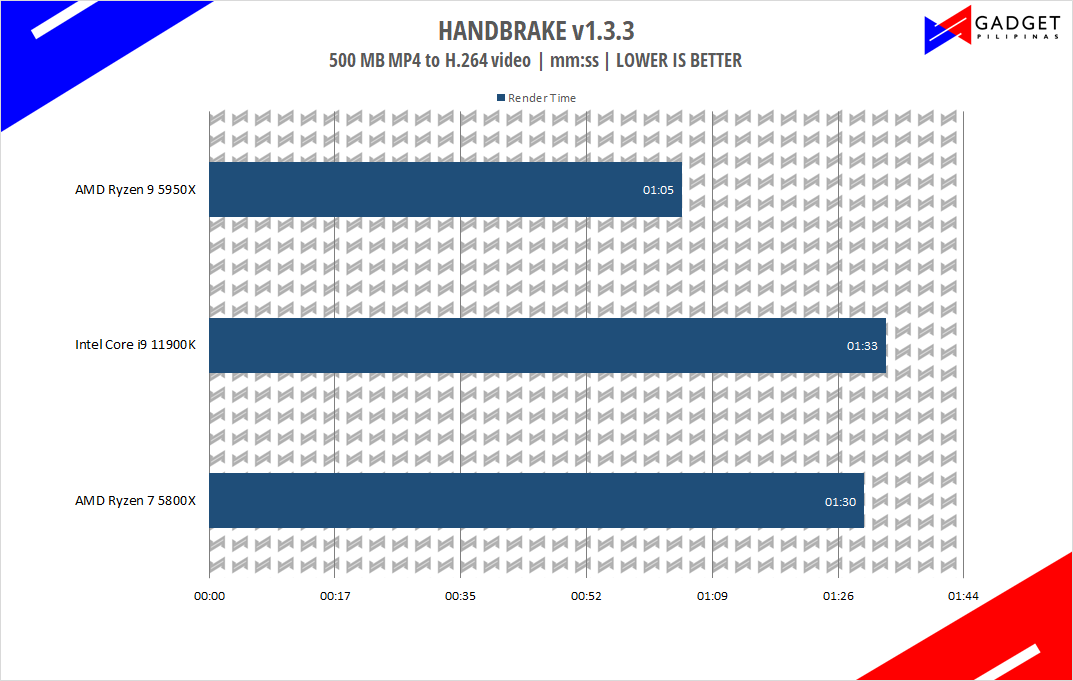 Handbrake is a top-rated open-source video conversion software that is used by professionals, enthusiasts, and even reviewers as a reference point mainly because of its wide variety of media codecs. The rise of streaming and blogging makes video content, both encoding, and transcoding important for these people, regardless if they're seasoned professionals or just starting out. Handbrake also takes advantage of AVX-512 and OpenCL to accelerate certain types of media codecs. Our Handbrake benchmark converts a 500MB MP4 video to H.264 to measure the processor's performance.
BLENDER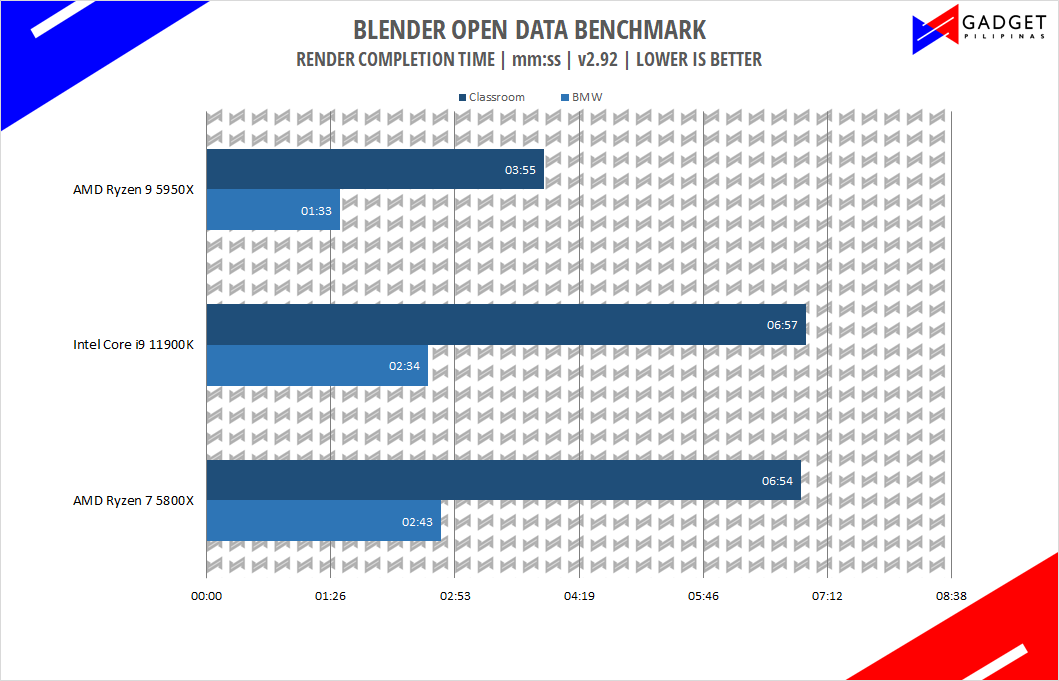 Blender is a widely used, free, open-source 3D creation suite. It supports the whole 3D pipeline process from modeling, rigging, animation, simulation, rendering, and even motion tracking. Blender has become a standard for CPU benchmarks with the BMW27 and Classroom scene most used. This prompted the company to release Blender Open Data Benchmark in 2018, a benchmark-specific version that allows users to run a preset benchmark and share the results online similar to 3D Mark.
CORONA RENDERER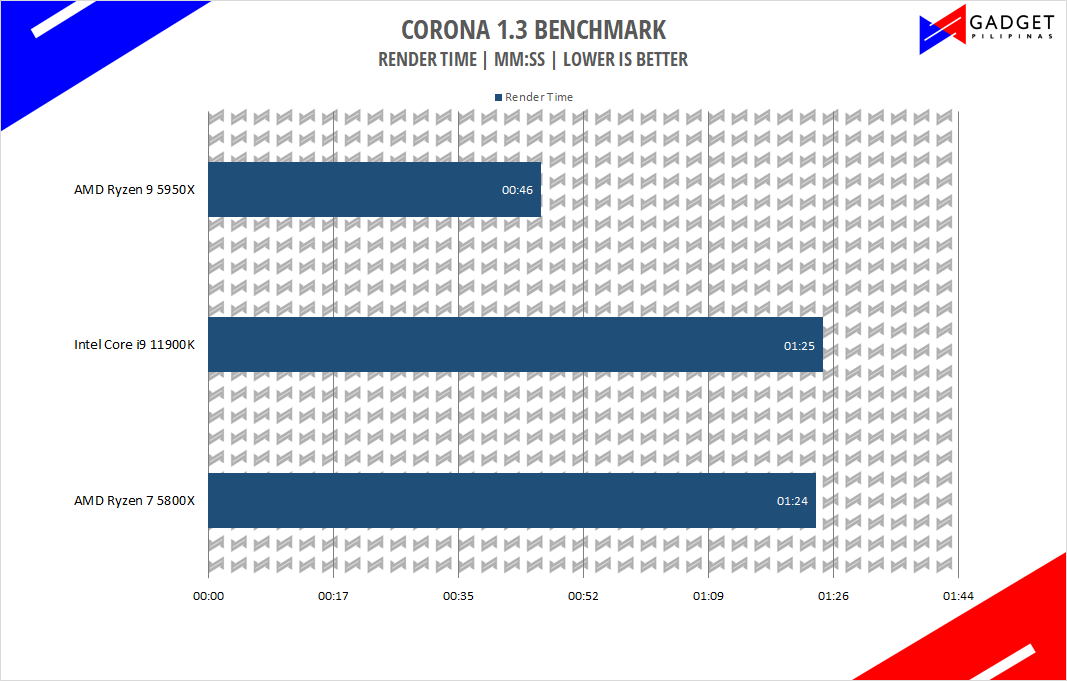 Corona Renderer is an unbiased photorealistic render available for Autodesk 3Ds Max, Maxon Cinema 4D, and as a stand-alone application. Its popularity, similar to Blender, led Chaos Group to develop a benchmark version of the app which runs using Corona Renderer 1.3. Workstation systems, especially CPUs, can utilize Corona Benchmark as up to 72 threads can be used in the benchmark, making it very suitable for CPUs with various price segments.
PCMark10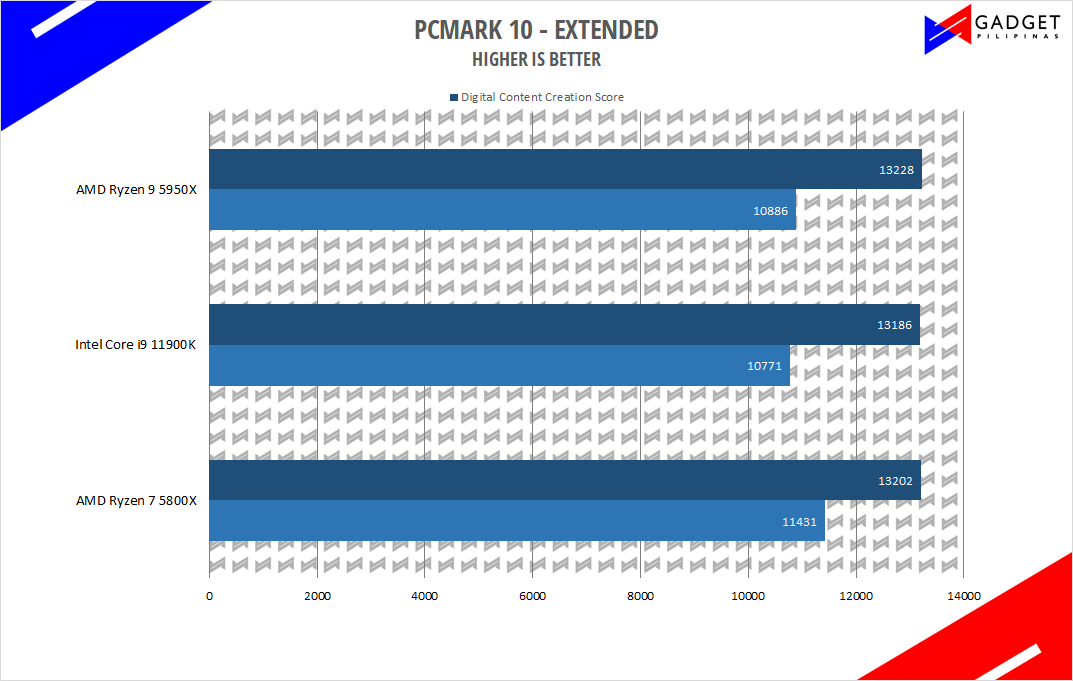 From the same developers of the popular game benchmarking tool 3DMark, PCMark 10 is a benchmarking app for measure a whole PC's performance. It covers a wide variety of tests to reflect common tasks performed in a modern workplace. We selected PCMark 10's extended benchmark and reported both the overall score and Digital Content Creation Score.
3DMark
3DMark is the go-to benchmark for gamers because of the ability to share and compare results online. Firestrike and Time Spy are used to measure DX 11 and DX 12 performance respectively.
Intel Core i9 11900K 8-Core Processor Review – Cutting It Close
Cutting It Close
That said, we still stand by with our words that the Intel Core i9 11900K is a "great" processor.  What makes it great is its pricing. Priced at Php 32,000, the i9 11900K sits in between the 5800X and 5900X. The Php 2,000 premium over the Ryzen 7 5800X is attributed to superior single-threaded performance, gaming, and in some cases, productivity. Frankly, the i9 11900K serves as a great alternative for the currently rare Ryzen 5000 series CPUs provided you're not coming from an Intel 10th gen Ryzen 3000 series processor. So, if you're looking to upgrade your dated CPU with gaming as your priority but you're not closing the idea of doing productivity-related tasks such as streaming or editing, then the Core i9 11900K is the processor you should consider buying.
Single Threaded Performance
9.6
Multi Threaded Performance
9.2
What's Good
Exceptional Single Threaded Performance
Decent Multithreaded Performance vs Last Gen
Thermals
Two-lesser cores than its direct predecessor
What's Not
No Included Stock Cooler
Power Hungry
WHERE TO BUY THE INTEL CORE i9 11900K
Grant is a Financial Management graduate from UST. His passion for gadgets and tech crossed him over in the industry where he could apply his knowledge as an enthusiast and in-depth analytic skills as a Finance Major. His passion allows him to earn at the same time help Gadget Pilipinas' readers in making smart, value-based decisions and purchases with his reviews and guides.