In a fast-paced environment, being able to do more efficiently and effectively in the same amount of time is key. And as one of if not the most-awaited holiday in 2020 approaches, wouldn't it be a good idea to gift someone with a device that can help them become more productive, and yet, is ready to give them immersive entertainment?
The ASUS ROG Zephyrus Duo 15 is a great example of such a device. Properly-specced for gaming, productivity, and entertainment, this all-in-one powerhouse is compact enough to be taken anywhere you need to have your battles.
A Look the Blends-in Anywhere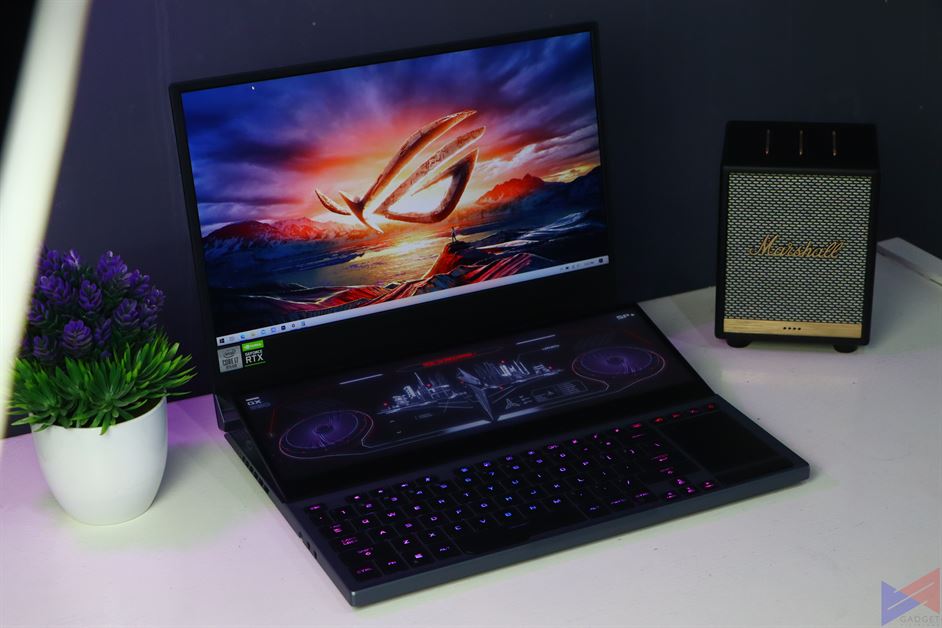 In the past, most gaming laptops used to look like they're from 10 years in the future and just wouldn't stop screaming "I'm powerful!"
The Zephyrus Duo 15's look is inspired by ASUS' own lineup of productivity notebooks and is designed to blend in wherever your battles take you, whether that means finishing up a deadline in the office, meeting up with friends in a cafe, or just chilling out or having your own gaming night at home, streaming.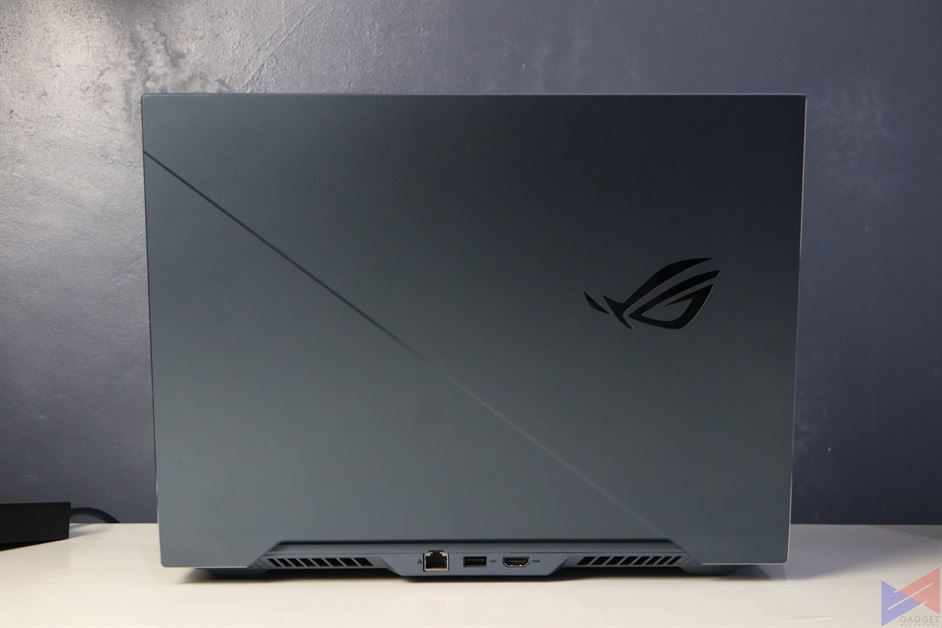 The rear still houses the signature ROG logo, but it's no longer RGB-lit but uses a metallic finish that complements the minimal look of the device. Packed in a magnesium-aluminide chassis, at 20.9mm thin and with a weight of just 2.4kg, it's a device that you can easily move around when needed.
An Immersive Display for Both Creators and Gamers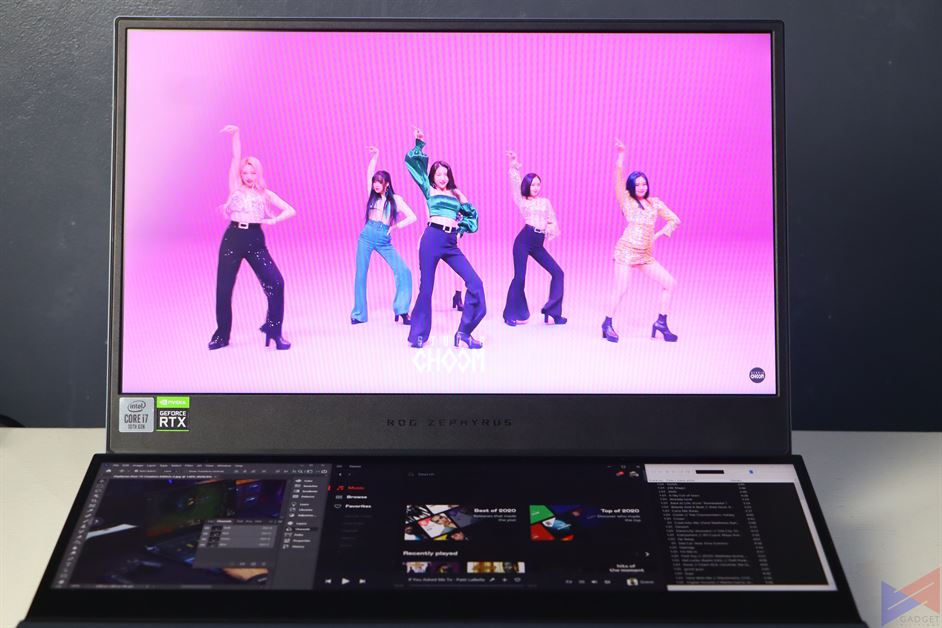 For content creators, the Zephyrus Duo 15 can have a 4K UHD display that covers 100% of the Adobe RGB Color Space (Creator's Edition). For gamers, a 1080p display with a 300Hz refresh rate. Its 4ms response time also minimizes ghosting for precision while NVIDIA G-Sync eliminates screen tearing for silky smooth visuals.
Each IPS-level panel is factory calibrated to guarantee that every color seen meets Pantone Color Validation requirements. This superior color accuracy lets artists, designers, as well as content creators, become confident in doing serious professional work while also enjoying rich visuals.
Next-level multitasking
Zephyrus Duo 15 is equipped with a secondary touch-enabled display called ScreenPad Plus which tilts at a 13-degree angle for comfortable viewing.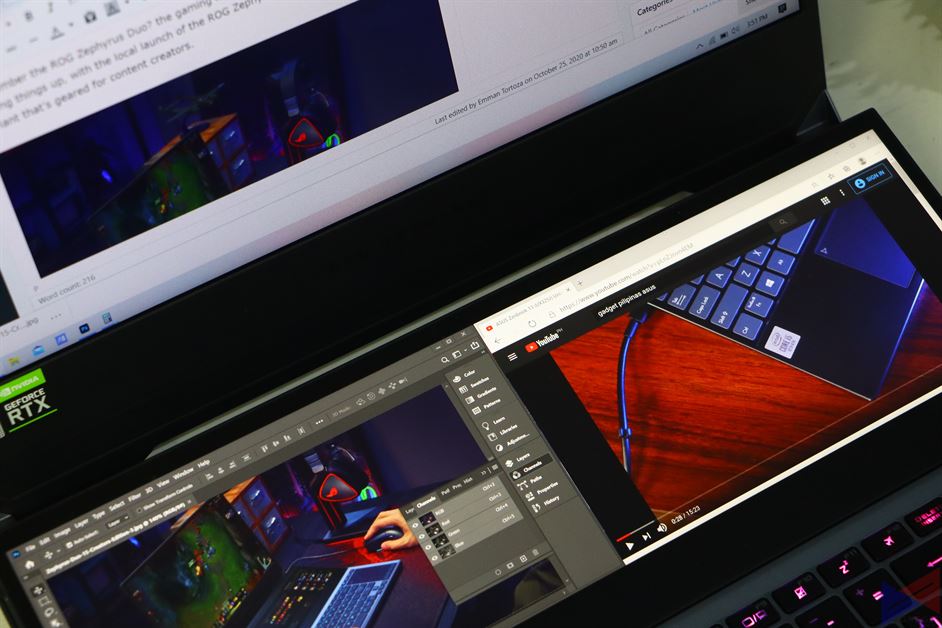 Content creators can use it to browse through their source materials, for the timeline when editing videos, layers when editing photos, and your chatbox and broadcast control when streaming. Gamers, on the other hand, can also take advantage of the second screen for supported titles to enhance gameplay.
For example, in the upcoming game Dying Light 2, you'll be able to use the second display for your co-op chats, inventory, and mission logs. It'll also work for tools designed to work well on multiple screens like Overwolf Apps, allow you to see build recommendations plus real-time stats on popular titles such as League of Legends.
Use ScreenPad Plus for ROG apps like GPUTweak II and Armoury Crate to instantly adjust graphics settings and monitor performance on the fly.
In a more typical scenario, the extra screen can also be used for moving browsers, videos, and chats so you stay updated even while you work and play.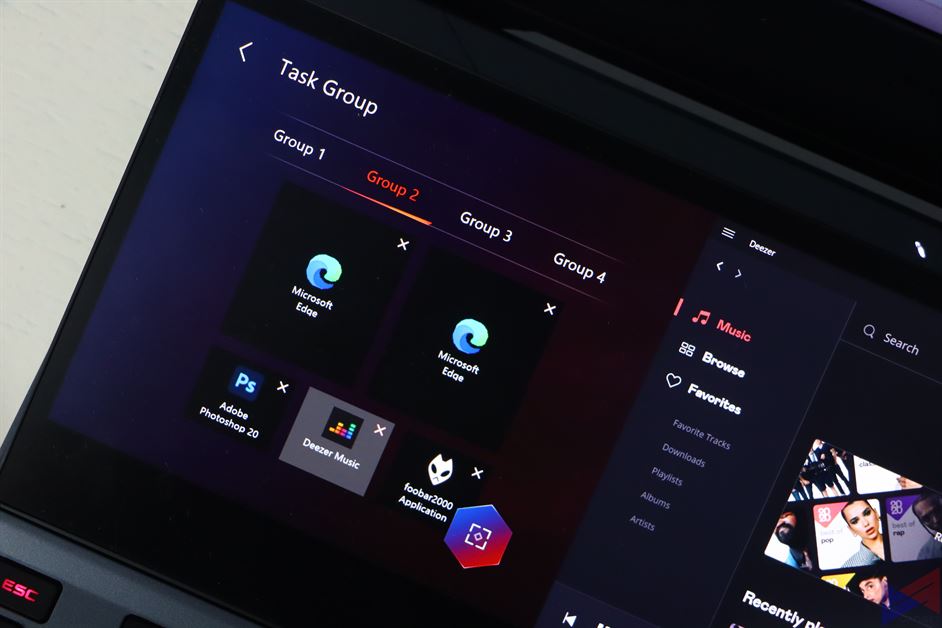 Then there's Screen Xpert, which allows for seamless navigation between the primary and secondary displays. It allows for drag and drop operation, and brings an array of tools to optimize the user experience. You can even create task groups that show up to 5 select apps, so you don't have to open each app one-by-one all over again.
Specced to Perform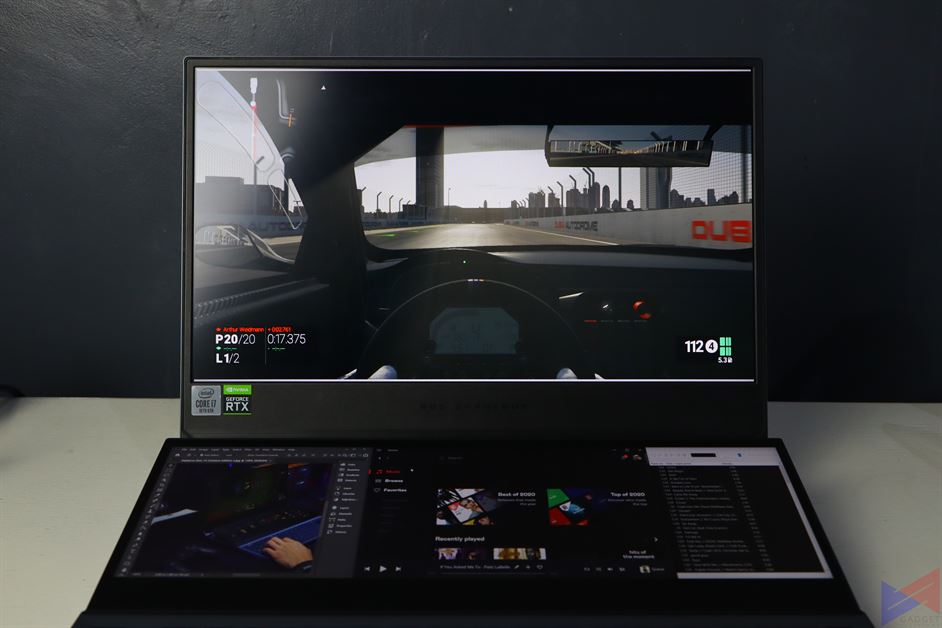 Under the hood, you can get either an Intel Core i7-10875H or i9-10980HK processor along with an NVIDIA GeForce RTX 2070 SUPER or 2080 SUPER, which means it should be able to handle just about any game you'll throw at it, even the upcoming ones, with ease.
Then there's 32GB of DDR4 3200MHz SDRAM. For storage, it's got two 1TB NVMe PCIe 3.0×4 SSDs.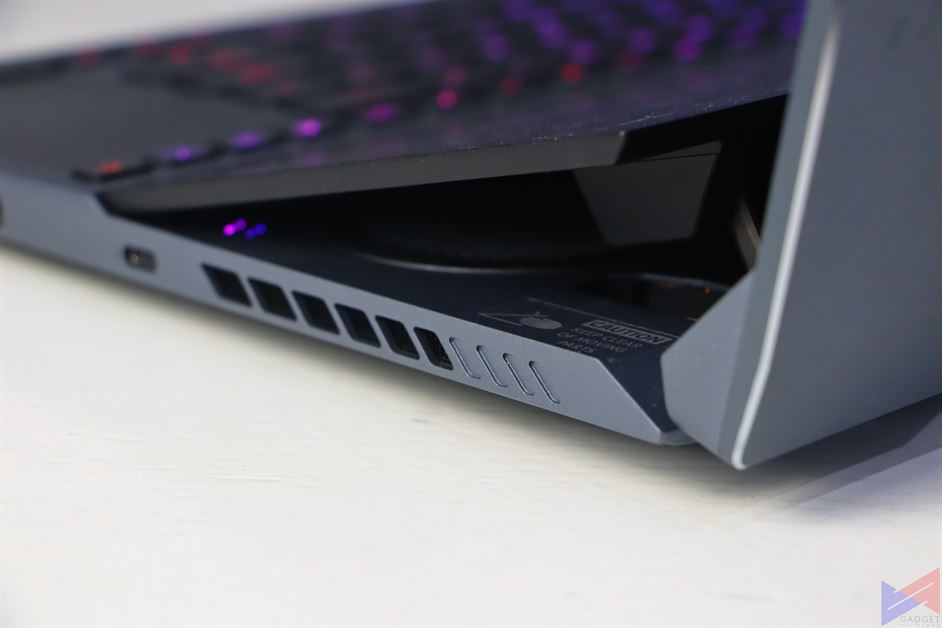 ASUS' signature Active Aerodynamic System Plus (AAS Plus) is present here and opens up a 28.5mm air intake behind the second screen that draws in cooler air and reduces noise.
Zephyrus Duo 15 uses a liquid metal thermal compound that reduces CPU temperatures and allows for up to 10% improved performance versus standard thermal paste. Its cooling system also utilizes 5 heat pipes to pull heat away from the CPU and GPU, as well as the circuitry that's supplying them with power. Each heatsink in the flank is also lined with ultra-thin copper fins that go as slim as 0.1mm for higher density and reduced air resistance.
Anti-dust tunnels catch and channel particles outside the chassis to prevent them from accumulating in the fins to ensure consistent cooling, as well as to improve stability and reliability.
All of these mechanisms ensure that the Zephyrus Duo 15 performs is able to perform in optimal condition whatever the workload without compromise.
Unparalleled Connectivity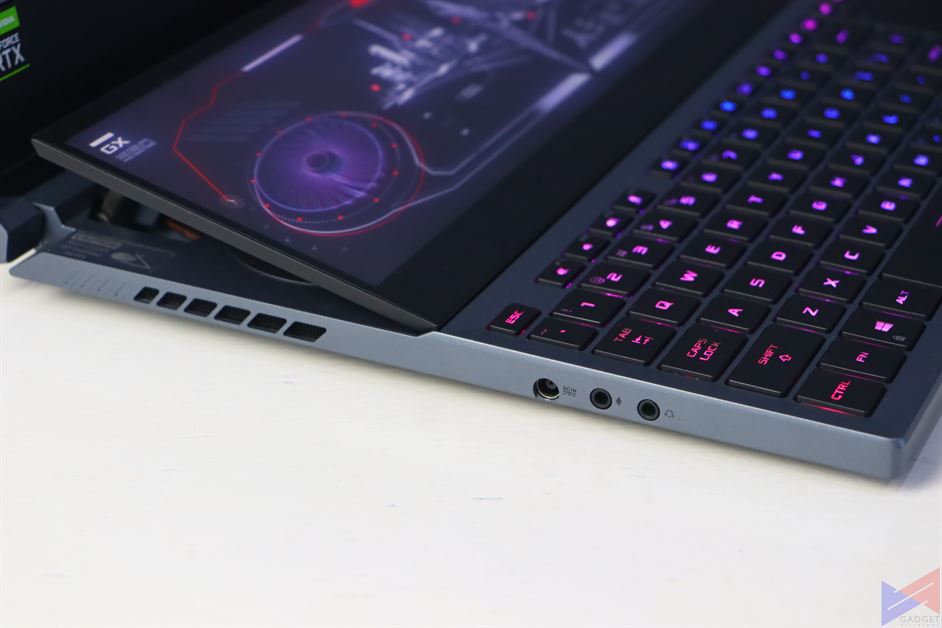 For ports, you get the following:
1 x USB 3.2 Gen 2 Type C with DisplayPort 1.4, Thunderbolt 3 and Power Delivery 3.0
2 x USB 3.2 Gen 1 Type A
1 x USB 3.2 Gen 2 Type A
1 x HDMI 2.0b
1 x 3.5mm Microphone-in jack
1 x 3.5mm Microphone-in/Headphone-out jack
1 x RJ45
You also get Bluetooth 5 and Intel Wi-Fi 6 with Gig+ performance (802.11ax) so you can take advantage of high-speed networks for an even better user experience.
Take advantage of the USB 3.2 Gen 2 Type-C port with DisplayPort 1.4, Thunderbolt 3, and Power Delivery 3.0 to connect next-gen devices for superfast data transfers and fast-charging. The two audio jacks allow you to easily connect an external microphone. Lastly, use the HDMI 2.0b port to connect to an external display of up to 4K resolution at 60Hz.
Game in style with a complete set of accessories
While you're at it, why not compliment your Zephyrus Duo 15 with the following accessories?
ROG GC21 1080p60 Webcam
ROG Gladius II or Strix Impact Gaming Mouse
ROG Delta Headset
ROG Ranger BP2500 Backpack
ASUS 65W PD Charger
Palm Rest
Pricing
Take advantage of ROG's Share 2020 promo in which you can get PhP53,000+ worth of bundled items on your purchase of a Zephyrus Duo/Zephyrus Duo Creators Edition. Check out this link for more details. Promo runs from Nov 25, 2020, to Jan 26, 2021.
Giveaway Time
ASUS Republic of Gamers is giving away ROG Strix Impact Gaming Mice to THREE (3) lucky winners!
To join:
Like and Share this album post from today to December 14.
Post must be in PUBLIC and must include the hashtags: #ROG, #ROGxShare2020, and #ROGxGadgetPilipinas
Winners will be announced through the Gadget Pilipinas Facebook Page sometime after the contest ends.