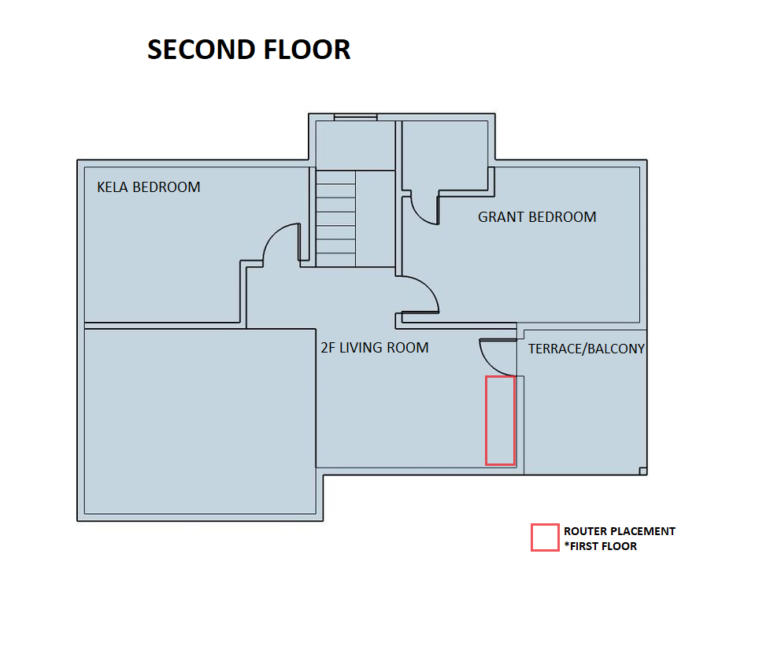 Our second set of tests are located on the second floor where the strength of the 2.4Ghz signal is tested thanks to the thick walls.
2F LIVING ROOM
The first test is located in the second-floor living room, just above the routers. While the AC59U v2 has a faster speed test result than the GT-AC2900, it suffers from greater latency as seen with the ping and jitter result which may translate into higher in-game ping.
2F BALCONY
The second test is performed at the balcony and we see all routers struggle to get a strong connection as shown with the slow connecting time. Moreover, the AC59U V2 trumps the bigger GT-AC2900 in this speed test.
2F KELA BEDROOM
The next test is located at the room farthest from the routers but the 2.4Ghz easily passes through as it doesn't have enough walls to merit a dead spot. Again, the result is consistent with our balcony test with the RT-AC59U V2 beating both the stock modem-router and the GT-AC2900.
2F GRANT BEDROOM
Unfortunately, the location of the routers turns my bedroom into a wifi dead spot as my phone is the only device that can barely detect all three routers. The AC2900 wins our dead spot speed test as it has a higher overall speed test result despite not reaching ideal speeds. The RT-AC59U V2 on the other hand shows a barely stable connection whereas the stock modem-router loses internet connection the second we move the OnePlus 8 Pro.
ASUS RT-AC59U V2 Router Review – A Great Value Router and AiMesh Node
Our new go-to router recommendation
Whether you're looking for a stock router replacement or an AIMesh upgrade, the ASUS RT-AC59U V2 won't disappoint thanks to its specs, feature set, coverage, and competitive pricing. The ASUS RT-AC59U V2's AImesh and CPU upgrade over its predecessor makes it essentially our go-to router recommendation. It's easily one of the best-value routers in the market, both as a standalone router and a mesh router.
Grant is a Financial Management graduate from UST. His passion for gadgets and tech crossed him over in the industry where he could apply his knowledge as an enthusiast and in-depth analytic skills as a Finance Major. His passion allows him to earn at the same time help Gadget Pilipinas' readers in making smart, value-based decisions and purchases with his reviews and guides.