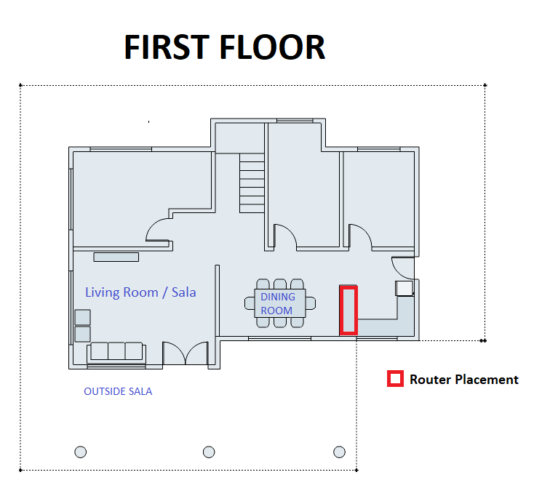 Our first-floor test consists of the dining room which is located next to the routers as well as the outside area of the living room.
DINING ROOM
Both the RT-AC59U V2 and the GT-AC2900 were able to reach the 100Mbps download speed as offered by our ISP fiber plan. The default modem router only managed to output 81.7mbps, 20% less than our subscribed plan.
OUTSIDE LIVING ROOM
Taking the OnePlus 8 Pro just outside the living room revealed a similar test result with the dining test, albeit in lower values due to the signal strength.
ASUS RT-AC59U V2 Router Review – A Great Value Router and AiMesh Node
Our new go-to router recommendation
Whether you're looking for a stock router replacement or an AIMesh upgrade, the ASUS RT-AC59U V2 won't disappoint thanks to its specs, feature set, coverage, and competitive pricing. The ASUS RT-AC59U V2's AImesh and CPU upgrade over its predecessor makes it essentially our go-to router recommendation. It's easily one of the best-value routers in the market, both as a standalone router and a mesh router.
Grant is a Financial Management graduate from UST. His passion for gadgets and tech crossed him over in the industry where he could apply his knowledge as an enthusiast and in-depth analytic skills as a Finance Major. His passion allows him to earn at the same time help Gadget Pilipinas' readers in making smart, value-based decisions and purchases with his reviews and guides.